BEAR Mission Log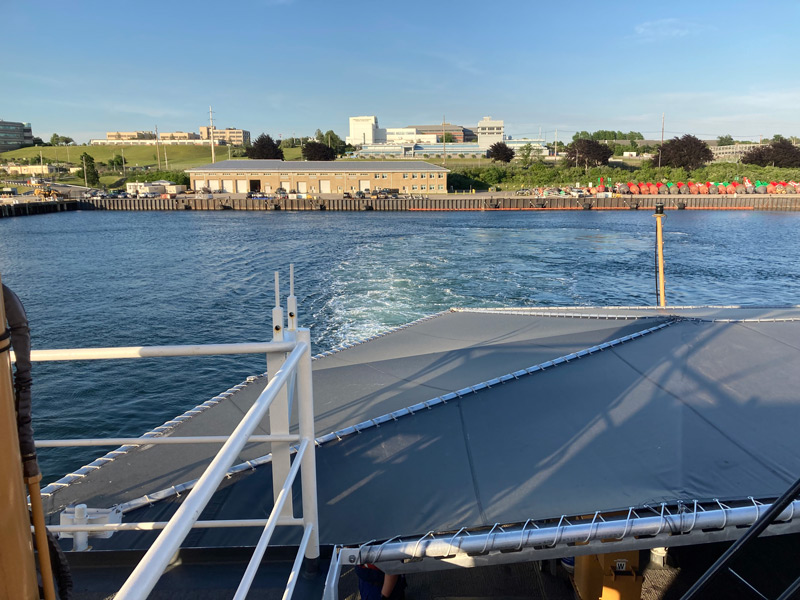 Just before what looks to be a beautiful sunrise, we are closing in on the location of the "unidentified wreck." The past two days have been spent loading and installing the highly sophisticated remotely operated vehicle (ROV) system and making final preparations for the operations to begin today.
While we have a very precise latitude and longitude position for the target, the ocean is a big place, so we expect to spend some time roving around that location to find the wreck. No matter how exacting the shipboard and underwater GPS receivers used to identify the location of something on the seafloor might be, there is always a bit of error involved in this process. However anxious we may be about how long it will take us to find the wreck, we are confident this first major goal will be achieved.
While we have all been very busy, the expedition team is adjusting to rhythms of life at sea aboard the U.S. Coast Guard Cutter Sycamore. All of the team members are experienced mariners, having been to sea many times on research vessels large and small, but each ship is somewhat different, and accommodating to things like fixed meal schedules, learning the protocols for interacting politely with your fellow crew members, and just becoming a part of a floating community of around 60 people takes a bit of time to become fully adjusted to being at sea.
Sycamore has, as expected, proven itself to be an excellent ship with a talented, engaged, and well-trained crew, and getting the ROV system installed on this ship designed to service and maintain very large offshore navigation buoys has been far less of a challenge than expected. Using any "platform of opportunity" (a ship not designed and operated primarily as a research vessel) involves using creative approaches to making the research instrumentation operational, including running many cables through what need to remain watertight bulkheads between compartments and safely installing the computer equipment that will continue to operate on benches that bounce and roll - sometimes quite a bit - with the ship. However, with the capable assistance of Sycamore's officers and crew, this task of making an offshore buoy-tending Coast Guard cutter into a fully functioning research vessel has been smoothly and efficiently accomplished.
Now, all we need to do is find the wreck…
Drafted June 12, 2021; published June 22, 2021