Offshore Wind Energy
Offshore winds, which tend to be stronger and more consistent than on land, are an abundant energy resource that is located close to major coastal population centers. Since higher wind speeds can produce significantly more electricity, developers are increasingly interested in pursuing the development of offshore wind energy resources.
The design and engineering of offshore wind facilities depends on site-specific conditions, particularly water depth. Off the U.S. East Coast, where waters are relatively shallow for many miles offshore, developers are looking to develop wind resources with monopole wind turbines that are fixed to the seafloor. In contrast, off the U.S. West Coast, where the waters are much deeper closer to shore, developers will rely on floating offshore wind technology.
Fixed–bottom Turbines to Floating Turbines: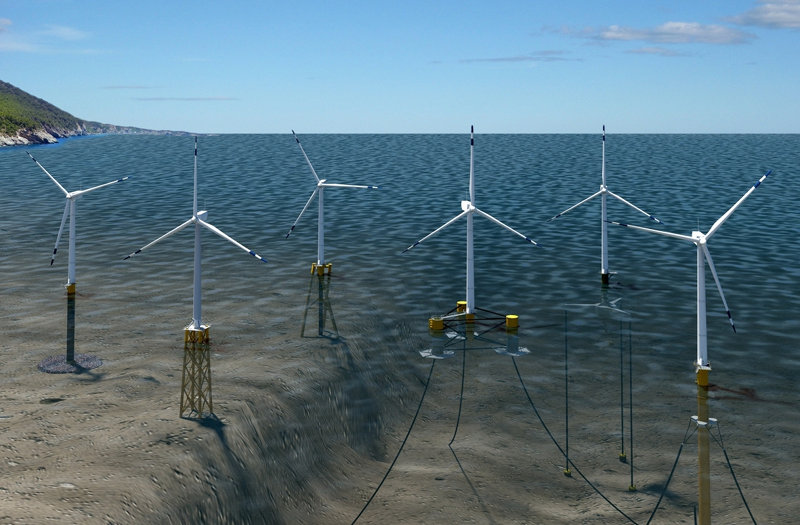 Overseeing Responsible Offshore Wind Development
The Bureau of Ocean Energy Management (BOEM) oversees the responsible development of offshore wind energy in federal waters, an area that typically extends from 3 to 200 nautical miles off the coast.
BOEM is working closely with the State of California and other partners to identify areas that may be suitable for possible offshore wind development. Currently, three areas are being considered off the California coast: one area off northern California and two areas off central California. Also, BOEM is discussing potential planning for possible wind energy opportunities off Oregon.
Harnessing Offshore Wind for Clean Energy Solutions:
To carry out this mission, BOEM relies on the best available science. BOEM funds and acquires scientific information, often through partnerships with states, federal agencies, and academic institutions, to inform policy, decision making, and resource management.
Fortunately, much of the information that BOEM seeks to better understand ecosystems and the potential environmental impacts of offshore wind development is also important to other federal agencies. For example, NOAA may use these types of data to inform decisions about Essential Fish Habitat and management of National Marine Sanctuaries; while the U.S. Geological Survey (USGS) can use the same information to better understand and access underwater hazards.
Understanding Deep Sea Habitats
For more than a decade, BOEM has enjoyed a strong partnership with NOAA and USGS in exploration and research of deepwater habitats in the Gulf of Mexico and off the U.S. East Coast. This work has led to numerous significant discoveries and a substantially increased understanding of chemosynthetic communities and deepwater coral habitats in both areas.
Knowledge of those unique deepwater communities provides critical information that is used to understand and protect these important, sensitive habitats.
This type of scientific partnership is now underway off the U.S. West Coast with the EXPRESS expedition aboard NOAA Ship Reuben Lasker; one many expeditions executed or planned as part of the multi-year campaign. BOEM is excited to be working with world-class science and engineering teams from NOAA and USGS - as well as the Global Foundation for Ocean Exploration and Monterey Bay Aquarium Research Institute - to investigate deep-sea habitats off the U.S. West Coast, particularly in areas that are being considered for future offshore wind energy development.
The World's First Commercial Floating Offshore Wind Park: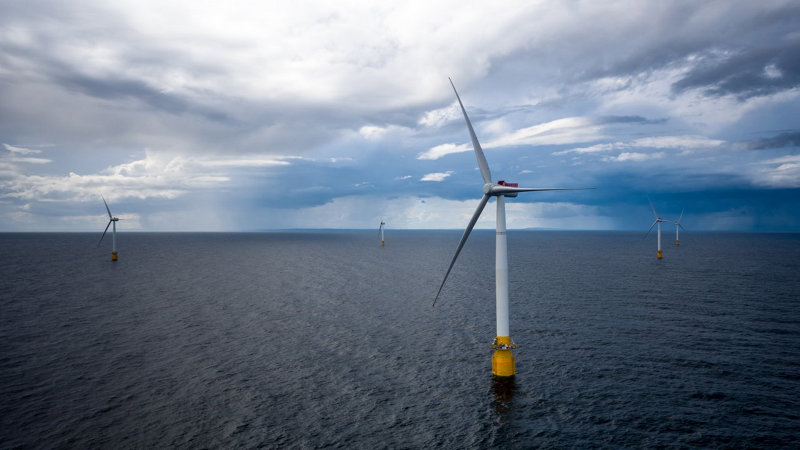 Additional information on U.S. offshore renewable energy activities can be found at https://www.boem.gov/Renewable-Energy/.
TECHNOLOGY
Offshore wind facility design and engineering depend on site-specific conditions, particularly water depth, seabed geology, and wave intensity. All wind turbines operate in the same basic manner. As the wind blows, it flows over the airfoil-shaped blades of wind turbines, causing the turbine blades to spin. The blades are connected to a drive shaft that turns an electric generator to produce electricity. The newest wind turbines include engineering and mechanical innovations to help maximize efficiency and increase the production of electricity. For more information about wind turbine technology, see the National Renewable Energy Laboratory's "Wind Energy Basics: How Wind Turbines Work."