May 16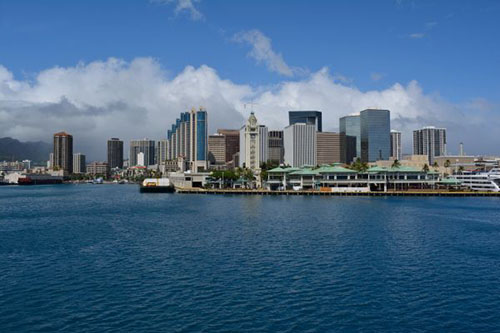 Aloha.
Rocking, that soothing movement appreciated by most when hugged by the comforting arms of your parents.
It's now been a couple of days since we left Honolulu and set sail, accompanied by the profile of Lanai, Molokai, Maui, and then the Big Island, towards the south of Hawaiʻi. Here, we performed our second stop to test the remotely operated vehicle (ROV) that we will be using during our month long cruise to collect various data, from sediment cores to pictures.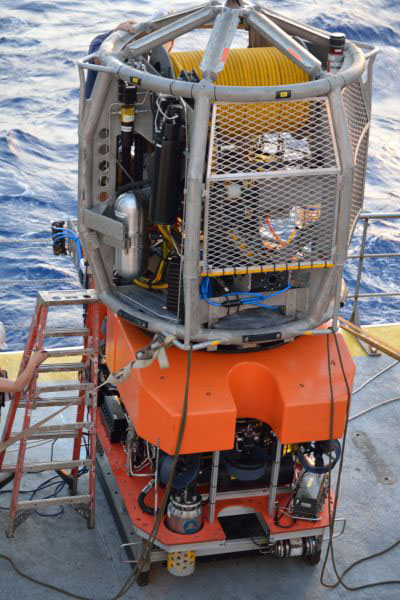 This is my first time on a scientific cruise sailing for more than a day in the open ocean with no land on sight, and I was not sure what to expect.
The first thing I noticed when we left port was the constant and never ending rocking of the ship. A really soothing movement for "bed-time," however, it took a while for my balance, between bumping against people and against the walls of the narrow corridors, to get used to the moving ship.
We are 48 people on board of the RV Kilo Moana, and since we started loading the gear on the boat, our days have been characterised by friendly presentations among the different crew members. Since we set sail, most of our time has been spent finishing the last preparations for the first deployments (it will take four days to reach the first site) and getting used to the new schedule. Kindly, a member of the ship crew offered to give Qigong classes to take our mind off the hard work and help us relax by working on the mind, body, and soul. It is not easy to exercise and keep your balance while the ship is constantly rolling!
Meal times are my favourite so far. Our amazing cooks make sure there is lots of good food for everyone and they bake amazing cakes every day. Small talk is always welcome when you are queuing waiting for your turn to get food while trying to balance with the gentle rocking of the ship.
Another thing to get used to on a ship is the constant noise of people, doors, and machinery. In one way or another you are never alone.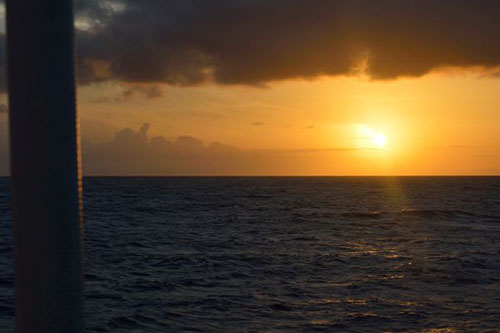 We are just south of the Big Island right now waiting for the ROV test drive at 5,300 meters depth to finish. Once everything checks out, we will be ready to set sail towards the first sampling site in the Clarion-Clipperton Zone, accompanied by the gently rocking of the ship and a sunny promising sky.