June 16
Like many scientific fields of inquiry, the ocean sciences have long been a male-dominated field. Men are disproportionately represented, in particular at higher ranks, within marine science departments at most academic institutions within the United States (as well as elsewhere worldwide). When I began my graduate studies, back in 1998, I was frequently one of few women scientists on board research vessels, and on one cruise leg, I was in fact the only woman onboard the ship working in any capacity. However, there has been a slow turning of the tide in the past approximately 15 years, and women now make up a significant fraction of the scientists and crew working at sea in the research fleet.
During the DeepCCZ expedition, we have 28 percent women onboard. Here, I highlight the indispensable contributions of several women working on the R/V Kilo Moana during this DeepCCZ expedition and share their background, expertise, and contributions to the overall scientific enterprise.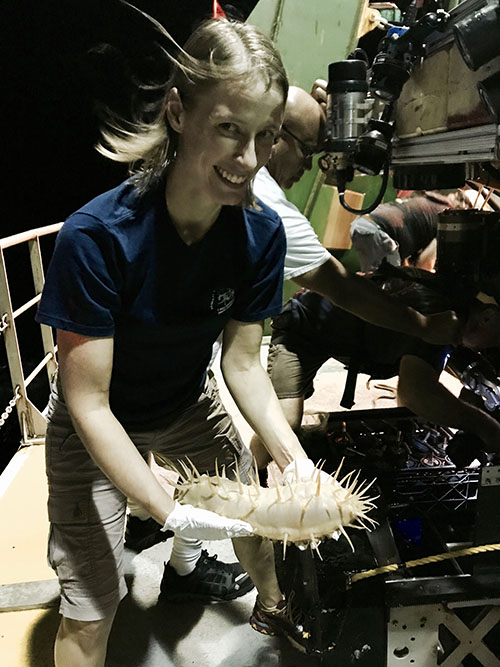 Jen Durden – Postdoctoral Fellow
Jen started her scientific career as a chemical engineer and worked on chemical contamination and environmental cleanup at industrial sites in Canada, the United Kingdom, and Egypt, prior to starting her career as a sea-going oceanographer. She gained significant experience in managing heavy equipment and overseeing large projects in this earlier part of her career. She is now a deep-sea ecologist working at the intersection of human impacts, marine policy, and biology/ecology of the deep ocean. Jen is one of the key members of the science party, with primary responsibility for ensuring that quality scientific data is obtained from the remotely operated vehicle (ROV) (images, video, sediment and animal collections) and interfacing with both the ROV team and the scientists that are interested in data streams and material collected during the dives. In addition, she has overall responsibility for science outreach on the cruise, as well as some data management oversight for the science team. She loves the multidisciplinary nature of being a sea-going oceanographer and the connection between the hands-on, practical work of data collection at sea with the analysis of those data back in the office after the cruise. She also loves that her work on DeepCCZ spans biological collections (wet lab work), sediment collection and analysis (ranging into marine geology), as well as the electronic and computing work related to the ROV data types (images, video, sensors).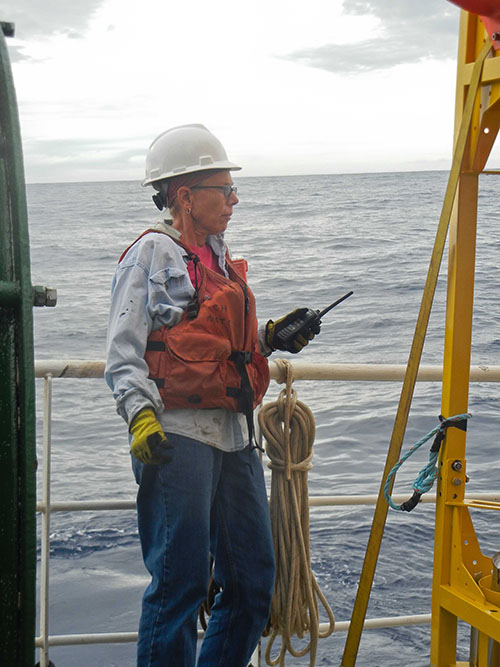 Kim Krueger – Chief Mate
Kim has spent her entire adult life on the water. She grew up around boats and started her life at sea helping her uncle who was a tugboat captain on the Columbia River. She started working on a processor in the Gulf of Alaska at 19 and earned a 100-ton Masters license at 23. After that, she worked on small cruise ships in the Caribbean, driving beautiful small wooden launches, before moving into a Mate's position. She eventually earned a 500-ton Masters license and has worked on tankers, tug boats, and now in the research fleet as a Mate for the past 10 years. On board, she stands two four-hour watches per day on the bridge, driving the ship both when underway and also during science operations. When on the bridge, she is responsible for positioning of the ship, navigating during the watch, monitoring all scientific gear going over the side of the vessel, monitoring vessel traffic and weather, communications within the ship as well as to outside vessels, and the ship's response to all alarms on board (e.g., working spaces, engine room). As Chief Mate, she also has oversight of all deck operations, including the work of all able seamen on board, operation, safety, and maintenance of all deck equipment and she is accountable for all fire and safety on board. When asked what she loves about working at sea, she states that this is her home—and she couldn't imagine life any other way. She has lived on or near the water her entire life, and when not on the R/V Kilo Moana, she lives on the water in a small town on the Oregon coast.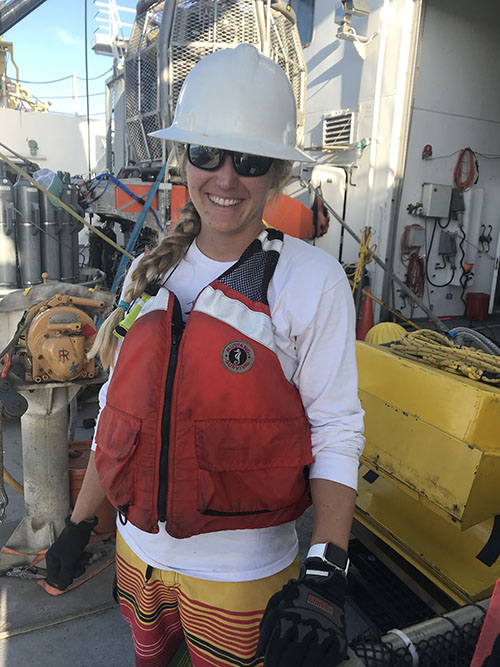 Astrid Leitner – PhD Student
Originally from land-locked Austria, Astrid has had a fascination with the ocean since childhood. An early experience in a research program for high school students got her excited about research in marine science, and she went on to pursue dual degrees in Marine Biology and Earth and Planetary Sciences at University of California, Santa Cruz. As an undergraduate student, she was involved in coastal oceanographic research, with extensive scientific diving in kelp forests off the Oregon and California coasts (marine ecology). She got a taste for deep-sea research in a summer National Science Foundation Research Experience for Undergraduates project at the Hadfield Marine Science Center and then continued working in the deep ocean for her dissertation research. Her responsibilities on the DeepCCZ cruise include geospatial mapping of the seafloor, which supports all of the science operations. This includes cleaning up the multibeam acoustic data from which seafloor maps are produced, generating maps of our seamount and abyssal plain sites, choosing the locations for free vehicle lander deployments and ROV dive tracks, communicating these locations to the bridge in order to ensure that those driving the ship know where to go next, and finally ensuring that these geospatial data are appropriately archived for subsequent use after the cruise (and public access to these data). In addition, Astrid and Jeff Drazen are responsible for the baited camera deployments (two landers) and a baited trap to collect scavenging fishes and invertebrates at the seafloor. Astrid loves the excitement of exploration in the deep ocean and that each successful recovery of her gear brings back very new data about life in the abyss. She also loves the varied nature of the work, including the physical work on the back deck (deploying, recovering landers), as well as the conceptual and intellectual work of data analysis and writing.
Meagan Putts – Data Manager
With both undergraduate and Master of Science (MSc) degrees in marine science, Meagan has long had an interest in invertebrate animals. Her MSc research focused on precious corals in Hawaiian waters and recovery times following disturbance (e.g., lava flows). She learned to process the data for seafloor mapping while working on the NOAA Ship Okeanos Explorer, and she continues that work on board as part of the DeepCCZ team. She is currently jointly employed by the Hawaii Undersea Research Laboratory (HURL) and also with NOAA, completing video annotation of corals, sponges, fishes, brittle stars, and other animals (Okeanos Explorer), and working to make the historical HURL archive available online to the public. Onboard, Meagan takes primary responsibility for data management of all ROV data (video, still images, onboard navigation), in addition to her work with multibeam data and seafloor mapping. She is also working to interface with the science party and extract and provide ROV video of scientifically important events (e.g., sediment core and animal collections). She loves the team aspect of working together at sea, the long days, and the sense of accomplishment at a joint effort well done. She also likes that she gets to see all the ROV images first. And she loves the food (kudos to Chief Steward Verna McKinney).
We are counting on women of the next generation to keep pushing the boundaries and making new discoveries, while exploring the deep ocean! Check out these links to some organizations that support and promote women in science: