May 8
It is obvious that a lot of ships have visited Midway Atoll over the years. Not only is this evident by all the large anchors we dove on today, but because of the presence of alien species which we are surveying for.
Alien species are a non-native species, which are introduced to a habitat outside their normal range or environment from where they are naturally found. The alien species we are researching were most likely brought to Midway as inadvertent hitchhikers on some of these vessels from the past.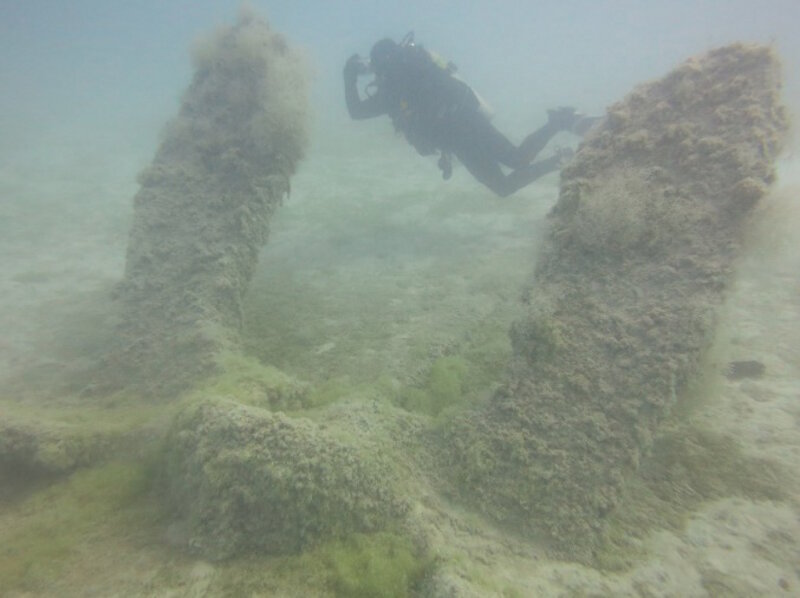 We have been collaborating with the National Park Service to investigate any anomalies they find while conducting their magnetometer surveys. Today, we were given a list of 24 possible artifacts that we had to investigate from yesterday's survey block. The artifacts were in water ranging from 30-50 feet deep, within the lagoon of Midway Atoll near the old fuel pier. The water was 68° Fahrenheit and the wind was blowing 20-25 knots. Needless to say, we got a bit chilly, but we persevered in the name of SCIENCE! The team from Denver found it amusing that the Hawaii Team thinks 68° is chilly, but us tropical scientists could not handle it!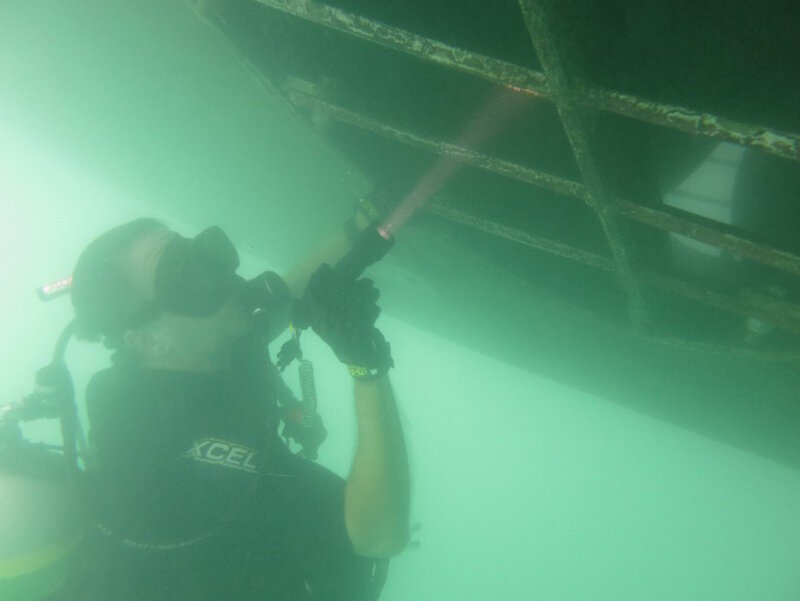 We were able to scuba dive on 21 sites today and completed our alien species surveys while investigating what structure(s) caused the anomaly recorded by the magnetometer. We seem to have been in an anchorage zone as we came across several large anchors, mooring blocks, and sections of chain. These structures created a good habitat for a colonial bryozoan alien on our list, Zoobotryon verticillatum.
So far, the majority of the historical objects we have dove on have had at least one of the four species we are surveying for. As part of this larger project, we are investigating if human-made objects can act as stepping stones to allow alien species established in Midway's harbor to move out onto the reef and we have found aliens on both natural and human-made structures, so it's hard to say if submerged cultural resources are aiding in their spread.
Today's best management practices help to avoid additional introductions to these remote islands and atolls from visiting ships. All vessel's entering Papahānaumokuākea Marine National Monument are now required to go through a permitting process, which involves a hull inspection to help prevent additional alien species introductions. Vessels are thoroughly inspected for alien species before they are able to visit the monument and are required to get a permit before they access these remote areas. Hopefully, these management practices can limit the number of new establishments in the monument.
Well, time to go put on some dry clothes. We have some exciting dives ahead and hope for warmer weather around the corner. Keep checking in to see what else we find on tomorrow's adventures!