E/V Nautilus Surveys World War II-era Aircraft Carrier, USS Independence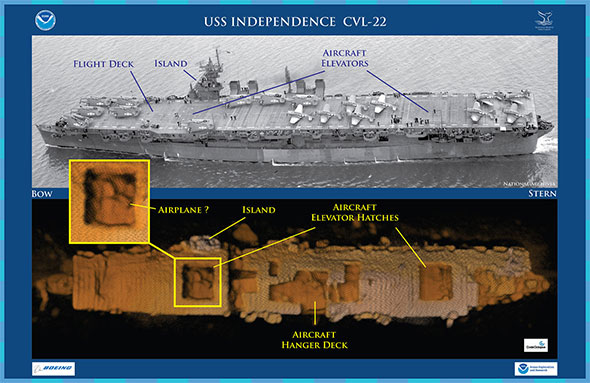 Features on an historic photo of USS Independence CVL 22 are captured in a three-dimensional low-resolution sonar image of the shipwreck. The Coda Octopus Echoscope 3D sonar, integrated on the Boeing autonomous underwater vehicle Echo Ranger, imaged the shipwreck during the first maritime archaeological survey in 2015. The sonar image with oranges color tones (lower) shows an outline of a possible airplane in the forward aircraft elevator hatch opening. Credit: NOAA, Boeing, and Coda Octopus.
August 22, 2016
As part of a cruise
to study the cultural heritage and natural wildlife in the Greater Farallones National Marine Sanctuary (GFNMS), E/V Nautilus will use the Hercules remotely operated vehicle to survey the USS Independence the week of August 22nd.
The USS Independence is a World War II aircraft carrier and is famous for its role in the war and its postwar involvement in nuclear testing at Bikini Atoll. The ship was intentionally sunk in 1951 in 2,600 feet of water off of California's Farallones Islands.
The ship's location was confirmed in 2009 during a NOAA Office of Ocean Exploration and Research mapping cruise using NOAA Ship Okeanos Explorer. A NOAA/Boeing partnership project in 2015 used Boeing's large state-of-the-art autonomous underwater vehicle Echo Ranger
equipped with an advanced Coda Octopus three-dimensional mapping sonar to "fly" over the wreck and map it in detail.
NOAA's Office of National Marine Sanctuaries is legally required to map and understand cultural and heritage sites in each sanctuary, and uses such survey data to educate the public.
This week's E/V Nautilus surveys will be the first to visually survey the wreck since her sinking, as well as image the ship for photomosaic and microbathymetry data.
Tune in to the view the dives LIVE, starting August 22 at 7pm Eastern, on the nautiluslive.org/
website.