July 17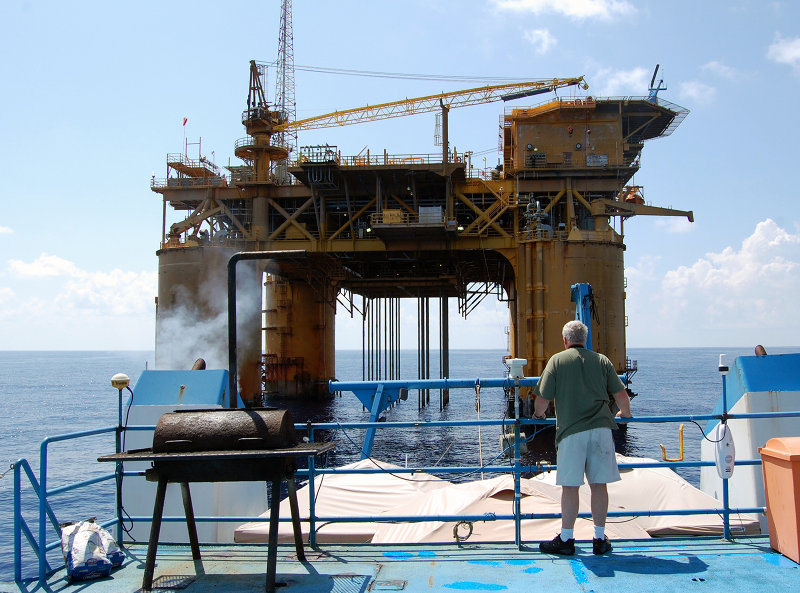 Wow, it's been a while since I was on a research cruise, about five years. The dock started looking smaller last Saturday afternoon at last, so you know you are really starting a cruise. It's a very familiar experience and a very exciting project finale to have this opportunity. 
I have been on 137 previous major cruises, each with an average length of ten days, about the same as this one. Although not a long time for folks who have regular jobs on ships, that translates to a total of about three years seven months doing research at sea, probably a lot for most research scientists. 
Reflecting on my first research cruise in the Gulf of Mexico in 1975 as a graduate student, there were not many oil and gas platforms offshore back then. A personal surprise was seeing Billy Green working on our research vessel. I sailed with him back in 1975 when he was one of the pilots of the Texas A&M University's research submarine Diaphus. Back then, around the Flower Garden Banks about 100 miles offshore, it was hard to see lights from any platform. That is much different now. There are currently about 3,200 structures in the Gulf. It looks like the lights from a small city in many areas, even 100 miles from shore. 
Back in 1987, I was on a Johnson Sea Link submersible mission and was fortunate to see the first piece of the Joliet tension leg platform (TLP) while it was still on a barge just prior to installation. This was the template, or the bottom foundation, for the TLP. Construction and installation of the TLP was delayed until 1989. I never imagined I would be on a cruise 25 years later looking for coral communities on this same structure. Yet, today, here I was, as this platform ended up being the site of our first dive on this cruise.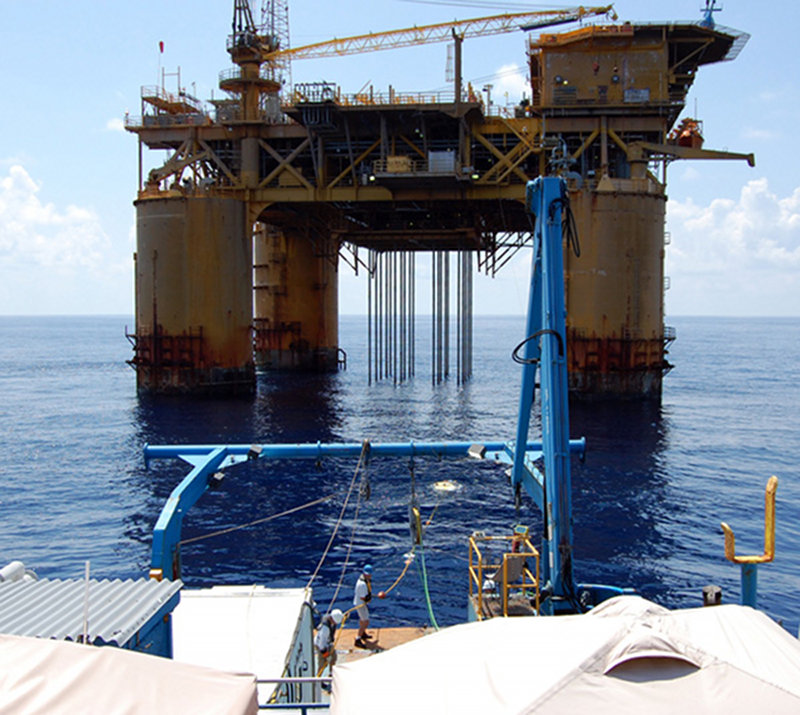 One of the exciting aspects of this expedition is that biological communities on deep platforms have never been studied before. Although the industry operators see the underwater portions of their platforms regularly, the first science-related observation of Lophelia on a platform was made in 2003 as part of a broader study of deepwater communities for biomedical potentials.  Five years later, when the Lophelia II project first began working with video from industry inspections of the Joliet platform in 2008, it was an incredible surprise to see numerous colonies of relatively large Lophelia colonies covering extensive areas of the platform structure. 
The search for offshore oil and gas to supply the energy needs of the nation has and will continue to increase in the deep waters of the Gulf of Mexico, and the Bureau of Ocean Energy Management will continue to conduct applied research of Gulf of Mexico ecosystems. A great deal has been discovered, and yet we are still learning so much about the biology of the oceans, especially in deep water. The continued study of significant biological communities such as deep-sea coral habitats will lead to better understanding and science needed for the improvement of informed management decisions regarding environmental protection.