April 20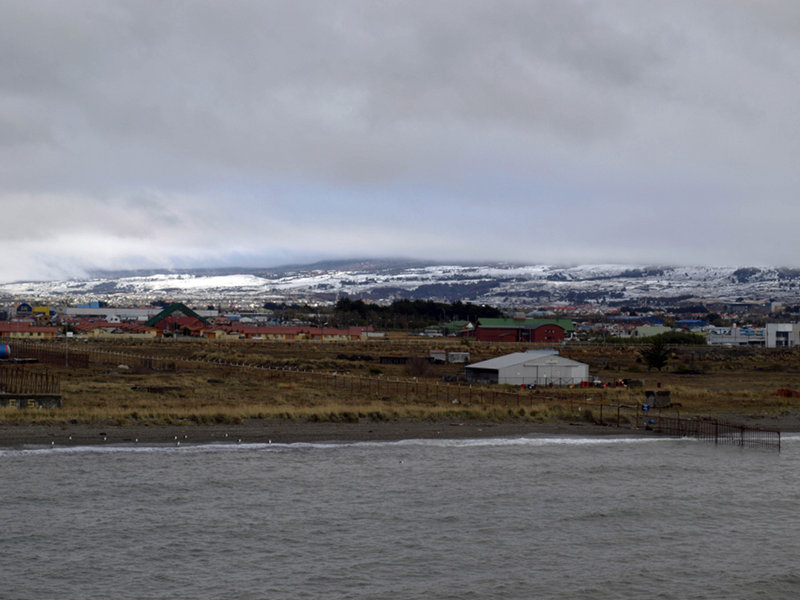 Lots going on the past two days, making sure all was as ready as can be. Yesterday (Thursday) was a day of fast-changing weather from cold and wet first thing to quite mild (relatively) in mid-afternoon, and then back to strong winds gusting up to 45 and 50 knots around dinner time to end the day. Indeed, at one point in early afternoon, just after the clouds lifted from the early cold and rain, we realized that all the low hills up above Punta Arenas were covered in fresh snow!
Given the late start to our unpacking the day before, Carl and the Sentry team and Dan and the TowCam folks were all keen to get as much done as possible in the remaining time before we left port; they worked right through the day and late into the evening, recruiting unskilled labor (scientists!) to the cause where appropriate, to help cover some of the less demanding engineering jobs. To my credit, I was trusted with a wrench of my own early in the afternoon, to bolt on the hook with which Sentry is lifted in and out of the water. Once I had demonstrated that I couldn't break that, Carl even let me help with some of the propellers later (but I'm not telling you which ones in case anything bad happens on the first dive – at which point you will be able to tell!). By around 10pm it was time for Dan to say his farewells and head out to the hotel and then on, home, back to the US early this morning. Funnily enough, a bunch of fellow-traveller scientists also arrived in port yesterday aboard the Polar research ship Nathaniel B. Palmer. Among them was Craig Smith, who was a fellow member of our Census of Marine Life program dedicated to chemosynthetic ecosystems (along with Tim, Lisa and me) throughout the past decade – including a meeting at Scripps in Spring 2003, when Lisa and I first put forward the idea of a Chile Triple Junction expedition.
This morning we were up again, bright and early. The main thing on my agenda now is to get the CTD fired up and the new sensors that we have brought from Ko-ichi's lab and from NOAA's Pacific Marine Environmental Lab, courtesy of Ed Baker and Sharon Walker. But higher on our ship's agenda was making sure that everything that could possibly move around aboard ship, once we set out for sea, was tied down securely. So with an hour or more to kill, it was time to resume the epic Quest that I mentioned in my earlier log. Remember when Greg and I were impressed by the Cossack hats that the local police wear, the first time we arrived at the airport? Turned out that Greg had seen a shop that sold them in town and knew where they were. Tim, Taylor and I stopped first at an arts and crafts store down by the waterfront, then headed up to the town's main square where the first hat I encountered was a keeper. Suffice to say that it is so warm that I am confident we will have mild and sunny weather for the rest of the expedition now and I won't get to wear it. If you're not familiar with this logic then you've clearly never met an Englishman taking an umbrella on their summer vacation!
Anyway, after a quick wander around the main square, including the statue of Sr. Magellan, it was back to the ship and time for a first quick meeting of the science party, where Donna Blackman, the chief scientist, and Dave, our captain, gave us a quick overview of what lies ahead. We have two days of transit coming up, threading our way in among the channels between the islands of southernmost Chile (essentially, the partially submerged southernmost end of the Andes mountain chain) following this "inland" passage as far as we can toward our work area before we head out into the open Pacific and whatever weather awaits. Right now, the forecasts we are monitoring suggest things should be about as good as we could hope for by the time that we get there, but what happens after that? We'll have to wait and see. Whatever the outcome, we'll just have to work as hard and efficiently as we can for the five days we're allotted and then all too soon it will be time to head for home.
Meantime, at 4pm today and right on schedule, we let go of the pier, slipped out into the Straits of Magellan and started heading west. So far, so good!