NOAA Ship Henry B. Bigelow
NOAA Ship Henry B. Bigelow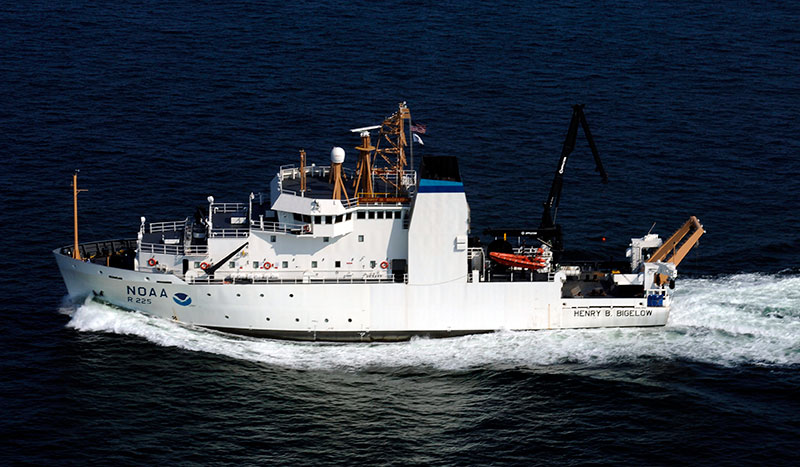 NOAA Ship Henry B. Bigelow is a fisheries survey vessel built specifically for NOAA to support the study and monitoring of marine fisheries and marine mammals. Homeported in Newport, Rhode Island, Henry B. Bigelow operates along the northeast and mid-Atlantic coast, from Maine to North Carolina.
Henry B. Bigelow is a stern trawler capable of conducting trawling operations in depths of up to 6,000 feet (1,830 meters), to collect information about fish species in a given survey area. The ship also has a vertical beam echo sounder and a multibeam echo sounder for conducting acoustic surveys to gather information about fish and plankton biomass both in the water column and on the seafloor. Henry B. Bigelow's marine mammal and bird observation stations are equipped with sensors to aid researchers in identifying and tracking protected species.
The ship's design meets the International Council for Exploration of the Seas' standards for a low acoustic signature, allowing scientists to monitor fish and other animal populations without the ship noise altering behavior. Henry B. Bigelow is also equipped with tools for observing the weather, sea state, and other environmental conditions.
Henry B. Bigelow is operated by NOAA's Office of Marine and Aviation Operations.
Ship Namesake
The ship is named after Henry Bryant Bigelow (1879-1967), a visionary oceanographer, zoologist, and marine biologist whose work helped establish oceanography as a scientific discipline.