July 31
Rediscovering USS Baldwin
by Jan Albiez, Kraken Robotics
Robert Schwemmer, NOAA
Hans Van Tilburg, NOAA
Michael White, NOAA
July 31, 2019
As part of its mission of ocean exploration, the NOAA Office of Ocean Exploration and Research (OER) endeavors to collect baseline observations of unexplored areas of the ocean. This exploratory data includes underwater cultural heritage, where pieces of our collective history lay undiscovered on the deep ocean floor. These sites are subject to degradation, by both natural and human causes. By collecting baseline observations and high-resolution images and maps of these sites, we can preserve this information for future studies. As with all data collected on NOAA OER/Okeanos Explorer expeditions, the data collected on this expedition will be publically available providing archaeologists, historians, and researchers a foundation for characterization, as allowed.
The SeaVision® Laser Scanner
Kraken Robotic's SeaVision® is a compact underwater laser imaging system that offers the resolution, range, and scan rate to deliver dense 3D point cloud images of subsea infrastructure with sub-millimeter resolution in real time. The system is designed for deployment on underwater robotic platforms such as remotely operated vehicles (ROVs) and autonomous underwater vehicles. SeaVision® scans a target using a moving laser line projector and a high-resolution camera and delivers a metric-correct point cloud online.
USS Baldwin (DD-624)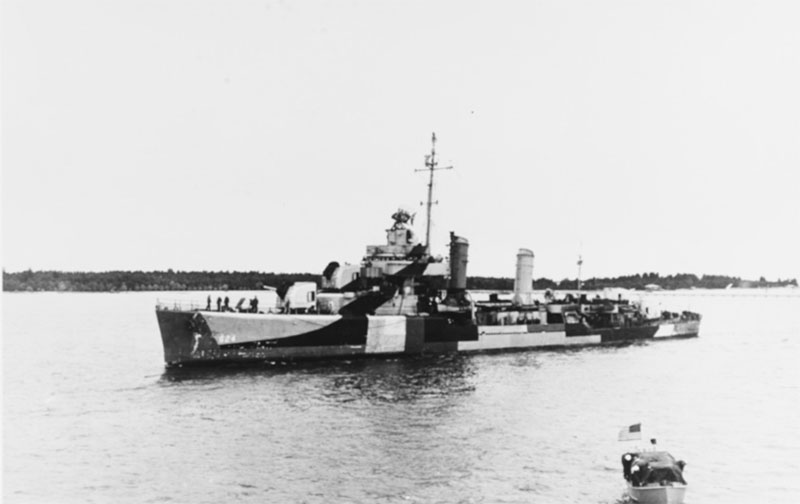 USS Baldwin (DD-624) specs: Displacement 1,630 tons; length 348 feet 4 inches; beam 36 feet; draft 17 feet 6 inches; speed 35.0 knots; complement 276; armament 4 5-inch 38 caliber, 5 40 millimeter, 7 20 millimeter, 5 21-inch torpedo tubes, 6 depth charge projectors, 2 depth charge tracks; class Gleaves
Pre-World War II naval destroyers were fast, maneuverable vessels intended to escort larger ships in a convoy or battle group and to defend them against short-range attackers. USS Baldwin, a Gleaves-class destroyer, was laid down on July 19, 1941, at Seattle, Washington, by the Seattle Tacoma Shipbuilding Corp.
After seatrials, Baldwin headed to the East Coast of the United States to complete patrols and convoy escort operations in the Atlantic Ocean. In 1944, Baldwin began patrols in British waters in concert with preparations for the Normandy invasion, during which it supported troops onshore with naval gunfire. Afterwards, the ship headed to the Mediterranean to begin a series of patrols and support preparations for the invasion of Southern France.
In 1945, Baldwin was part of the convoy that carried President Franklin D. Roosevelt on the first leg of the trip to the 'Big Three' conference at Yalta. Later in 1945, Baldwin sailed from New York to the Pacific, supporting preparations for the occupation of Saebo, Japan, and operating along the Chinese and Korean Coasts.
Baldwin was placed out of commission at Charleston, South Carolina, in 1946 and remained in reserve until 1961, when it was transferred to Boston. When being moved from Boston to Philadelphia, the towline transporting the Baldwin broke, and the destroyer ran aground at Montauk Point, Long Island. Baldwin was scuttled on June 2, 1961, offshore near Block Canyon.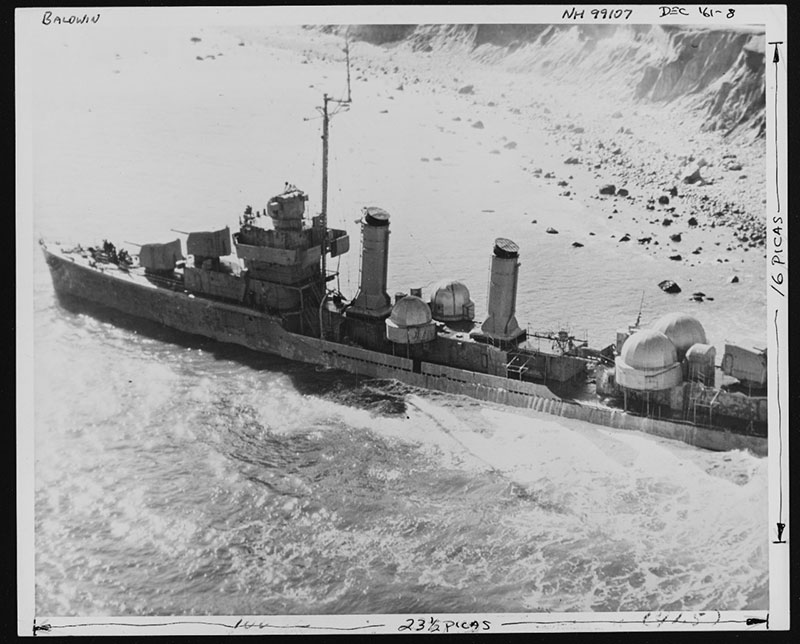 Discovery and Exploration

Bow facing south and lying straight up, the Baldwin remained silently on the seafloor until July 27, 2019, when a team lead by OER was able to use ROVs and the Kraken SeaVision® laser scanner to image and document the wreck site.
This site was identified as a potential (now confirmed) shipwreck using mapping data collected by OER during a 2011 mission on the Okeanos Explorer. By documenting this site, NOAA OER will be able to publicly provide baseline characterization data to archaeologists, historians, and other researchers.