July 23
Fishing Gear and Cultural Heritage off the East Coast
by Rod Mather, University of Rhode Island
July 23, 2019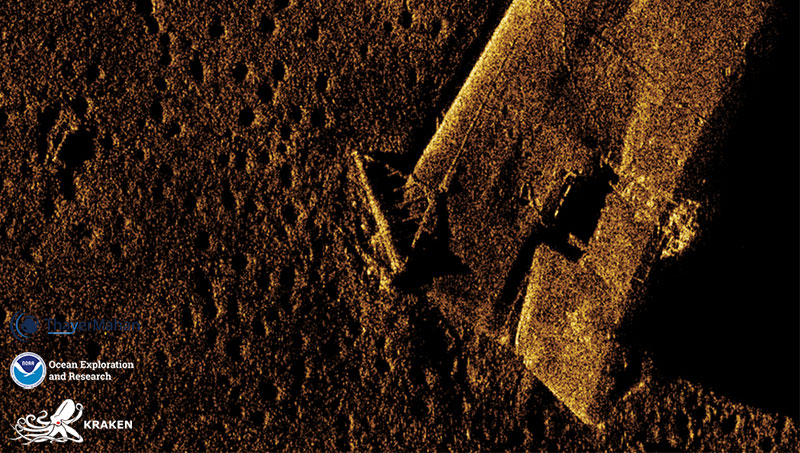 On July 20, 2019, NOAA Ship Okeanos Explorer, as part of the 2019 Technology Demonstration, mapped the sunken bow of the USS Murphy, a highly-decorated World War II destroyer, using the Kraken Robotics KATFISH™ synthetic aperture sonar. This new and innovative technology acquires over three billion pixels per three square kilometers per hour – generating 30 times more detail than conventional side scan sonar.
The high-resolution images of the Murphy immediately revealed evidence of a historic accident. At some point in the recent past, a scallop dragger hit the wreck and lost its gear. This was not a unique incident. Fishing gear likely blankets other parts of the site, and all along the east coast of the United States, shipwrecks and other cultural heritage sites are entangled with commercial fishing nets. The presence of shipwrecks and their potential interactions with fishing vessels and gear presents risks which are multiplied when wrecks are uncharted.
Commercial fishing accidents of this nature can impact important, oftentimes unique, historic properties, while at the same time costing fishermen tens of thousands of dollars in lost gear. In the worst case scenario, a fisherman can be physically injured or even killed during these accidents. Acquiring high-resolution mapping data allows NOAA to better understand and quantify the problems and effects of commercial fishing accidents, thus reducing potential risks associated with lost fishing gear.
The remains of the World War I German battleship Ostfriesland, sunk in 1921 on the outer continental shelf off Virginia as part of the Billy Mitchell airpower experiments, tell a similar story. Trapped in the inverted hull, fishing gear is visible, including a set of trawl doors. While the incident marred the site, the fishermen who lost their trawl faced financial damage and possibly bodily harm. The other German warships sunk during the 1921 Billy Mitchell airpower experiments disclose similar stories. The damage to the German destroyer G-102 is particularly severe. Part of the hull was severed as a result of a fishing accident. New synthetic aperture sonar mapping is already helping NOAA leaders and archaeologists understand more fully the extent of the damage.