July 22
Exploring the USS Murphy
by Michael White, NOAA Office of Ocean Exploration and Research
July 22, 2019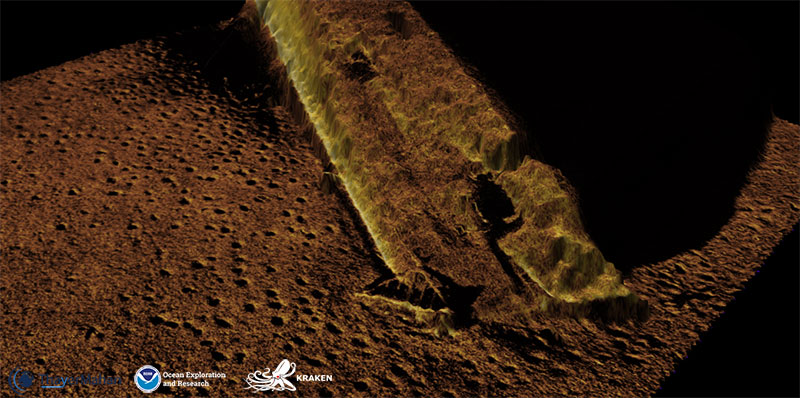 The USS Murphy, a World World II Benson class destroyer, saw operations ranging from the invasion of North Africa, to escort duty in the North Atlantic and the invasion of Gela, Sicily. After the end of the Sicily invasion in 1943, the Murphy returned to the United States to begin escorting convoys between the United States and the United Kingdom. Outside of New York Harbor on October 21, 1943, the Murphy was struck on the portside by the tanker Bulkoil. The forward half of the ship was sheared off and sank with 38 officers and men aboard.
The NOAA Office of Response and Restoration requested a survey be completed on the Murphy because the NOAA National Environmental Satellite, Data, and Information Service has reported potential oil slicks within the vicinity. As part of the NOAA Office of Ocean Exploration and Research's objectives to map and characterize the U.S. Exclusive Economic Zone, this survey request provided an opportunity to not only test technology, but to deliver timely and actionable data to community partners.
The below image shows the bow section of the Murphy that sunk after the collision, lying on its port side. The keel facing left and the forward superstructure facing right, barely visible due to it being in the acoustic shadow. The bow is pointing toward the bottom of the image. A bottom fishing trawl, potentially for scallops, can be seen hung on the bow near the bottom of the image.

The data were acquired near the head of Hudson Canyon, approximately ~185 kilometers (100 nautical miles) southeast of New York Harbor, during the 2019 Technology Demonstration on the Okeanos Explorer using a towed Kraken Robotics KATFISH™ synthetic aperture sonar (SAS).
The second image (below) displays the bow pointing toward the top of the image, with the keel in the acoustic shadow facing left and the forward superstructure and gun turrets facing right. The brightness of the gun turrets and tower structure is due to signal saturation from the sonar.

After the collision, the ship's stern section was towed into New York Harbor to begin a seven-month repair period. Post repairs, the Murphy rejoined the fleet to support the Normandy invasion in 1944, stationed off of Omaha Beach. During the rest of the war, the Murphy participated in operations in the Mediterranean, supporting the invasion of Southern France and the Pacific, off of Okinawa.
Reference
Naval History and Heritage Command, published April, 04, 2019, https://www.history.navy.mil/research/histories/ship-histories/danfs/m/murphy.html, accessed July 15, 2019.