June 16
Reddit "Ask ME Anything" About the Southeast U.S. Continental Margin
by Adrienne Copeland, Web Coordinator, NOAA Office of Ocean Exploration and Research
June 16, 2018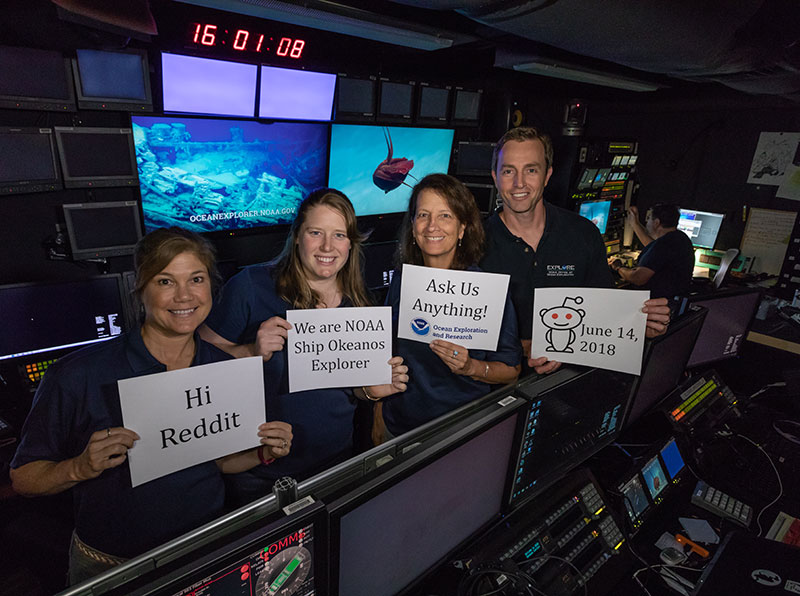 Thursday, June 14, 2018, was an action packed day on NOAA Ship Okeanos Explorer. Not only was it the first dive of the Windows to the Deep 2018 expedition, but the ship board team also hosted a Reddit AMA, or "Ask Me Anything," where anyone across the world could ask the scientists onboard questions they had about exploring deep-sea habitats of the southeast U.S. Continental Margin. The onboard team of Derek Sowers (NOAA seafloor mapping expert), Kasey Cantwell (NOAA ocean explorer), Cheryl Morrison (research geneticist, U.S. Geological Survey), and Leslie Sautter (geologist, College of Charleston) answered a range of questions from the coolest thing they have seen underwater, to mapping sonars and data processing, to life at sea, and many more. You can find all these questions and more on the Reddit AMA page .
From the start of the AMA, our team worked to quickly answer as many questions as possible. Unfortunately, we could not answer everything in the short timeframe of two hours, so our team pulled out some of their favorite unanswered (and some of their favorite answered) questions and answered them for you below.
What's the weirdest or most unique creature you've found/seen or otherwise interacted/observed down there? We know so little about it that it's fascinating to me.
The red-eyed gaper! An angler fish that can inflate (with water) to scare off predators, then walk on the seafloor with its modified fins to "run" away! (Leslie)
There are so many amazing things that we see, it's hard to pick one! One of my favorites was a manta ray that swam right over the Johnson Sea Link submersible. Amazing! Another great experience was finding a large brine pool in the Gulf of Mexico. Amazing to see a lake at the bottom of the ocean! (Cheryl)
For unique and different, it's hard to find anything as weird as the fauna that live in the water column! These animals are so different than things we see on land or at the bottom of the ocean. We've often found organisms in the midwater that we aren't sure what they are or even what type of animal they are. They often look quite alien! (Kasey)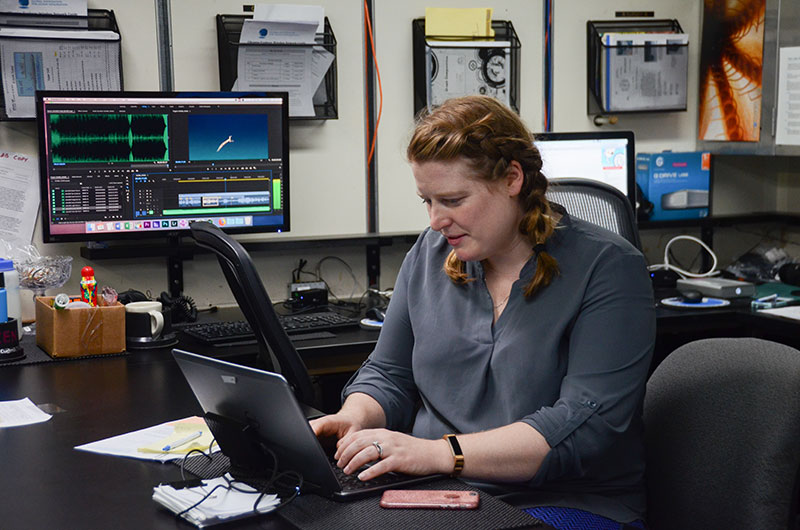 How would you get into ocean mapping? I'm currently at the beginning of my GIS career and I'd eventually like to combine GIS with underwater mapping. Any tips would be appreciated!
I would recommend taking an oceanography course to start. Understanding the physical and chemical dynamics of the ocean is important in order to be aware of how the properties of the water masses you are mapping within affect the sound signal you are mapping with. Geomatics and geodesy coursework is very helpful as well. The University of New Hampshire (UNH) offers certificate programs and masters programs specifically in ocean mapping so the content is tailored to meet internationally recognized standards for ocean mapping (called "hydrography"). For students pursuing a rigorous education/career in hydrography or marine science, the NOAA Office of Ocean Exploration and Research, in partnership with the University Corporation for Atmospheric Research, offers an "Explorer-in-Training" experience that enables students or recent graduates to participate in ocean mapping working either onshore at UNH or on NOAA Ship Okeanos Explorer during a mapping expedition. More information here: https://oceanexplorer.noaa.gov/okeanos/training.html and here: https://cpaess.ucar.edu/okeanos-explorer-in-training-program . The next round of applications for the Explorer-in-Training program will be accepted in November/December 2018.
Getting involved with NOAA vessels as a Survey Technician is a great way to get hands-on experience with hydrography and travel while you are at it. (Derek)
Are deep-sea creatures less evolved than land creatures, for the most part? It seems like those creatures haven't been as impacted by humans than land-dwelling animals?
All organisms continue to evolve, but I think what you may be asking is whether they experience fewer selective pressures than terrestrial (land-based) species. Given that the deep sea is a very stable environment, organisms there are likely to have few selective pressures, so may remain similar in morphology over hundreds or thousands of years. Terrestrial organisms deal with a lot more variability in their environments, so many change due to the selective forces they experience. (Cheryl)
Can you explain why invertebrates in the deep sea are, generally, much larger than their terrestrial counterparts?
It largely has to do with the physical properties of water versus air. Have you ever noticed while you are in a pool or floating in the ocean that you feel weightless or lighter than you do on land? Because water is denser than air, organisms can get bigger in the ocean without being crushed by their own weight like they would be in air. Also, organisms in the deep sea seem to have evolved special adaptations to deal with the cold temperatures and high pressure at depth that have a side benefit of making it easier to grow larger. (Kasey)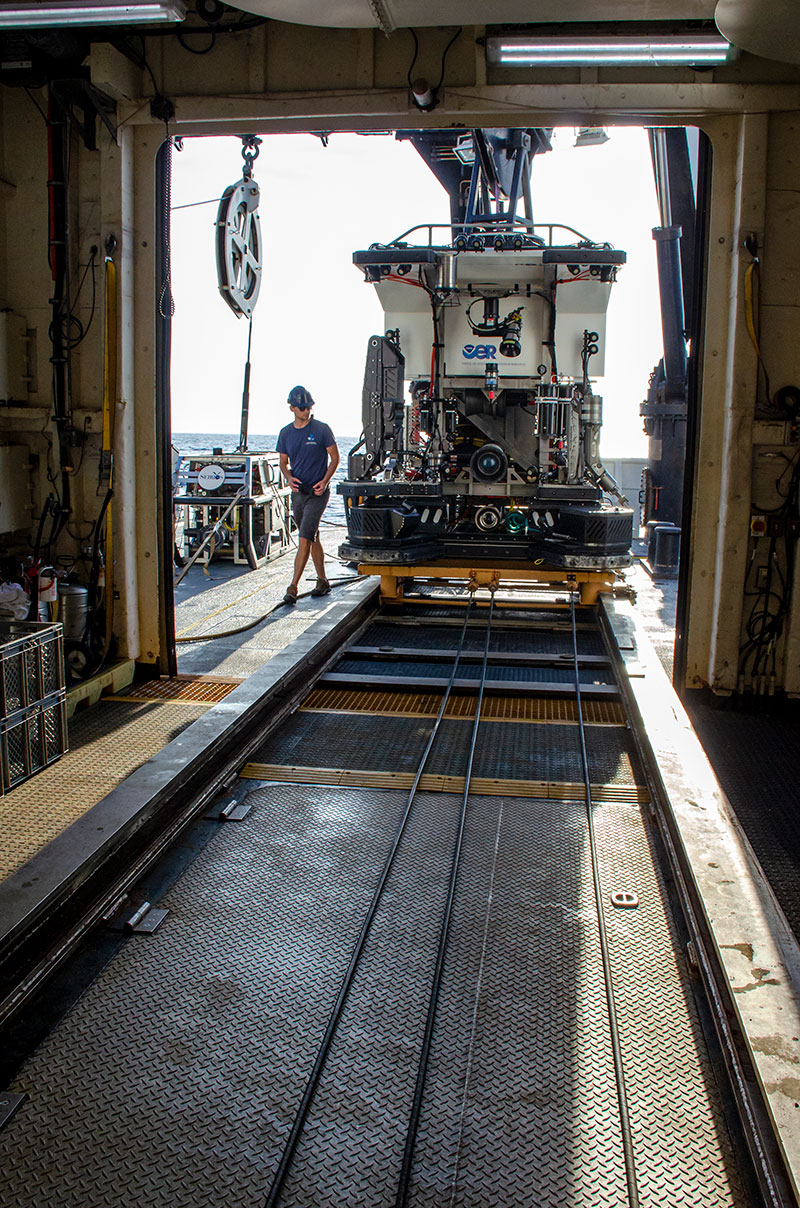 I often hear that the best way to learn about outer space is to study the deepest parts of our oceans. Why is that?
The deep sea is often considered to be an "extreme environment" because of its lack of light, cold temperatures, and intense pressures. In some some areas, vents of high, toxic fluids and gases, or cold methane are found. Despite these extreme conditions, some well-adapted biota (life) thrive, from bacteria all the way to complex animals. Discoveries on the seafloor have led to hypotheses that life can survive in many extreme conditions – some of which might exist in space. Europa, one of Jupiter's moons, is covered by an ocean, topped with ice. The ice is broken and seems to move around, suggesting circulation in the underlying water (caused by heat flow, perhaps?). A developing hypothesis is that perhaps life can exist in this extreme environment as well. (Leslie)
Have any of the crew/exploration scientists conducted exploration/research in a submersible versus a remotely operated vehicle, like Deep Discoverer?
Yes, I've dived in the submersibles Johnson Sea Link II and Clelia about 10 times, near the location of dives for the Windows to the Deep 2018 expedition, but at shallower depths than these dives. (Leslie)
Yes, I began my studies of deep-sea organisms and habitats using the Johnson Sea Link and Alvin submersibles. It is amazing to actually be on the seafloor and observe the habitats in person. However, the time spent at depth is much less than what is possible with a remotely operated vehicles (ROVs), such as Deep Discoverer, due to the battery life of the submersible and life support for the human occupants. Since the ROVs are tethered to and powered by the ship, bottom time is much greater, so you can see more of the seafloor. Another advantage of the ROV is that many scientists can contribute to the dive. You may be able to grab the expert for any type of organism and talk about it in real time through telepresence, unlike the submersible where discussions about what was observed have to wait until the end of the dive. Overall, I was reluctant to make the switch to ROVs at the beginning, but now I am a great fan! (Cheryl)