June 14
New Beginnings
by Kasey Cantwell, Expedition Coordinator, NOAA Office of Ocean Exploration and Research
June 14, 2018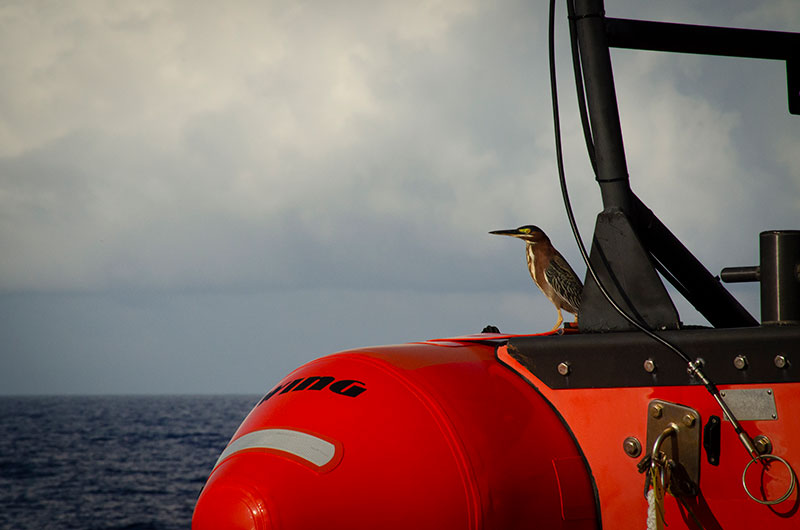 I love that moment when the ship finally clears the channel, with the open ocean in front of you. The next few weeks are filled with the promise of new discovery and excitement for what is to come. Though I know there will be a million twists and turns, technical issues, and challenging weather, for right now, it's hard not to smile at the start of a new expedition.
The planning for this expedition started about two years ago, in early 2016, when NOAA began to look ahead to what our next ocean exploration campaign would be. As we looked towards NOAA Ship Okeanos Explorer returning to the Atlantic Ocean, we began to notice that there was much interest from our federal, regional, and academic partners in exploring the deepwater habitats along the Southeastern U.S. seaboard. While much of the U.S. east coast had been mapped during the ACUMEN campaign and the U.S. Extended Continental Shelf Project, the southeast U.S. continental margin is largely unknown.
During this expedition, the expedition teams will map areas of the continental margin that currently have no high-resolution mapping data. Remotely operated vehicle (ROV) dives conducted along the edge of the Blake Escarpment and the Blake Ridge will provide some of the first opportunities to observe the organisms that reside in these areas and will contribute to broader understanding of the geological context of the region.
Much of this cruise will focus on collecting data that will help increase our understanding of deep-sea coral and sponge habitats. In most of our operating area, deep-sea coral models are currently limited, as there is limited mapping data and few coral records to help refine the models. Throughout this expedition, we will be diving on a variety of geologic features that could potentially host coral and sponge communities. Many of the sites we will be visiting are representative of their localized region. The snapshot of the habitats that we will get from the dives will provide greater insight into the region as we look to characterize this complex environment.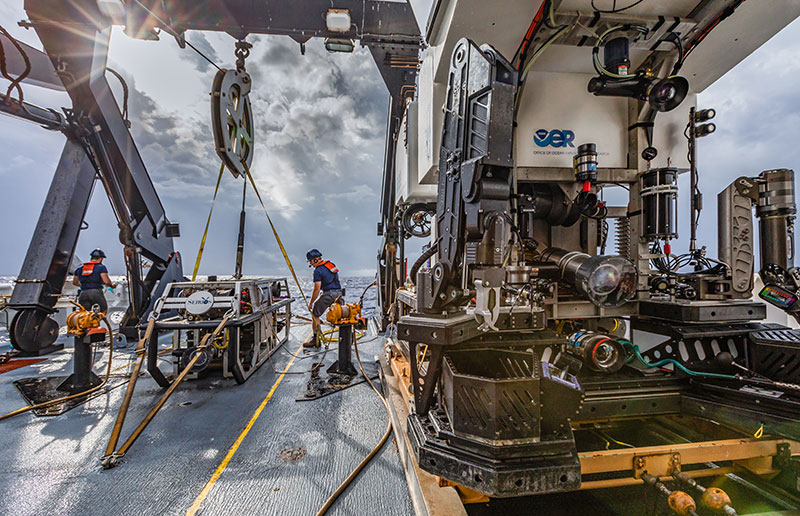 Gulf Stream Challenges Ahead
While many people would say that deep-sea exploration is always challenging, due to the remoteness and the technically advanced equipment that is needed to deal with the intense pressure and cold temperates at depth, we are anticipating a bit of a different foil this cruise. Working in this region has always been a bit of a challenge due to the intense currents, and at times, winds, of the Gulf Stream. Typically, for safe operations, we like to conduct ROV dives in calm weather and seas. While there is no specific formula, every morning our ROV team evaluates wind, waves, and current. Every day is a unique situation with how these three factors interact.
No matter how the wind and waves are faring, the currents of the Gulf Stream will likely present a challenge for at least half of our dive sites this expedition. We will be using NOAA's predictive current models of the Gulf Stream to glimpse ahead at how the Gulf Stream will be acting over the next 24-48 hours. While this is not a perfect system, it will allow us to alter plans in such a way that we will hopefully be able to minimize the number of lost dives due to impacts from the Gulf Stream.
Schedule Version 5, 6, 7?
The first two days of the ROV leg of this expedition were delayed due to a fueling delay. While the ship's crew was hard at work resolving logistical issues and doing their best to get us underway as soon as possible, the mission team was revising, re-revising, and revising again our plans for the next few weeks. We are constrained by how far apart dive sites are coupled with how fast the ship can transit, so we have to carefully plan which sites we drop from our schedule.
Another factor we have to consider is how to maintain the balance of the cruise in terms of expedition priorities and all of the different sites we plan to visit this cruise. This, of course, led to several rounds of edits to the cruise plan, lots of math, and lots of discussions where we tried to poke holes in each version of the plan in an effort to come up with the best approach.
While no one can say what the next three weeks will hold, I can assure you, we're in for some exciting new revelations about this region. Stay tuned for what we discover next!