Video: Dive 01
A few days ago, viewers of NOAA Ship Okeanos Explorer's live video were treated to an observation rarely seen in nature and almost certainly for the FIRST time by public eyes!
This was an astonishing video observation of a swimming brittle star. Brittle stars are members of the Echinodermata, the group which includes sea urchins, sea cucumbers, and sea stars. Brittle stars are distant cousins of "proper" sea stars and have a very different kind of body skeleton with arms composed of many vertebrae-like parts, which allows them a wide range of flexibility and motion.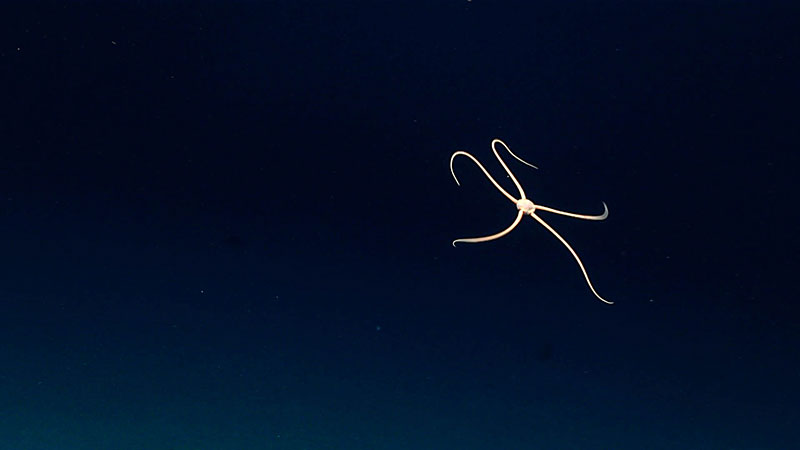 In terms of species, brittle stars, also called ophiuroids, are the most diverse echinoderm group and include over 2,000 accepted species! MOST of these species live on bottom habitats, often in cryptic habitats, where they hide under rocks, lie buried in the sediment, or are otherwise concealed. Most are scavengers, filter feeders, or opportunistic predators and ALMOST always on bottom habitats!
It is therefore AMAZING to have watched this brittle star in the water column, not just dropping from a height or being swept up by the currents of the remotely operated vehicle (ROV) Deep Discoverer, but ACTIVELY SWIMMING through the water!
Remarkably, this is NOT the first time this has been seen! And perhaps not coincidentally, the prior observations were made from this area!
Allegations of swimming brittle stars have been made since the 19th Century, but most of them, as it turns out had been erroneously reported. In the 1980s, echinoderm biologists Dr. Gordon Hendler and John Miller observed no fewer than FOUR different species using the Johnson Sea Link, a personnel-operated sub in the tropical Atlantic (reported here in 1991).
Their work looked at several species of swimming brittle stars and they discovered that several unusual adaptations are present in swimming brittle stars. Those species which swim have skeletal elements called ossicles, which are actually less dense and more porous than their bottom-dwelling counterparts. The articulation points between these ossicles permit greater flexibility with more muscular attachment. Some brittle star species actually have specialized spines which are thought to assist with swimming.
As it turns out, all the known swimming brittle star species are in the deep sea and in some cases, are quite widespread, occurring in the Atlantic, Indian, and Pacific Oceans.