Telepresence Mapping
Telepresence Mapping of the Southeast U.S. Continental Margin
by Elizabeth "Meme" Lobecker, NOAA Office of Ocean Exploration and Research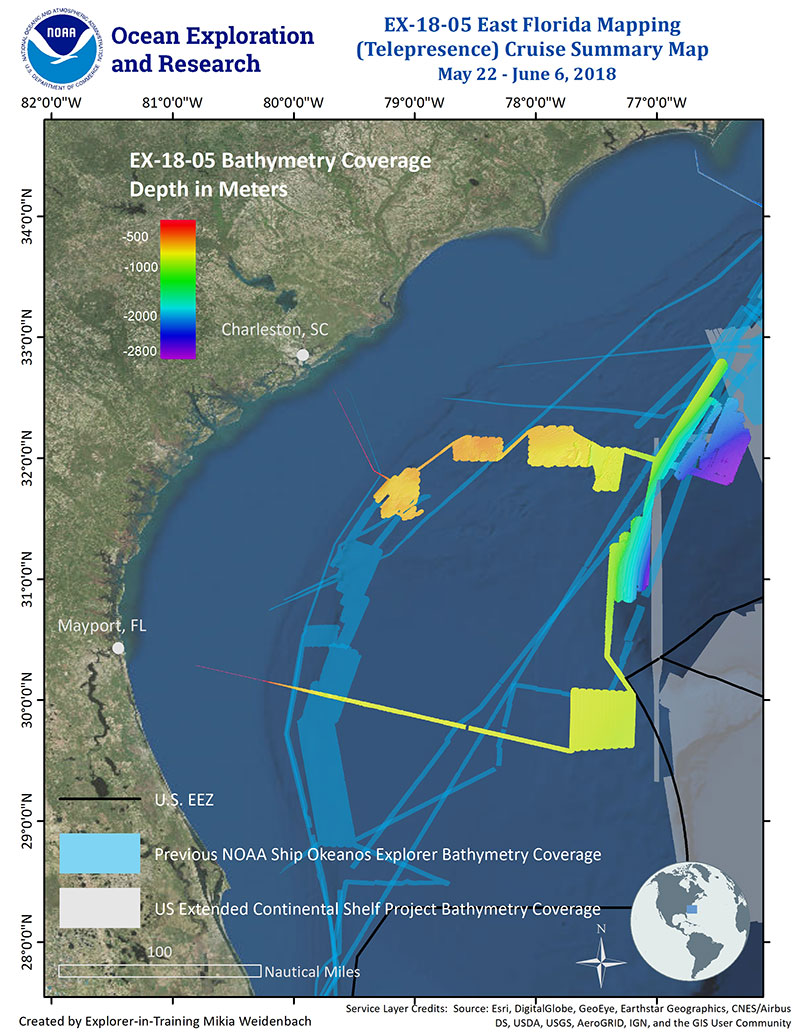 From May 22 - June 6, 2018, NOAA Ship Okeanos Explorer conducted mapping operations 24 hours per day using the ship's state-of-the-art suite of sonars focused on mapping the seafloor, the water column, and the sub-seafloor. This was the first part of the two-part Windows to the Deep 2018: Exploration of the Southeast U.S. Continental Margin expedition intended to increase our understanding of the deep-sea environment along the southeast United States.
This is the first NOAA Ship Okeanos Explorer expedition that will contribute to NOAA's Atlantic Seafloor Partnership for Integrated Research and Exploration (ASPIRE), a major multi-year, multi-national collaborative field program focused on raising collective knowledge and understanding of the North Atlantic Ocean.
Mapping Operations - Focus Areas
Mapping operations were focused offshore Florida, Georgia, and South Carolina, in the South Atlantic Bight – and more specifically, the Blake Plateau – over some of the least explored areas along the U.S. East Coast. The data collected during the expedition provides baseline information in unknown and poorly known deepwater areas of the southeastern United States and will directly support remotely operated vehicle (ROV) dive planning efforts for the second part of this expedition, as well as the ongoing National Oceanographic Partnership Program's Deep Sea Exploration to Advance Research on Coral/Canyon/Cold seep Habitats (DEEP SEARCH) project.
Summary Accomplishments
During the mission, the team mapped over 4,900 linear kilometers, resulting in complete seafloor bathymetric coverage of of over 16,000 square kilometers, or over 6000 square miles – an area larger than the states of Connecticut and Rhode Island combined, or nearly the size of Lake Ontario.
The team collected more than 180 GB of raw data, including multibeam, single beam, subbottom sonar, sound velocity profiles, and surface oceanographic and meteorological sensors. All of the data from this expedition will be made publically available through national archives within 60 to 90 days of the end of the cruise.
Telepresence Mapping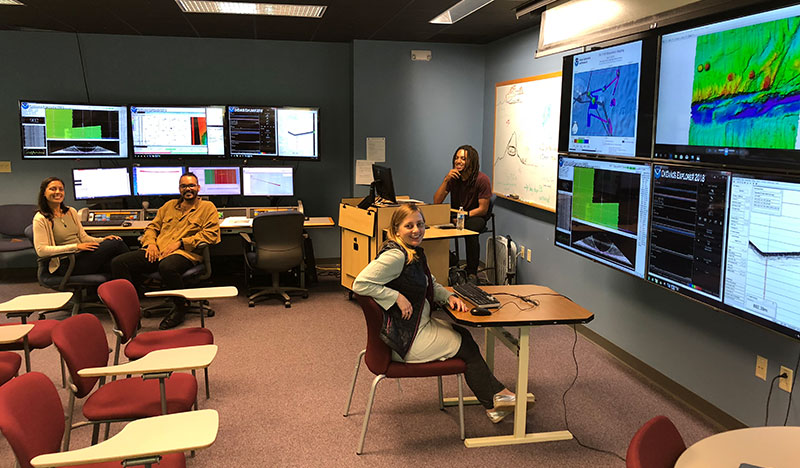 This was the ninth expedition to test telepresence-enabled mapping operations on NOAA Ship Okeanos Explorer. Telepresence uses modern computer networks and a high-bandwidth satellite connection to enable remote users to participate virtually in ocean research and exploration cruises. The NOAA Office of Ocean Exploration and Research (OER) has been leveraging telepresence capabilities since the early 2000s. Through telepresence, remote users have provided support for operations planning and execution, troubleshooting hardware and software, and data interpretation during exploratory ocean mapping and remotely operated vehicle missions led by OER.
For this expedition, the mapping team was split between shipboard and shore-based mission team members based at the Exploration Command Center (ECC) at the University of New Hampshire's Center for Coastal and Ocean Mapping (UNH CCOM), with the goal of exploring the potential for telepresence technology to enable:
expanded shore-based data processing of multiple sonar data streams leading to enhanced, rapid, initial site characterization;
remote access control of shipboard sonar data acquisition and processing computers; and
the broadening of multidisciplinary applications of ocean mapping cruises, including outreach, education, and communications efforts focused on expanding societal cognition and benefits of ocean exploration.
Important developments in remote watchstanding were made during this cruise, including demonstration of sonar controls, data management routines, and physical deployment of an expendable bathythermograph probe using an automated launching system developed by NOAA's Atlantic Oceanographic and Meteorological Laboratory.
Explorers-in-Training (EiTs)
NOAA OER, with support from the University Corporation for Atmospheric Research (UCAR) and the NOAA Education Partnership Program, enables undergraduate, graduate students, and recent graduates to participate in the NOAA Ship Okeanos Explorer Explorer-in-Training (EiT) program. In total, five EiTs participated in this cruise.
Three new EiTs were onshore with OER personnel in New Hampshire, learning how to process raw multibeam, single beam, and subbottom sonar data into informative mapping products. Several of the maps produced for this expedition were created by the onshore EiTs and show overall cruise multibeam coverage as well as focused mapping areas. To complete their mapping training with NOAA OER, these EiTs will be invited to sail on a later NOAA Ship Okeanos Explorer expedition. One EiT will support the second part of this expedition from shore at the College of Charleston, providing mapping data support using newly acquired skills.
Two EiTs were onboard NOAA Ship Okeanos Explorer during this cruise, learning valuable sonar data acquisition and advanced processing skills while becoming familiar with life at sea; one of these EiTs was onshore during a mapping cruise in August 2017 learning initial data processing skills.