September 29 Log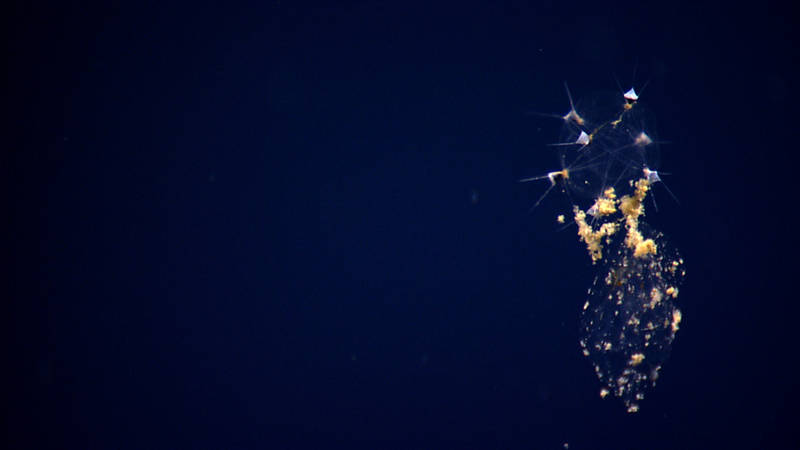 I was very lucky that as a young graduate student, my PhD advisor invited me on a research cruise and gave me the opportunity to dive into the deep sea in the submersible Alvin. For those unfamiliar with this deep-sea research workhorse, Alvin is a submersible that can operate free of any tether and dive for up to nine hours at 4,500 meters depth (the newly refit Alvin can dive to 6,500 meters!).
How exciting to be able to see with my own eyes the mysteries of the deep I'd only read about. In order to resist the immense pressures at the great depths it operates in, Alvin relies on an approximately six-foot diameter titanium personnel sphere with two-inch thick walls that can hold only three people (usually two scientists and a pilot). So when working on the deep-sea floor peering through small (and six-inch thick!) portholes, you could rely only on the expertise of the three people in the sub to make an identification or scientific determination of whether the observation was worthy of further analysis.
Later in my career, I had an opportunity to begin working with remotely operated vehicles (ROVs). Like the ROV Deep Discoverer on Okeanos Explorer, these vehicles are operated from the deck of a ship with the pilots and scientists watching a live video feed being transmitted from the ocean floor to the ship via a fiber optic cable. The video feed can be watched by several people, the exact number determined by the size of the vessel and available monitors.
On some research cruises, a group of scientists would be huddled around a single screen and on bigger expeditions multiple plasma screens would be distributed in different areas of the vessel where scientists could congregate; a communication system would be set up so that scientists in the dry lab watching on the monitor could communicate with the ROV control van to discuss the observations. Thus, from a committee of three isolated in the Alvin personnel sphere, we increased to a collaboration of all the scientists that were aboard the vessel, and we all got to experience the living deep sea together.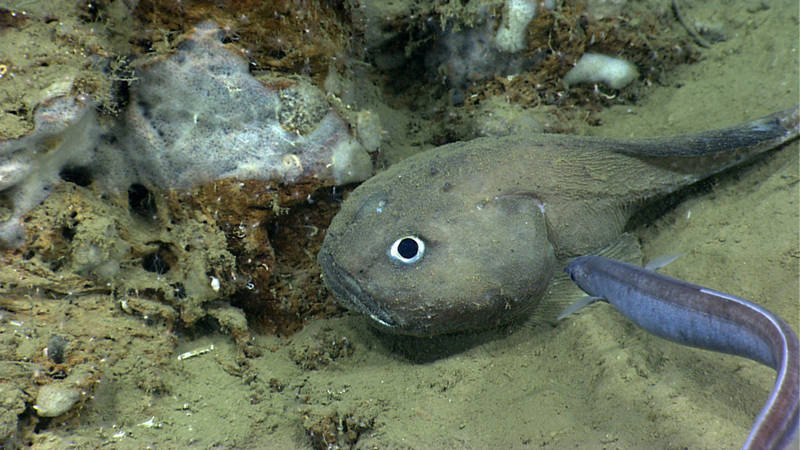 And now I am lucky enough to experience the telepresence-enabled research capabilities of Okeanos Explorer. As those of you following the live ROV video stream already know, the video is being watched by scientists (and the general public!) around the country from their home institutions or one of the Exploration Command Centers (ECCs).
We are all exploring the mysteries of the deep concurrently. The scientists can phone in to a dedicated conference line to speak directly to us here in the ROV control room on the vessel (in which case you too hear them over the audio channel). We also have an instant messaging system (the "eventlog") that participating scientists use to record their observations and requests ("Can we zoom in on that crab?"). As the shipboard science leads, Susan Schnur and I are also in the eventlog chat room trading observations and passing on information we learn from our shoreside collaborators to everyone listening to the live feed.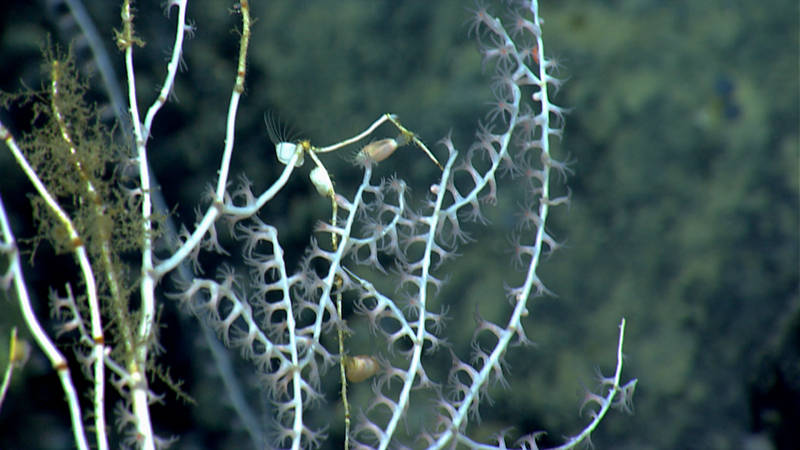 On our last dive, we had more than 35 scientists participating via the eventlog.
I've had a fair amount of experience in deep-sea biology research and teaching, so I have a certain background of knowledge, but I'm certainly not an expert in everything we see. But on a telepresence-enabled mission, such as this expedition, I am accompanied by a cadre of experts specializing in various fields and so I have access to a wealth of knowledge. If I see a fish I don't know, I can put out a call to onshore fish experts and in a short time, I likely have an answer. If there is a complex geological puzzle that Susan isn't sure about, onshore geologists quickly help us out.
In addition, other followers of Okeanos streaming video are taking screen grabs of many interesting observations and posting them to Facebook or on Twitter (see the mission log by Chris Mah and the one about Cyclocanna welshi), which prompts views by more scientists who then email us their observations or identifications.
In our wired (and wireless) world, and with the magnificent technology aboard Okeanos Explorer, the experience of going to sea is vastly different from when I began as a graduate student.