October 1 Log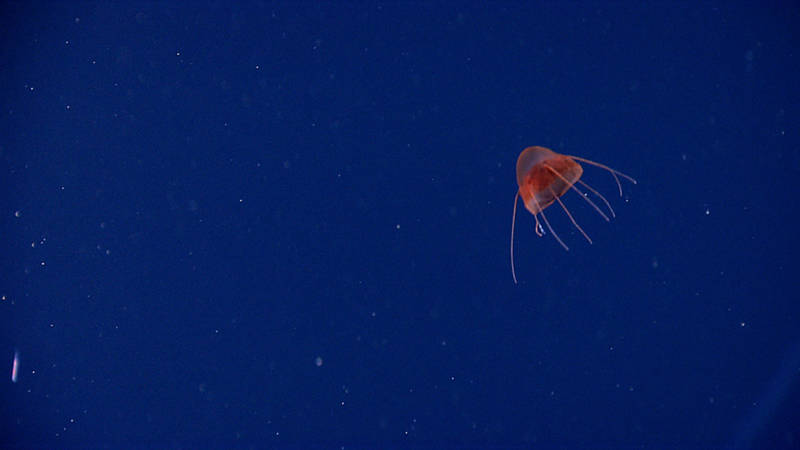 For many of the viewers of the live-streaming video from NOAA Ship Okeanos Explorer's remotely operated vehicle (ROV) expeditions, the descent of ROV Deep Discoverer (D2) into the depths of the ocean just means that they have to wait a little longer to get to the discoveries at the bottom.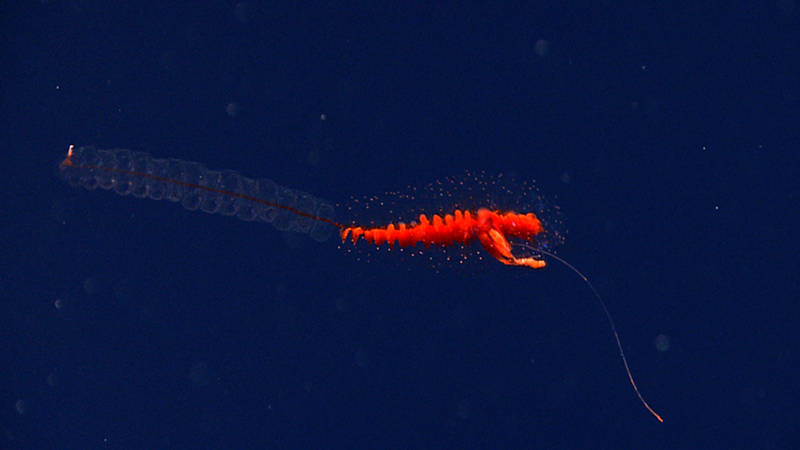 But Mike Ford feels completely differently.
The biological oceanographer, who works with the NOAA National Marine Fisheries Service, studies gelatinous animals known as salps, jellyfish, siphonophores, and ctenophores, which float through the water column throughout the world's ocean, capturing microscopic prey like plankton.
So when D2 is on its way down to the seabed, Ford is watching on the large monitors in the Exploration Command Center in Silver Spring, Maryland, exclaiming excitedly as he catches sight of the often bizarre-looking creatures.
Gelatinous Animals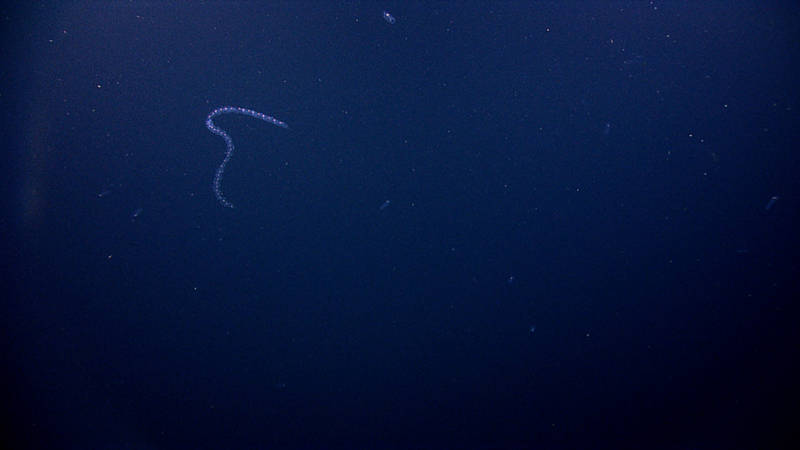 The term "jellyfish" covers a wide array of animals, Ford says, including hydromedusae, a few of which we have seen on this expedition. These are typically bell-shaped and pulse to move through the water and collect prey.
Ctenophores, often called comb jellies, move through the water using rows of cilia and capture prey with lobes found on the bottom of their bodies.
Salps are community-forming animals that look like a gelatinous barrel. To gather food, they process water through their bodies at rates on the order of liters per hour, using muscular contractions to pass water across a mucous net inside their body that captures plankton and detritus. They can live as singular organisms, but often attach to each other in long chains.
Siphonophores come together to form communities where each animal has a specialty, whether it is locomotion (movement), predation (capturing food), or reproduction. Together, they can function as one large organism.
What Ford Is Looking For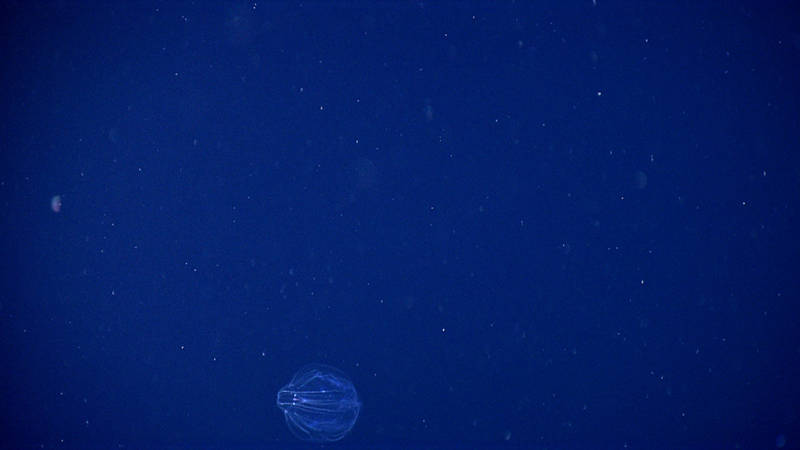 "Part of my job is to monitor the levels of gelatinous animals in the Northeast Continental Shelf ecosystem," Ford says.
That ecosystem extends from Cape Hatteras off the coast of North Carolina north to the Gulf of Maine, and from the U.S. coastline out to the continental shelf – about 280,000 square kilometers altogether. The enormity of this area makes it difficult to know much about the distribution, life cycles, and population size of the gelatinous animals that live and pass through there. Additionally, scientists' work is complicated by the fact that these animals are often small and transparent, and that sampling – pulling them up in nets to study them – can damage them.
That's why Ford loves watching the high-definition video transmitted by Okeanos Explorer. He started tuning in during the 2013 expedition to the Atlantic canyons and seamounts, and is pleased that the current mission is returning to the region, allowing him to compare the data gathered from both years.
Our Deepwater Backyard allows scientists to look at a number of canyons and seamounts within just a few weeks, providing a bigger snapshot of the distribution of salps over a wide area. The seamount dives also allow Ford to get information from less frequently surveyed areas. That unique opportunity, coupled with HD video that doesn't damage the salps and other animals, makes the expedition a fantastic window into the undersea world for Ford.
Why It Matters
"Siphonophores, salps, jellyfish, and ctenophores are significant contributors to the Earth's marine ecosystems," Ford says. "History and experience have told us that when these animals get to a high enough density, they can shift the ecosystem. And that can have negative effects on living marine resources that we care about."
Jellyfish prey include both the same plankton that larval fish eat and the larval fish themselves. However, the relationship between the populations of jellyfish and other gelatinous animals found in the water column and populations of fish is poorly understood.
Every morning, as D2 plunges to its ultimate destination of a canyon or seamount thousands of meters below, Ford documents the numbers and types of jellyfish, siphonophores, ctenophores, and salps he sees. And when the ROV reaches the bottom, he goes back to his office to dream up hypotheses – and paper topics – for why he saw lots of salps on one day, but very few on another.