Mission Introduction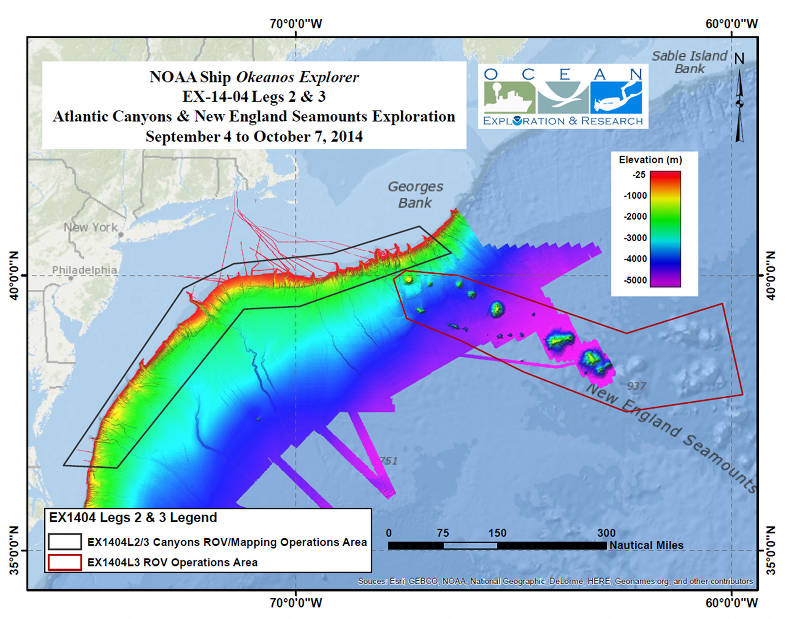 From September 4 to October 7, 2014, NOAA Ship Okeanos Explorer will explore the largely unknown deep-sea ecosystems of the U.S. Atlantic coast. Our at-sea and shore-based science team will collect baseline data in the Atlantic submarine canyons and along the New England Seamount Chain.
Despite the role that oceans play in supporting our well-being, 95 percent of the ocean remains unexplored. Increasing baseline knowledge of ocean habitats is critical to the conservation and preservation of these remarkable ecosystems. Projects of this nature are necessary to expand our knowledge of the unknown and to provide baseline data for resource managers.
Priority operating areas for this three-leg, 52-day expedition were identified by resource managers and federal and state partners and through broad participation of the marine science community. Leg 1 focuses mapping operations on acquiring data over unmapped areas of the New England Seamount Chain. Legs 2 and 3 will collect critical baseline data using the remotely operated vehicle Deep Discoverer throughout the New England Seamount and Atlantic Canyon regions.
Over the next few weeks, we plan to explore several seamounts and submarine canyons, deep-sea coral habitats, and potential chemosynthetic communities, all within in a couple hundred miles of some of the most densely populated sections of the U.S. During our 2013 expedition to the Northeast U.S. Canyons, we discovered critical deep-sea coral habitats, previously unknown methane seeps and associated chemosynthetic communities, and potential new species.
We never know exactly what we will find, so tune in to the live feeds to see what we discover next!