August 11
From Ship to Shore
by Jamie Austin, University of Texas at Austin, John A. and Katherine G. Jackson School of Geosciences, Institute for Geophysics
August 11, 2013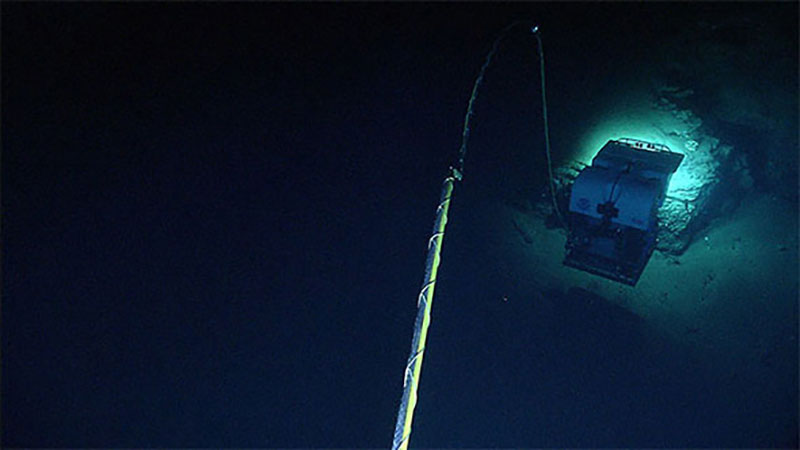 Submarine canyons, undersea "sinuous valleys" indenting the continental slope off the central and northeastern United States, are one of the East Coast continental margin's most prominent features. Some of these canyons are tens of millions of years old, kept open by periodic erosional forces generated by many processes. The processes that keep the canyons open include:
Flows of water from the continent cascading down the slope during times of lowered sea level (for example, during glacial periods over the last ~2 million years, when the adjacent continental shelf was exposed).
Density-driven flows or turbidity currents, which transport sediments from the edge of the shelf to deep water. Such currents can occur periodically as a result of instabilities such as earthquakes and storms.
A phenomenon known as "internal waves," which are density interfaces in the seawater itself that impact the seafloor in these canyon axes.
The primary goal of the Okeanos Explorer expedition that we are currently engaged in is to understand biological colonization and its relationships to the complex topography of these canyons. Many of these canyons have never been studied in detail, and those that have been visited have not been looked at in detail by remotely operated vehicles (ROV), supported by the kinds of detailed seafloor maps which the NOAA Okeanos ship can create before we dive.
I am presently joining the expedition from the Inner Space Center at the University of Rhode Island. I served as the science lead aboard the ship for an expedition to the Gulf of Mexico in April of 2012. I guarantee that sitting here right now, with headphones on, communicating in real time with the shipboard science party, and looking at the huge screens in the Inner Space Center that are broadcasting the ROV imagery in real time, is every bit as exciting as being on the ship.