April 14
Ocean exploration is commonly thought of in spatial terms, e.g., the creation of maps of previously unobserved seafloor. However, it has an equally important temporal component which addresses how ocean processes change through time.
Although seafloor bathymetry generally evolves over relatively long time scales, many oceanographic processes occurring in the water column above the seafloor change significantly over time scales as short as seconds, minutes, and hours. During the third leg of the Gulf of Mexico 2012 Okeanos Explorer expedition, the ship revisited a series of naturally occurring gaseous seeps that it first documented while conducting spatial exploration in 2011. On this cruise we had the opportunity to temporally explore how the seeps change through time and made some important preliminary discoveries.
The noted seeps occur in the vicinity of Biloxi Dome in the Gulf of Mexico and were first imaged with the ship's multibeam and single beam sonar on the Gulf of Mexico 2011 expedition. That imagery provided a single "snapshot" of the locations of the seeps and led scientist to question how persistent these features might be.
On the current expedition, the ship revisited the seeps and imaged them multiple times within a short period, in an attempt to observe their behavior. From the evening of April 12 through the morning of April 13, six passes were made over the seeps along the same ship trackline. A trackline is the plotted course the ship follows between two points. When considered together, the images from each consecutive pass from a "time lapse" series, which yields insight into seep behavior.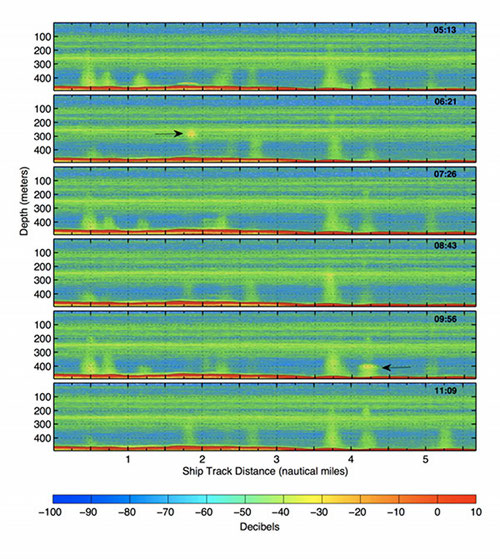 The image to the right presents single beam sonar imagery from the six passes which shows nine gas seeps (yellow-green vertical columns) emitting bubbles upward from the seafloor (red). These six images reveal what a single pass in 2011 could not: that the intensity of gas emission from the seeps is not constant through time. Moreover, the seeps exhibit an unexpected "bursting" behavior in which intensity gradually diminishes followed by a large rapid release of bubbles (denoted with arrows).
The information captured through this temporal exploration of the seeps has the potential to inform a wide variety of scientific hypothesis regarding seep processes, and was found to be immediately valuable on this cruise in conceptually linking remotely-operated vehicle (ROV) and sonar imagery at seep locations.