July 22
This experience at the Hatfield Marine Science Center has truly opened up a whole new world to me; it has been interactive, fast-paced, hands-on learning. After spending barely a week reading textbooks and articles about plate tectonics, navigation systems, black smokers, white smokers, and the biological indicators that tip a researcher off that we are getting close to active hydrothermal venting, the dives started. It was within minutes of seeing the sea floor that I found myself falling in love with this strange new world, with its mountainous terrain and corals that reminded me of Christmas; however, it wasn't until the second dive that I was truly hooked. Even though pillow lavas are known in the scientific community to be the most common rock in the world, this was my first time ever seeing them live. These rounded masses of stone with their stretch marks and extruded, toothpaste-like, extrusions of rock fascinated me. Then I saw one that had burst open, leaving a hollow shell. Next, we saw relatively new lava, with its smooth, glassy surface and crackly lines zigging this way and that. I watched in awe as the pilot of the ROV led us down lava trails, following "smoke" and searching for the elusive black smoker, but finding some small extinct chimneys instead. The whole process of forming these chimneys is amazing to me. Simply having the privilege of seeing this site that no one has ever before documented thrilled me. The running event log chat with input from scientists on the other Exploration Command Centers and the Okeanos Explorer kept me informed of what I was seeing as I witnessed each new discovery.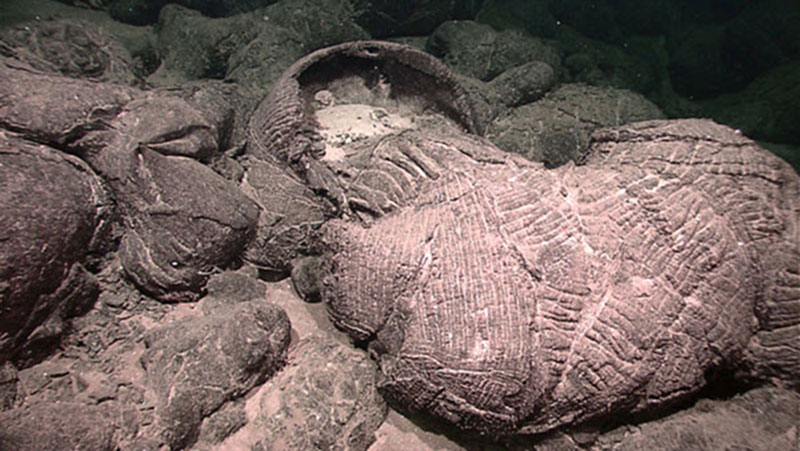 The following dive, as we were descending through a plume of "smoke" thicker than Newport's heaviest fog, I was sure we were about to land right on top of a smoking chimney. Excitement was palpable in the room as we hung on to every view, leaning forward and scanning the screen. Any moment now, we were convinced that around the next corner, or down in the graben, it would be right there. Wisps of smoke teased us, leading us up lava trails and fading as fast as it had shown up. At times the flock (floating white blobs of bacteria) poured down so thick that the screen looked as though we were driving through a blizzard. I held my breath as I waited to see a "snow blower" chimney, instead landing upon a field of lava covered in white staining and bacteria. Hot water could be seen seeping between the cracks, shimmering and carrying flock upward. Crabs were abundant, stuffing their little faces with the coating on the rocks and sometimes covered in little flea-like creatures. The area was also teaming with shrimp, which of course helped me determine my dinner for the night. As we spent the day making our way through the fog and snow, I became more and more convinced that it was all coming from these areas of diffused venting. With the water coming out of the cracks being lower temperature, the smoke simply was not rising very fast, keeping the particles concentrated near the sea floor. Not being an oceanographer or geologist, I do not know the whole of the matter, or the other factors that may have played into our foggy drive. Still, it was previously undiscovered country, and I got to be one of the few people in the world that saw it first.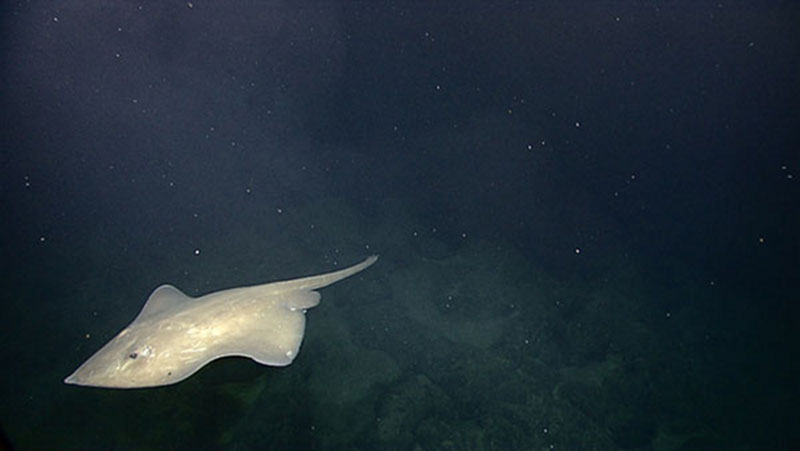 During the course of these dives, I have learned enough to feel confident in calling out the different features that I witnessed even though I am a non-traditional student with no previous training. I am a 38-year-old single mother of two teenaged boys who trepidatiously decided to try college for the first time as a mathematics major. Because of the IDES (Increasing Diversity in Earth Sciences) program, I now have this opportunity to glean new knowledge and think about possible new directions that my education could lead me. The world is wide open and the oceans are vast. I am ready to keep exploring!