New Data Atlas Eases Access to NOAA Ocean Exploration Data
New Data Atlas Eases Access to NOAA Ocean Exploration Data
In partnership with NOAA Ocean Exploration, NOAA's National Centers for Environmental Information (NCEI) has launched a new NOAA Ocean Exploration Data Atlas. The data atlas is a freely available and publicly accessible map-based tool for viewing and accessing data collected during NOAA Ocean Exploration expeditions. It replaces the Ocean Exploration Digital Atlas and offers numerous enhancements, such as improved performance and more intuitive visualizations.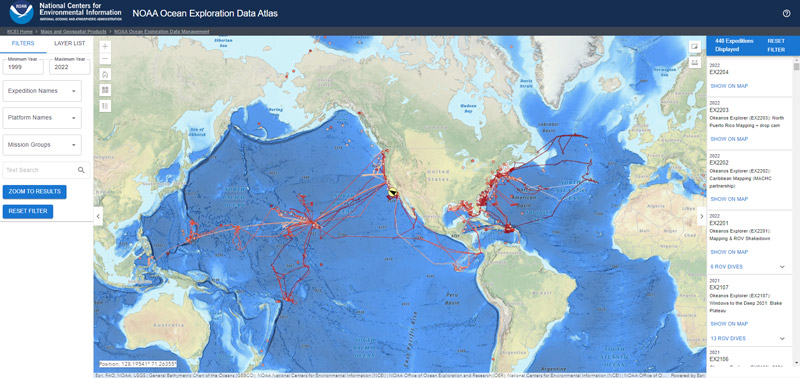 The searchable, interactive data atlas provides access to a continuously updated archive of NOAA Ocean Exploration expedition-related data, information, and products (e.g., mapping, environmental, and navigation data; video from remotely operated vehicle dives; reports; peer-reviewed publications) from the office's inception in 2001 to the present.
The map viewer leverages cloud-based GIS services hosted on the NOAA GeoPlatform (ArcGIS Online), including ship tracks, remotely operated vehicle dive tracks, sampling locations on the seafloor, visualizations of bathymetry mapped using multibeam echosounders, and near real-time tracking of NOAA Ship Okeanos Explorer.
NCEI adds data to the data atlas over time as quality-control measures are completed, data are released, and publications and related materials are published. Thus, not all data will be made available at the same time. Furthermore, restricted data (e.g., shipwreck locations) are excluded from the data atlas.
The new data atlas is still being refined, and feedback is welcome. Send comments and questions to oer.info.mgmt@noaa.gov by December 31, 2022.
To learn more about the NOAA Ocean Exploration Data Atlas, visit Using the NOAA Ocean Exploration Data Access Tools.
Published November 7, 2022
The NOAA Ocean Exploration Data Management Team at NCEI performs cutting-edge, end-to-end data management for NOAA Ocean Exploration-sponsored missions, partnerships, and projects, including expeditions aboard NOAA Ship Okeanos Explorer. These efforts enable rapid and easy data access, facilitate efficient and effective long-term data preservation, and inspire further ocean exploration and research.