January 19, 2022
Ocean Exploration Education Grants to Advance Diversity, Equity, and Inclusion Announced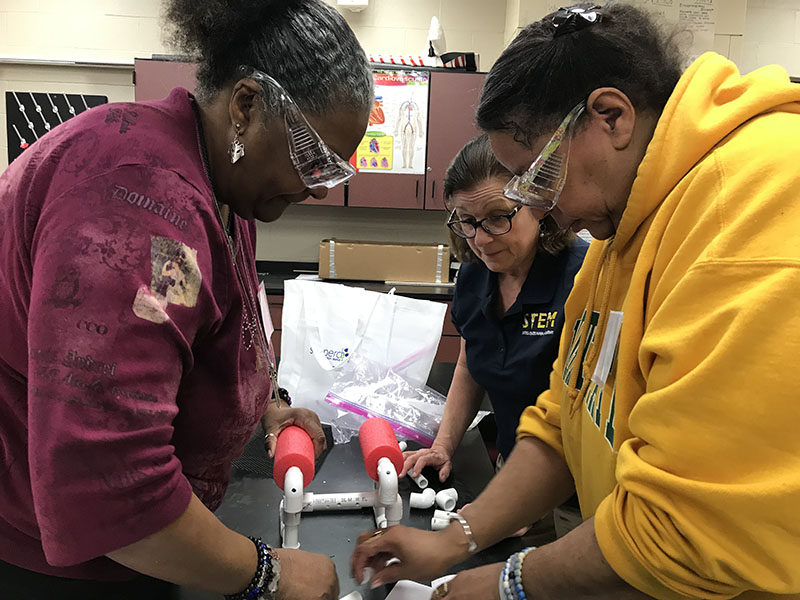 NOAA Ocean Exploration and the National Marine Sanctuary Foundation have awarded seven education grants to help engage and inspire the next generation of ocean explorers by supporting diversity, equity, inclusion, and accessibility (DEI&A) efforts related to ocean literacy, stewardship, and workforce development.
The Ocean Exploration Education Mini-Grants project was launched to support underserved and/or underrepresented communities in engaging in ocean exploration career pathways and to and to build the capacity for Science, Technology, Engineering, Art, and Math (STEAM) educators to bring ocean science and exploration alive in the classroom and beyond. The seven grantees were each awarded up to $25,000 to fund their projects, which will take place throughout Spring 2022. The projects are described below.
Increasing inclusivity and building diversity requires that STEAM education programs intentionally engage with student groups lacking representation in STEAM fields. The Ocean Exploration Education Mini-Grants project aims to support initiatives and build partnerships with others seeking to fill these gaps and scale-up ideas promoting stronger connections between DEI&A and ocean exploration as it relates to ocean literacy, stewardship, or workforce development.
---
Ocean Exploration Education Mini-Grant Awardees
Black in Marine Science
This project will offer a week-long South Florida marine science immersion experience to provide Black undergraduate students with opportunities to engage in hands-on learning, research, restoration, and conservation activities in various ocean science disciplines with the overarching goal of recruiting and retaining Black scientists and leaders in the field.
Mystic Aquarium: Ocean Exploration Adventure
Ocean Exploration Adventure will advance ocean exploration educational opportunities for 200 underserved eighth grade students and educators from two majority-minority middle schools in Cranston, Rhode Island. Educators will participate in online and in-person professional development in partnership with NOAA Ocean Exploration and implement ocean exploration activities with their students. Live events with diverse career role models and field trips to explore Narragansett Bay, the University of Rhode Island's Inner Space Center, and Mystic Aquarium's Marine National Monument exhibit will round out the student experience.
Na Wa'a Mauo Marine Stewardship Program
Native Hawaiian students are underrepresented in STEAM ocean sciences. Educators in Hawaiian language immersion programs severely lack STEAM education resources to train future scientists. This project aims to address this issue by creating a Hawaiian language and culture-based STEAM educational package, and bringing this content to classrooms through teacher connections. It will integrate Native Hawaiian worldviews on ocean literacy, stewardship, and kuleana (responsibility) to develop the future workforce.
SUNY Geneseo
This project supports efforts to increase diverse representation in the STEAM workforce. Project funds will provide three undergraduate students from historically underrepresented groups in ocean exploration with an experiential learning opportunity to study deep-sea fish populations with remotely operated vehicle (ROV) data from NOAA Ocean Exploration. The project team will also increase the accessibility of ocean exploration education content for both undergraduate educators and students by publishing a pedagogy manuscript on how to build undergraduate research experiences that integrate NOAA data into biology lab courses. Professional development workshops targeting students from diverse backgrounds will provide resources and strategies for entering marine science and/or STEAM workforce, further strengthening connections between diversity, equity, inclusion, and accessibility efforts and STEAM opportunities.
University of Delaware: Delaware Sea Grant
Delaware Sea Grant will host a series of teacher professional development opportunities, including a conference session, webinar, and one-day, in-person workshop. Underserved students from Wilmington, Delaware, will explore the ocean like they never have before—conducting water quality sampling and otter trawling. All project activities will focus on ocean literacy, ocean exploration, and marine careers. Teachers from around the state will build confidence in teaching marine science content through hands-on experiences, including a research cruise aboard the University of Delaware's Research Vessel Joanne Daiber. Students will expand their environmental skills and gain exposure to the marine world. Both educators and students will increase their awareness and appreciation of the ocean and build a stronger environmental stewardship ethic.
University of Miami, Rosenstiel School of Marine and Atmospheric Science
Ocean Explorers will be an immersive field trip hosted at the University of Miami Rosenstiel School of Marine and Atmospheric Science for middle and high school students from under-resourced schools in Miami, Florida. A total of 15 engaging stations will help excite students about ocean exploration science and conservation. Students will learn how to become stewards for their local marine environment and envision their path to an advanced degree by interacting with university students and faculty volunteers.
University of Southern California
This project will create an American Academy of Underwater Sciences (AAUS) dive training program to certify six students from Historically Black Colleges and Universities and Hispanic-serving Universities. The class will target students who have no prior SCUBA training and result in them obtaining AAUS certification and professional development.
Published January 19, 2022