November 30, 2016
OER's New Video Discovery and Access Portal
November 30, 2016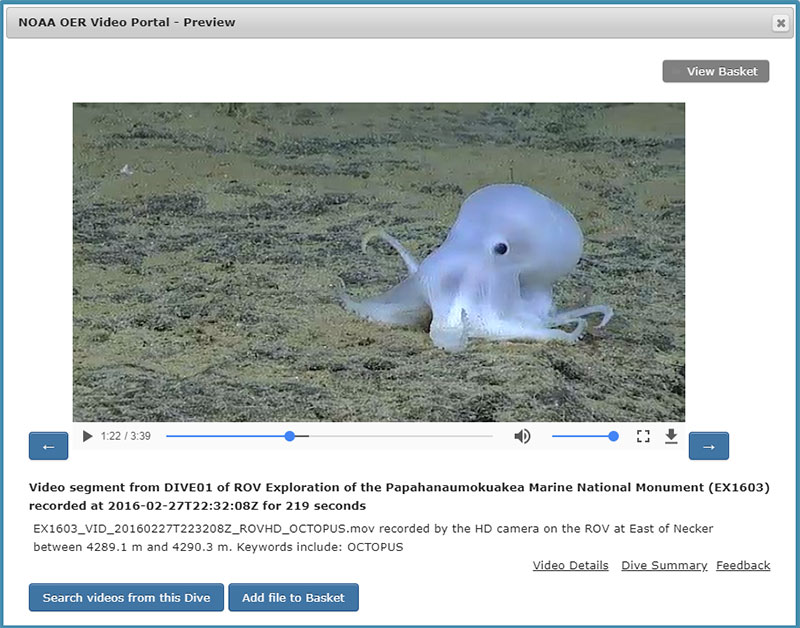 On November 30, the NOAA Office of Ocean Exploration and Research (OER) launched the new OER Video Portal – a self-service web portal allowing anyone to access video segments and highlights recorded onboard NOAA Ship Okeanos Explorer during expeditions conducted from 2010 through 2016. Portal users can search for, discover, preview, and/or directly download low-resolution video files and place orders for full-resolution video files.
Portal users can filter search results by cruise, dive site name, date range, depth range, geospatial bounds, and/or keywords. Search results will provide users with more information about related videos through video metadata, either in .xml format or via a landing page on the National Centers for Environmental Information website.
In selecting a video, users can view a dive summary and preview the video segment in low-resolution and access the file metadata. Users can also order both low-resolution and full-resolution versions of videos by placing them in a "basket." Low-resolution video files will be immediately downloaded to the user's system. To obtain full-resolution versions of videos, a user must provide an email address, which will prompt an order to be placed by the system to pull full-resolution files from their deep-storage location. When the full-resolution version is ready, the user will receive an email notification and a download link allowing them access to the files. This link will only be active for 96 hours after receipt.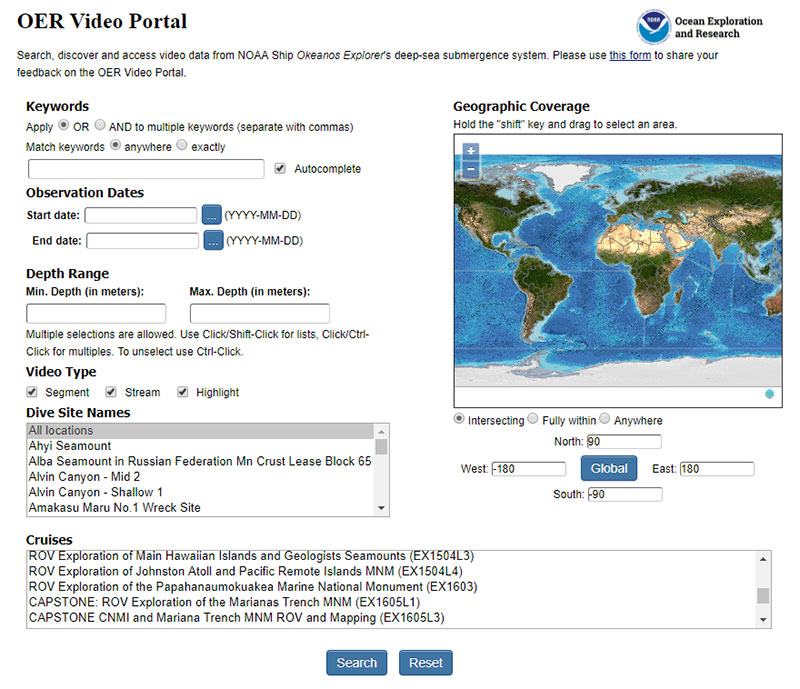 A feedback link is provided at the top of the video portal site, and users are encouraged to provide information on their experiences using the portal. Another feedback link is provided on the video preview page which users can use to recommend updates to the keyword annotation for individual videos. Provided feedback will be invaluable in helping to improve the OER Video Portal.