May 11, 2015
NOAA, Boeing Surveyed World War II Aircraft Carrier Wreck Site
May 11, 2015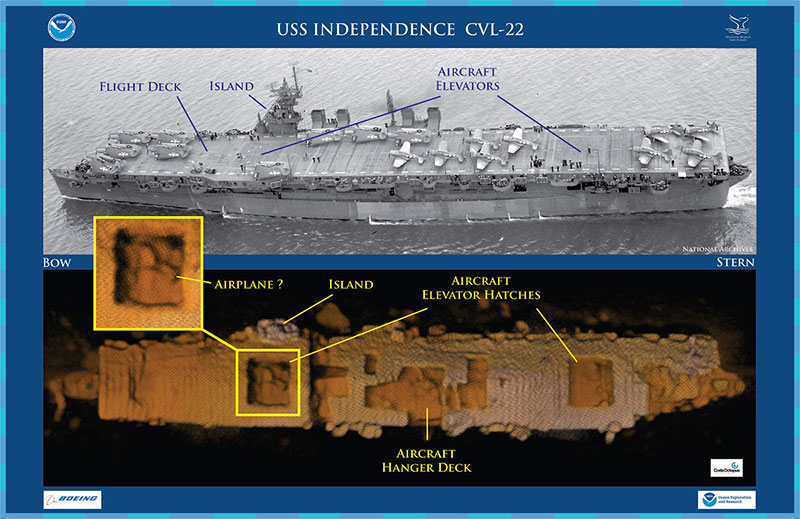 From March 2 to 20, NOAA's Office of National Marine Sanctuaries (OMNS), the NOAA Office of Ocean Exploration and Research (OER), and Boeing conducted an expedition to survey the wreck of the World War II aircraft carrier USS Independence as part of a mission to locate and document historic shipwrecks in Gulf of the Farallones National Marine Sanctuary and nearby waters.
Independence
is famous for its role in the war and its postwar involvement in nuclear testing at Bikini Atoll. The ship was intentionally sunk in 1951, 20 miles at sea, in 3,000 feet of water off California's Farallone Islands. Tests of
Independence
at that time indicated the ship had little if any remaining radiation from its involvement at Bikini Atoll.
Using bathymetric data and maps acquired by OER in 2009, the team used Boeing's large state-of-the-art autonomous underwater vehicle (AUV) equipped with an advanced Coda Octopus three-dimensional mapping sonar to "fly" over the wreck to map it in detail. ONMS is legally required to map and understand cultural and heritage sites in each sanctuary, and uses such survey data to educate the public.
Press release: NOAA, partners, survey 'amazingly intact' historic WWII-era aircraft carrier