1869 (Self-contained Underwater Breathing Apparatus)
The Rouquayrol Diving Apparatus
In Jules Verne's science fiction masterpiece, Twenty Thousand Leagues Under the Sea, the following exchange took place between Captain Nemo of the Nautilus and his unwilling scientific hostage, Professor Aronnax. In this exchange, Captain Nemo describes how people could in fact live under the sea and move about freely. He gives an accurate description of the Rouquayrol Apparatus, a working aqualung device that, in fact, was an existing instrument devised by the mining engineer Benoit Rouquayrol in 1865 for use in flooded mines, and modified by his colleague Auguste Denayrouze for use by the French Navy in 1865. This apparatus was the first self-contained underwater breathing apparatus (scuba) and was invented and used almost 80 years before the Cousteau-Gagnan regulator. This discussion showed Jules Verne not only to have a fertile imagination, but also to be knowledgeable concerning the scientific advances of his day: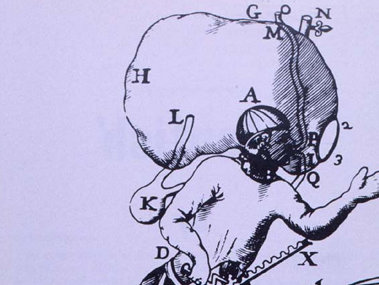 Captain Nemo: "You know as well as I do, Professor, that man can live under water, providing he carries with him a sufficient supply of breathable air. In submarine works, the workman, clad in an impervious dress, with his head in a metal helmet, receives air from above by means of forcing pumps and regulators."
Professor Aronnax: "That is a diving apparatus," said I.
Captain Nemo: "Just so, but under these conditions the man is not at liberty; he is attached to the pump which sends him air through an india-rubber tube, and if we were obliged to be thus held to the Nautilus, we could not go far."
Professor Aronnax: "And the means of getting free?" I asked.
Captain Nemo: "It is to use the Rouquayrol apparatus, invented by two of your own countrymen, which I have brought to perfection for my own use, and which will allow you to risk yourself under these new physiological conditions without any organ whatever suffering. It consists of a reservoir of thick iron plates, in which I store the air under a pressure of fifty atmospheres. This reservoir is fixed on the back by means of braces, like a soldier's knapsack. Its upper part forms a box in which the air is kept by means of a bellows, and therefore cannot escape unless at its normal tension. In the Rouquayrol apparatus such as we use, two india rubber pipes leave this box and join a sort of tent which holds the nose and mouth; one is to introduce fresh air, the other to let out the foul, and the tongue closes one or the other according to the wants of the respirator. But I, in encountering great pressures at the bottom of the sea, was obliged to shut my head, like that of a diver in a ball of copper; and it is to this ball of copper that the two pipes, the inspirator and the expirator, open."
In Twenty Thousand Leagues Under the Sea (1869) by Jules Vernes. Courtesy of Project Gutenberg *.
*Project Gutenberg is a major Internet endeavor devoted to the concept that the greatest value created by computers is not computing, but the storage, retrieval, and searching of what is stored in our libraries.