Wallpaper Calendar
Wallpaper Calendar
For each month in 2021, we will post a wallpaper calendar for you to download to give your desktop a fresh look. At the end of each month, the image will be retired to the wallpaper collection without the calendar.
Instructions on how to make a picture your computer's wallpaper.
December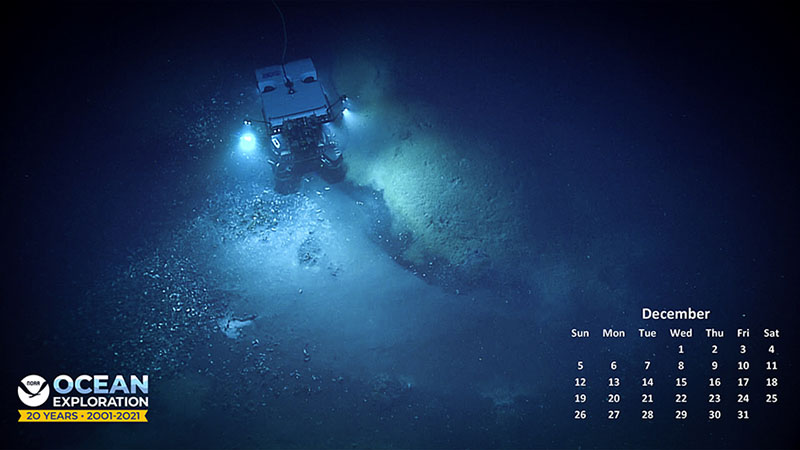 December's Exploration Highlights
December 1, 2016
NOAA Ocean Exploration embarked on the Shakedown, Calibration, and Testing in the Main Hawaiian Islands expedition on NOAA Ship Okeanos Explorer to test the ship's mission systems in preparation for the third year of the Campaign to Address Pacific monument Science, Technology, and Ocean NEeds (CAPSTONE).
December 4, 2000
Former President Bill Clinton established the Northwestern Hawaiian Islands Coral Reef Ecosystem Reserve, laying the groundwork for its incorporation into the Papahānaumokuākea Marine National Monument by Former President George W. Bush in 2006.
December 14, 2016
NOAA Fisheries announced the designation of the Frank R. Lautenberg Deep-Sea Coral Protection Area off the Mid-Atlantic coast. Data collected by NOAA Ocean Exploration during expeditions on NOAA Ship Okeanos Explorer were used in the designation process.
December 17, 1970
The 25th Session of the General Assembly of the United Nations passed the Declaration of Principles Governing the Sea-Bed and the Ocean Floor, and the Subsoil Thereof, beyond the Limits of National Jurisdiction (Resolution 2749/XXV), establishing these areas as " the common heritage of mankind."
December 18, 1975
Former President Gerald Ford approved the designation of Key Largo National Marine Sanctuary off the coast of Florida as the second national marine sanctuary in the United States. In 1980, the sanctuary became part of the Florida Keys National Marine Sanctuary.
December 21, 1872
Scientists aboard HMS Challenger set off on the Challenger Expedition to study and map the world's ocean. Modern oceanography is based on the research conducted during this expedition, considered the first great oceanographic expedition, which included the discovery of underwater mountain chains and hundreds of new species.
---
Interested in learning more? Browse our expeditions by year and read about NOAA's history of ocean exploration, and, throughout the year, follow the stories Celebrating 20 Years of NOAA Ocean Exploration.