Wallpaper Calendar
Wallpaper Calendar
For each month in 2021, we will post a wallpaper calendar for you to download to give your desktop a fresh look. At the end of each month, the image will be retired to the wallpaper collection without the calendar.
Instructions on how to make a picture your computer's wallpaper.
January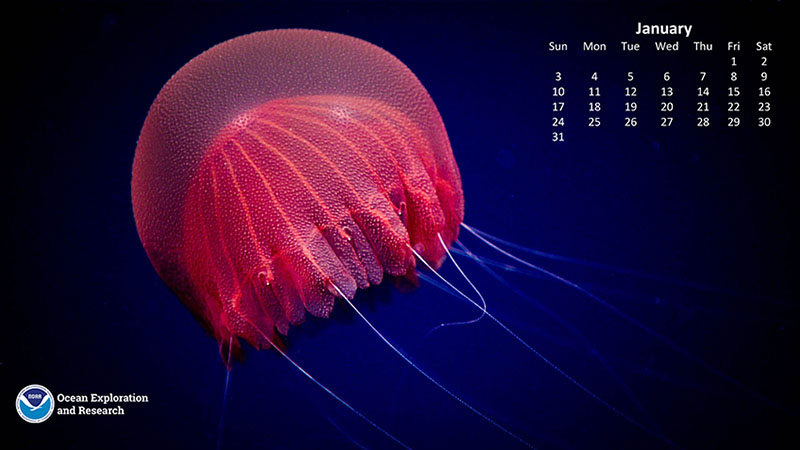 Exploration Highlights from Januaries Past:
January 3, 1840
British Royal Navy officer and polar explorer Sir James Clark Ross took the first successful modern sounding in the deep sea at 4,404 meters (14,450 feet) in the South Atlantic Ocean at latitude 27°S, longitude 17°W.
January 5, 2016
OER-supported scientists from the University of New Hampshire aboard NOAA Ship Ronald H. Brown embarked on a mapping expedition within and in close proximity to the Pacific Remote Islands National Marine Monument area of the central Pacific Ocean in support of the U.S. Extended Continental Shelf Project.
January 6, 2009
President George W. Bush established the Marianas Trench Marine National Monument, Pacific Remote Islands Marine National Monument, and the Rose Atoll Marine National Monument in the Pacific Ocean.
January 11, 2015
NOAA and partner scientists deployed a hydrophone to a depth of 10,971 meters (6.71 miles) to listen to ambient sound in the Challenger Deep trough in the Mariana Trench.
January 16, 1981
President Jimmy Carter established the Point Reyes-Farallon Islands National Marine Sanctuary (now part of the Greater Farallones National Marine Sanctuary) off California, the Gray's Reef National Marine Sanctuary off Georgia, and the Looe Key National Marine Sanctuary (now part of the Florida Keys National Marine Sanctuary) off Florida.
January 17, 1992
President George H.W. Bush established the Flower Garden Banks National Marine Sanctuary, the first national marine sanctuary in the Gulf of Mexico.
January 20, 2017
OER and partners embarked on the Telepresence Mapping in Pacific Marine Protected Areas expedition on NOAA Ship Okeanos Explorer as part of the Campaign to Address Pacific Monument Science, Technology, and Ocean Needs.
January 30, 1975
President Gerald Ford established the USS Monitor National Marine Sanctuary off the coast of North Carolina as the nation's first national marine sanctuary.
---
Interested in learning more? Browse our expeditions by year and read about NOAA's history of ocean exploration.