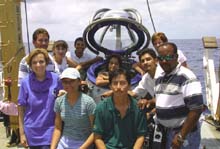 ---
University Students At Sea
May 11, 2001
Gina Young, biology undergraduate student
University of Belize
On Friday, May 11, 2001, I had the privilege of going aboard the McArthur research vessel. It was a really interesting experience. I got a chance to see the vessel's operations including tracking the submersible, navigation, editing of dive tapes, etc. I even got the opportunity to sit inside the sub. Being there on the ship stimulated my interest in marine biology even more. It was difficult not to enjoy myself, especially when the expedition is about the two things I like most about nature -- sea and more sea. The crew members were so nice to us. They seemed very interested in making us more familiar with the daily procedures and activities of the ship. There was nothing to dislike about the experience, and I would definitely do it again. In fact, they made being out at sea for six or seven months at a time seem quite interesting and loads of fun -- all for the betterment of science.


---
Melvin Pinelo, biology undergraduate student
University of Belize
On Friday, a group of us, two lecturers and three students from the University of Belize boarded the McArthur. This ship is enormous, not only in size but also in the splendor of it's power and structure. On this day, the Sustainable Seas Expeditions launched its first submersible in international waters. It is amazing that SSE chose to bless Belize with this valuable privilege. The successful launching of the submersible symbolized a breakthrough in marine studies for Belize, and laid down a foundation for similar future advances, a foundation on which professionals and prospective professionals will build their future.
After the test dive, Miguel, our fellow Belizean, personally showed us, and explained how the submersible functions. In relating his experience, he was overwhelmed with awe! I too wanted a similar experience. We were given the opportunity to enter the sub, but did not take it into the water. The submersible is called the DeepWorker 2000 and can dive to depths of 2000 feet for up to 220 hours. We were informed that the DeepWorker could do surveys of ocean water and also collect specimens, and capture the glamour of the seas on film. The submersible can only accommodate one person, and even though it is relatively small in size, its capabilities and contribution to Belize is grandeur.
---
Sign up for the Ocean Explorer E-mail Update List.