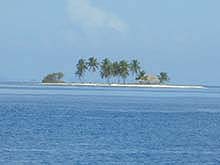 ---
Belize Profile
Description
Stretching for more than 170 miles along the coast and extending 50 miles offshore, the barrier reef complex in Belize is a true treasure among the coral reef communities of the Caribbean. Swept by the Yucatan current, which feeds the Florida Loop Current and the Gulf Stream, this center of diversity and richness is believed to supply a wealth of plant and animal material to replenish and enrich the genetic structure of reef systems downstream.
Research and Education Objectives
In Belize, the Islands in the Stream Expedition is exploring the interaction between mutton-snapper spawning aggregations and the associated congregations of whale sharks that feast on the spawning material. The mission is also collecting data to characterize deep-water habitats and assess deep-water fish assemblages and algal communities. Water samples will be tested for surface water contaminants. Other researchers will analyze coral samples to establish genetic linkages among coral communities in the Yucatan Peninsula, Gulf of Mexico, and Florida Keys. From English Cay, educators will participate in a "Teacher-at-Sea" activity on the NOAA Ship McArthur. An open house in Belize City will provide an opportunity for the public to tour the ship and see the submersibles and other equipment used in the expedition.
Habitats in Belize
mud and tidal flats
salt marsh
estuaries
sandy beaches
sand flats
seagrass meadows
mangrove-fringed shorelines
mangrove islands
soft sediment
calcareous sandstone
deep rocky reefs
patch reefs
fringing reefs
barrier reefs
drowned reefs
algal sponge communities
pinnacles
artificial reefs
rocky shores and subtidal
fault scarps
other--atolls, faroe reefs, littoral forest
Key Species
| | |
| --- | --- |
| manatee | Trichechus manatus |
| hawksbill sea turtle | Eretmochelys imbricata |
| Nassau grouper | Epinephelus striatus |
| Jewfish | Epinephelus itajara |
| American saltwater crocodile | Crocodylus acutus |
Protected Areas
Existing protected areas
Total Area
(ha)
Marine Area
(ha)
No-take
(ha)
Established

---

Port Honduras MR*
40,521
39,848
3,242
2000
Gladden Spit MR*
10,513
--
--
2000
(with Shark Ray Alley addition)
--
--
--
1999
Caye Caulker MR
3,951
3,913
--
1998
Corozal Bay (manatee) WS
73,050
72,350
--
1998
Bacalar Chico NP & MR* 3
11,487
6,303
Yes 4
1996
South Water Cay MR*
47,703
46,833
--
1996
Sapodilla Cayes MR*
12,742
12,722
--
1996
Blue Hole NM*
414
414
414
1996
Glovers Reef MR* 2
32,876
32,834
7,226
1993
Laughing Bird Cay NP* 1
4,095
4,077
1,020
1991
Hol Chan MR
1,638
1,545
273
1987
Half Moon Caye NM*
3,954
3,921
3,921
1982

---

Total (12 MPA's)
242,944
224,760
16,096
--

---
* World Heritage Sites
| | |
| --- | --- |
| FR = Forest Reserve | NP = National Park |
| MR = Marine Reserve | NR = Nature Reserve |
| NM = Natural Monument | WS = Wildlife Sanctuary |
Unofficially a 1-mile radius around the cay is respected as a no-take zone.
This no-take area includes some subsistence fishing by one resident family.
The no-take zone is not legally established, but has been agreed upon and is unofficially implemented.
Newly established no-take reserve; details are not yet available.
Source: Belize Coastal Zone Management Authority and Institute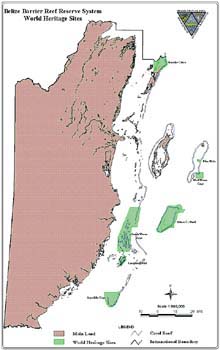 ---
Five Interesting Facts
1. Running parallel to the coast for more than 170 miles and extending 50 miles offshore, the barrier reef in Belize is the second largest in the world and the largest in the Northern and Western Hemispheres.
2. Belize coral reef areas contain three of only 4 coral atolls found in the Caribbean, and more than 1,060 cayes (small islands).
3. The government of Belize has established 12 marine protected areas in its national waters. These include seven internationally designated World Heritage Sites. These marine protected areas include five officially designated no-take zones that are closed to fishing activities.
4. Because of low hunting and boating pressure and the availability of high-quality habitat, Belize maintains the largest national population of manatees (Trichechus manatus) in the Caribbean.
5. The coastline and cayes of Belize serve as nesting habitat for the American saltwater crocodile (Crocodylus acutus) and three species of endangered sea turtles: green (Chelonia mydas), hawksbill (Eretmochelys imbricata) and loggerhead (Caretta caretta).
---
Sign up for the Ocean Explorer E-mail Update List.