February 2023 Project Update
Deep-sea animals, like corals, release their DNA into the environment, and scientists refer to this released DNA as environmental DNA or eDNA. By taking a water sample near and around deep-sea coral communities, we can understand what coral species live in these environments and the other deep-sea organisms that call those areas home.
The Exploring the Biodiversity of Remote Pacific Ocean Deep-Sea Coral Communities With eDNA project includes analyzing existing samples collected in the remote Pacific. Beginning with expeditions in 2018, ongoing eDNA collections have been made during expeditions by both the Ocean Exploration Trust and the Schmidt Ocean Institute. These expeditions, as well as previous work including the Campaign to Address Pacific monument Science, Technology, and Ocean NEeds or CAPSTONE initiative, also involved the collection of deep-sea coral specimens from the region. These specimens will be DNA barcoded, which is a method where a species can be identified by looking at a short section of DNA from a specific gene or genes. The known DNA of the species can then be compared to the DNA found in the eDNA samples. Barcoding an organism creates what is known as a voucher specimen.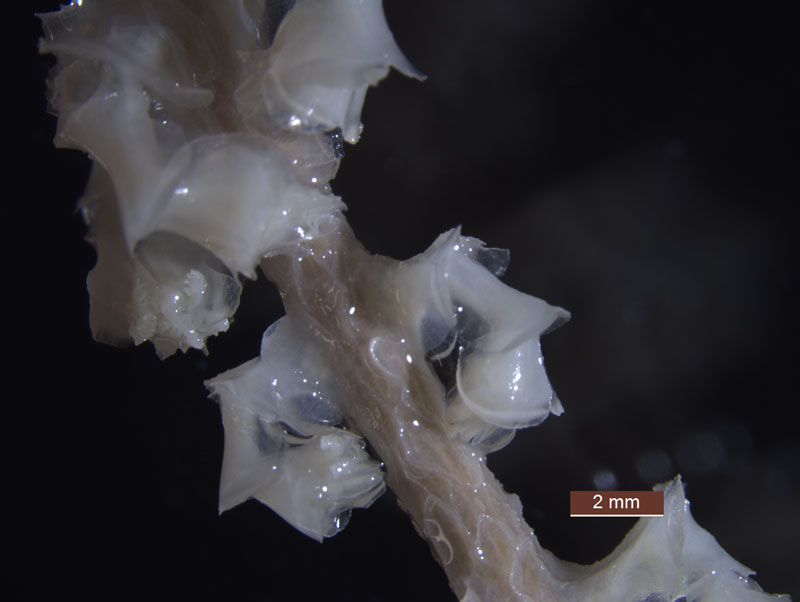 Both eDNA samples and voucher specimens have been collected in Papahanaumokuakea Marine National Monument, at multiple sites within the Pacific Remote Islands Marine National Monument, and within the National Marine Sanctuary of American Samoa. Documenting the deep-sea coral communities and biodiversity present in these habitats is important for their preservation and for the management of marine protected areas in the region. Additionally, cataloging the baseline biodiversity and distribution of species can help us in determining if and how these communities can recover from human-caused disturbances.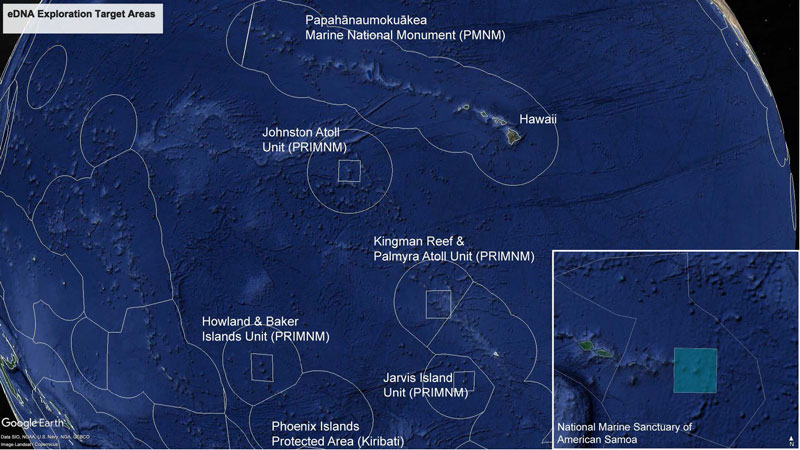 All eDNA samples collected during these expeditions are currently archived at NOAA's Northwest Fisheries Science Center, while voucher collections of specimens are available through the Harvard Museum of Comparative Zoology and the Smithsonian Institution National Museum of Natural History. Environmental DNA collected from the region in 2018-2022, as well as a broad panel of voucher specimens, with a particular focus on novel species, and those missing from existing sequence database resources will be processed as part of the Exploring the Biodiversity of Remote Pacific Ocean Deep-Sea Coral Communities With eDNA project.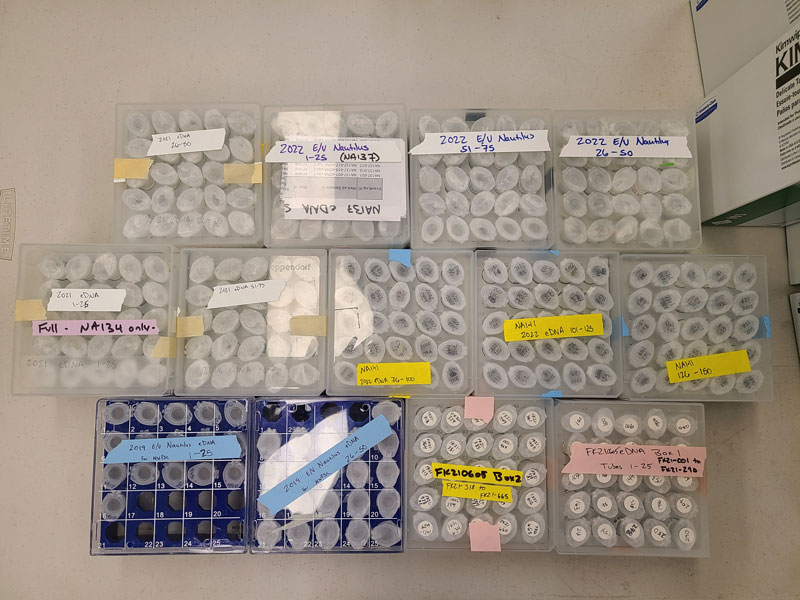 Sample processing is currently underway. Species identification of voucher specimens, as well as subsampling for DNA extraction is underway at Harvard University's Museum of Comparative Zoology. eDNA samples through 2019 have been successfully processed and initial sequencing library construction, as well as DNA extraction of the remaining eDNA samples, is ongoing at the time of article publication. In February 2023, Meredith Everett and Steve Auscavitch are doing a "DNA Processing Camp", jointly working at NOAA's Northwest Fisheries Science Center to create genome skimming libraries from voucher samples as well as begin eDNA sequencing. We anticipate initial sequencing on all samples to be completed by mid-2023, with analysis to follow.
---
Published March 14, 2023