New Methodology for eDNA Collection to Study Deep-sea Ecosystems of Puerto Rico
The deep sea is full of life. Deep-sea animals constantly release their DNA into the environment, and scientists refer to this released DNA as environmental DNA or eDNA. By taking a water sample, we can capture eDNA to read the genetic fingerprint of an ecosystem and learn more about the animals that call the deep ocean home.
During the Illuminating Biodiversity in Deep Waters of Puerto Rico 2022 expedition, we will be exploring deep waters just off the coast of Puerto Rico. We will be using remotely operated vehicle Global Explorer to make observations with video and collect understudied species for genetic identification. It can be tricky to sample fast-moving and gelatinous organisms 1,000 meters (3,000 feet) down, so we will also be sequencing eDNA to collect genetic information from the animals that evade us.
We will sample seawater using bottles mounted on Global Explorer and an oceanographic instrument, the niskin rosette with its CTD (conductivity, temperature, depth) sensor. Once recovered from the deep, the water samples will be processed as quickly as possible to preserve the eDNA in them. Each sample contains between 1 and 5 liters of water. This water is pumped through a filter with microscopic pores, capturing particles containing eDNA. The filters are then stored in an ultra-cold freezer (-80°C/-112°F) until the eDNA is isolated from them.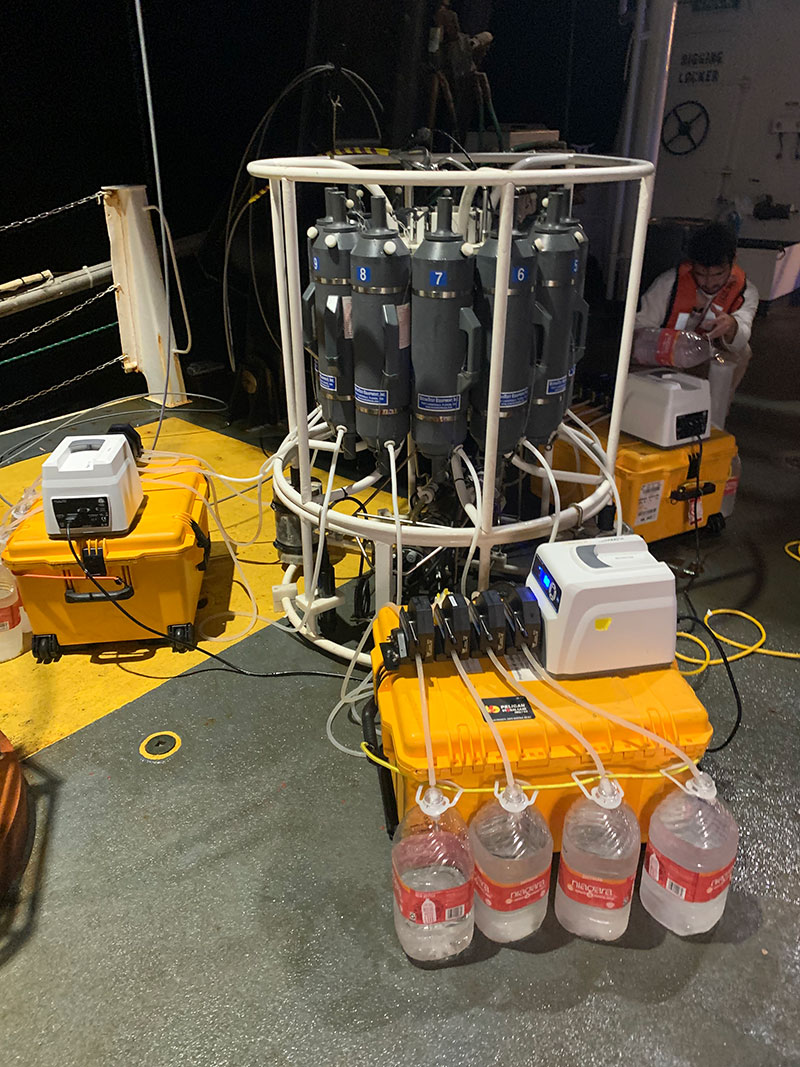 In addition to sampling for eDNA using bottles, we will also use a McLane Research Labs pump and filter holder to push water through a large filter at depth during the ROV dive. This ROV-mounted sampler has two advantages over bottle sampling. Using the ROV-mounted sampler allows us to filter a much larger volume of water, approximately 50 liters, capturing more eDNA. By filtering at depth, we reduce the time it takes to preserve the eDNA as well.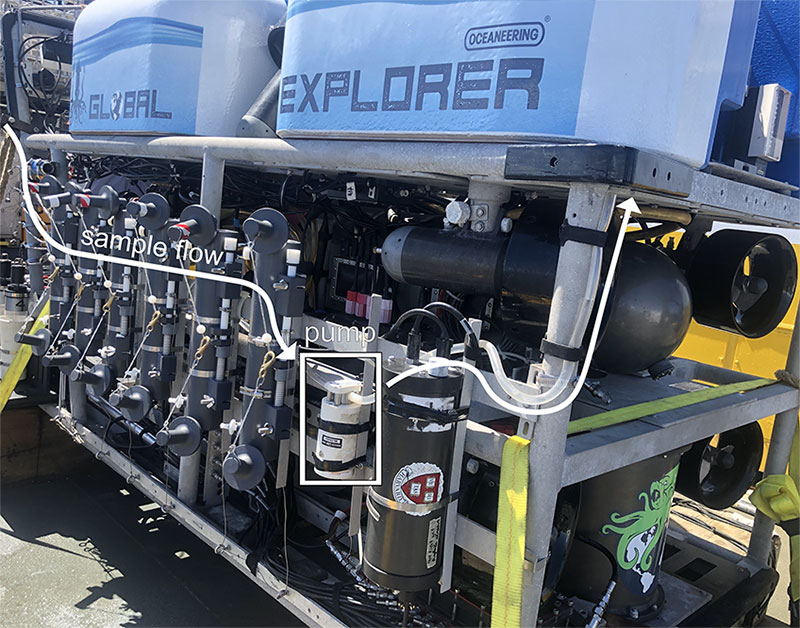 Once we get back to shore, we will purify eDNA from the filters and then sequence the genetic fingerprint of each place that we visit. The resulting data will include millions of DNA sequences of deep-sea animals, from invertebrates like tunicates and corals, to fish. Collecting this treasure trove of information will allow us to better understand the biodiversity of the deep waters off of Puerto Rico.
By Luke McCartin,, Graduate Student, Lehigh University

Published April 15, 2022