July 26
At first, the Sikuliaq seemed like a daunting vessel to be on, what with all the cranes and moving parts that can knock you overboard, especially for my first time ever being on a boat this large. The first day, walking up and seeing the ship I'd be staying on for two weeks was breathtaking. The bright blue of the familiar University of Alaska Fairbanks colors stood out against the beating ocean. We loaded up all the equipment, including nets, corers, bins of lab equipment, and microscopes, and the list goes on.
After loading up the ship, we set up the trawl, bringing my lack of knowledge about proper knots to the forefront. After hours of tying, clipping, and adjusting my sitting position, we finally finished and were able to head to bed.
Waking up the next morning to the swaying of the boat, I knew we had left port. The sensation is like no other, your body overcompensates leaning you over too much, just for it to happen all over again. For a girl that has never been on a boat before, walking down the narrow stairs was a challenge. The motion sickness seems to go away once we get busy, giving my mind something else to focus on other than the constant swaying.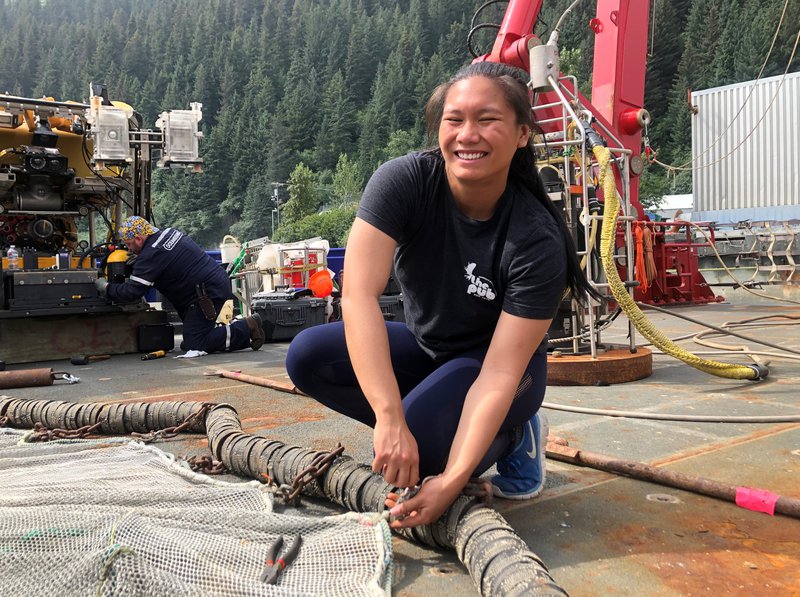 The remotely operated vehicle (ROV) dive is another very memorable event to me. Everyone crowded around the monitor to watch the live feed and see little critters swim across the screen. Popcorn and snacks were being passed around and everyone was drinking coffee or tea. You could hear the "wows" and "ahhs" from down the hall. They focus in on a little squid and everyone explodes into conversation. I could hear "it looks like a parakeet," "look at those eyes!," and, "wow that is so beautiful" in the background as I stare, mesmerized by something I would normally never have the chance to see this clearly.
Being in the control room for the ROV dive is another story. The operators blast their music, there are monitors and blinking lights everywhere that we keep track of. The 12 hours we use to conduct a benthic dive seem to fly by when you are in that room. This cruise is definitely an experience I will not soon forget, especially since it helped me to grow my sea legs.