August 3
As Dhugal Lindsey indicated in a previous post, the pace of this cruise has been grueling for our pelagic team, that consists of ourselves, ecophysiologist Petra Lenz, postdocs Jenn Questel and Vittoria Roncalli, technican extraordinaire Caitlin Smoot, and grad students Amelia McCarthy and Delaney Coleman. While Dhugal is a die-hard jelly guy, I remain much more of a broad generalist, with most of my team's predominant tool for sampling being elaborate butterfly nets modified for sampling zooplankton.
On this cruise, we live-sort most of our plankton net collections to photograph species and archive them for genetic barcoding. In general, scientists studying plankton focus on the top 100-200 meters (~330-655 feet) of the ocean, so a cruise like this that allows us to sample as deep as 3,000 meters (~9,842 feet) is a real exception and a true delight for our curiosity.
This cruise, we are using two different types of stratified plankton net systems to cover the large size range of zooplankton that exist in the ocean. The first is a MultiNet that employs very fine-meshed nets with pore size of ~150 µm (=0.15 millimeters or 0.006 inches) that we pull straight up through the water to sample the smallest zooplankton. The zooplankton caught by this net is dominated by small crustaceans called copepods, but it collects very few larger animals such as jellyfish because they are much rarer in the oceans. Also, these nets filter relatively small volumes because the mouth-opening is only 0.25 square meters.
The second net we use is a MOCNESS. It has a much larger 1 square meter mouth and a coarser mesh net than the MultiNet (505 µm or 0.02 inches mesh size) that we tow through the water, so it filters much more water than the MultiNet. While the MOCNESS does a much better job than the MultiNet for sampling larger predators such as jellies, it tends to be rather rough on them, and what we get in the buckets on these nets may be so damaged that we can hardly identify them.
The ability to compare what these two net systems collect to what we see with the remotely operated vehicle Global Explorer is particularly educational to a zooplankton ecologist who may have never seen most of these jellies undamaged, or may have never seen them outside of books or videos. The two approaches are thus highly complementary. For example, several times this cruise my team has been surprised to see what jellies look like with tentacles still attached, a rare treat.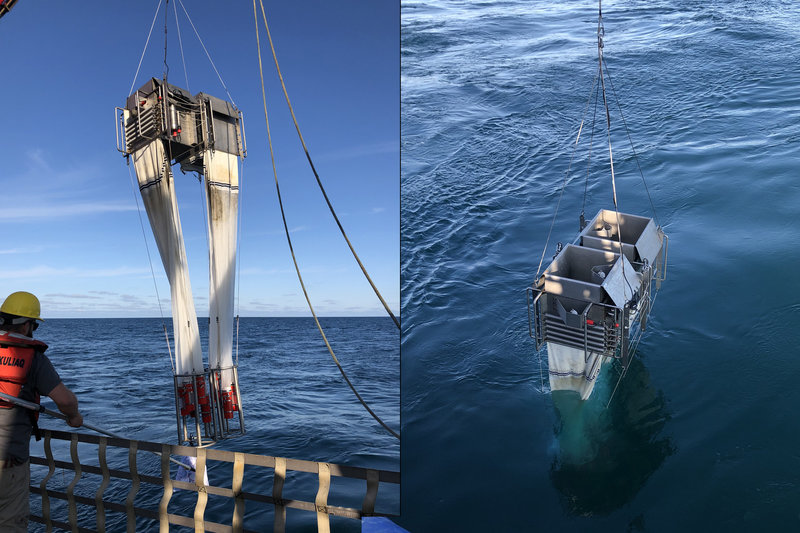 Within our plankton net collections probably the most exciting aspect has been the huge variety of species we are seeing in the deeper waters compared to surface waters of the Gulf, where diversity is rather low. Many of these species are highly colored and rather large compared to their transparent surface water counterparts. While surface species are primarily herbivorous filter feeders, deeper water species are either feeding on low-quality particles sinking from the surface (detritus feeders) or highly predatory. Two nights ago, after sorting some of these impressive predators from the nets, we left them alone in the same jar for several hours, only to have come back and find many partial copepods in that container, along with one that seemed very happy. Note to self – the 12-millimeter one we've called Big Red should never be put in a jar with anyone else!