October 3
On October 3, the team on NOAA Ship Reuben Lasker located and recovered a buoy that had been drifting on its own for 26 days, about 50 nautical miles offshore Eureka, California, where it had been eavesdropping on the sounds of whales, dolphins, fish, and ships. This buoy, and another off Morro Bay in Central California, were deployed from NOAA Ship Fairweather. These two deployments marked the start of a new era for passive acoustic monitoring, where data collection is facilitated by vessels working in the area, without the need for highly trained scientists on board.
Traditionally, NOAA conducts large-scale surveys along the entire U.S. West Coast once every five years in order to assess the status of marine mammal populations throughout the California Current Ecosystem. These research surveys are the 'gold standard' and rely on highly trained visual observers using high-powered binoculars to look for whales and dolphins at the surface, while acoustic observers listen to the sounds being recorded from an array of hydrophones (underwater microphones) towed behind the ship.
Towed arrays require a team of highly trained scientists for data collection, and these methods are prone to breakage which results in loss of data. While results from these surveys provide the baseline science necessary to monitor these protected (and sometimes endangered) species, they are too costly to conduct more frequently and therefore there is limited information on seasonal variation in marine mammals in this ecosystem. An alternative to large-scale shipboard surveys are stationary seafloor recorders, which provide exceptional data over time, but are limited in their spatial coverage. What is needed is a method that can provide a mix of the great spatial coverage provided by shipboard surveys, with high temporal resolution provided by stationary (seafloor) hydrophones.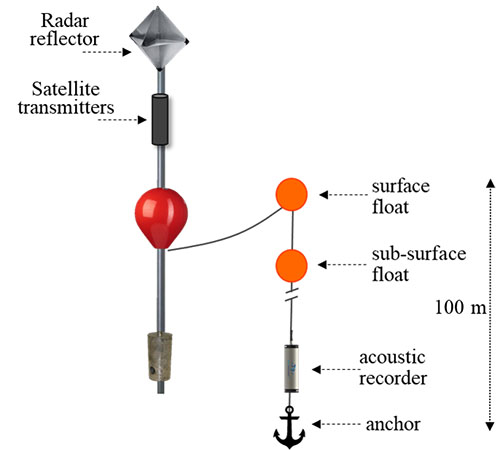 Taking the knowledge gained from decades of experience, the researchers at NOAA's Southwest Fisheries Science Center are designing a new paradigm of using sound to study marine mammals. They have built buoys that can be released into the ocean where they drift along ocean currents for weeks at a time. These buoys have multiple hydrophones suspended below the surface, which collect high-quality recordings of the sounds in marine ecosystems. These buoys are small and easy to work with, and even better - they are more affordable and do not require highly trained scientists to collect data! These characteristics allow them to be deployed throughout the California Current Ecosystem, providing improved geographic and temporal monitoring for a lower cost.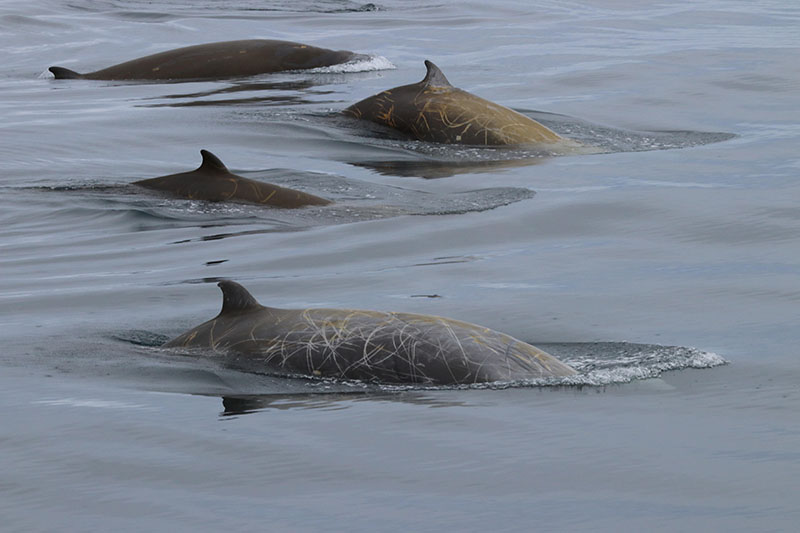 The EXPRESS cruise was one of the first opportunities to conduct an opportunistic deployment and recovery of these buoys. Although there were no marine mammal scientists on board, the ship's crew were able to deploy and recover the buoys which will provide invaluable to data to marine mammal researchers. Through an iterative design process, the researchers are refining the methods and buoy construction to create a more seamless user experience. Next year, they will be ready to roll out this survey and recruit fishers, recreational boaters, and whale watching vessels to help to collect more data to study the potential impacts of offshore wind energy development on protected species of Northern California.