October 14
What lies beneath 'the ocean' is the fundamental question this expedition on NOAA Ship Reuben Lasker is working to address. This log is a slight twist on that idea. This is about the anticipated as well as the sometimes unexpected engineering challenges that we discover every time we prepare for an expedition, particularly when we are doing remotely operated vehicle (ROV) work on a vessel that we have never used before.
Projects are almost never simple and straightforward. The ROV team always finds surprises lurking beneath the surface when determining the best way to integrate ship and ROV operations. Those preparations must start months in advance of any cruise. How thorough a job our ROV engineers do at finding those surprises and mitigating the challenges can help make or break expedition success long before the ship ever leaves the dock.

Since around 2010, the ROV engineering team with the Global Foundation for Ocean Exploration (GFOE) has largely been preparing for and executing cruises onboard NOAA Ship Okeanos Explorer. Even though that vessel is explicitly designed and outfitted to support ROV operations, we still always have unexpected and most often expensive challenges that pop up.
This cruise is completely different in that NOAA originally designed and outfitted the vessel, Reuben Lasker, to support fisheries science and acoustics work. Though scientists have conducted some small, relatively simple ROV work from her in the past, Lasker was not anticipated to be a dedicated ROV platform. More importantly, the ship had no significant onboard infrastructure to support ROV operations, which had to be taken into account when budgeting for this project.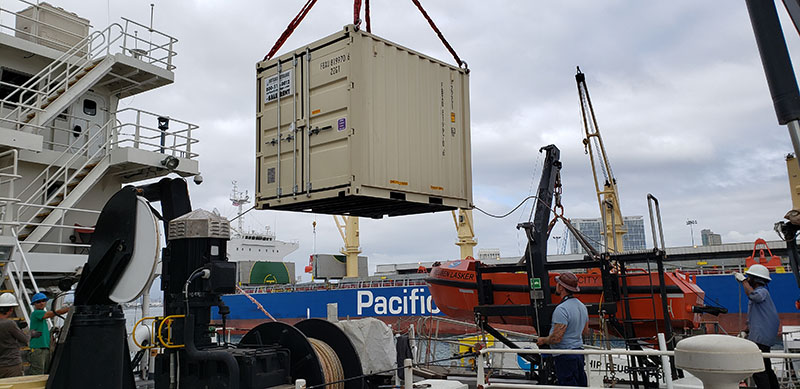 There are advantages to using a "vessel of opportunity", but for the most part, it's related to proximity to the area of exploration desired. Long transits to and from research can be very expensive. When using a vessel of opportunity, we need to use a more portable, or what is sometimes referred to as a 'fly-away,' ROV system. This requires us to anticipate, procure, pack, and ship everything necessary to operate and troubleshoot the system before we get onboard. In many cases, we must also work with ship personnel and port engineers long before we arrive to design, build, modify and install key ship-specific equipment that will be essential for supporting the cruise. This is not so easy when the ship has other missions to perform in tandem with this work.
However, in the end, when the cruise is finally slated to begin, we meet our equipment at the ship and spend several days unpacking gear, moving equipment, modifying systems, and finally integrating the remaining equipment with the ship. When the project is over, we remove all the equipment we integrated that will not remain as part of the ship's future compliment and ship it all back to our home base. As you can imagine, the difference in work required to mobilize a project using an ROV dedicated to a ship versus a fly-away ROV system can be significant, particularly when you add telepresence to the mix.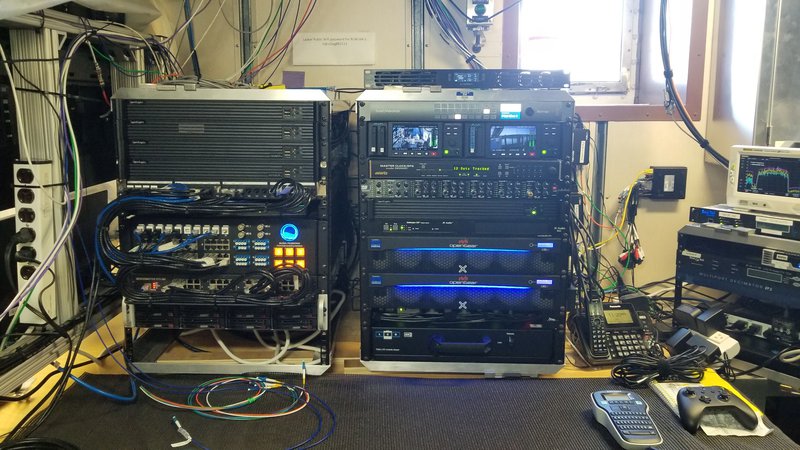 There were a number of key issues that GFOE engineers worked with NOAA personnel to address and troubleshoot in the months - and sometimes days - before this cruise started. Below are a few of some of the bigger ones that kept us up at night(s) before this cruise:
How do we fit all the equipment on the ship? – We carefully packed and shipped our 20-foot VSAT container with all of the telepresence equipment two weeks prior to the project start date. The container is now strapped to the back deck of the ship. The VSAT antenna, which was inside the container, was removed in pieces, assembled, lifted by a crane as an assembly, and secured to the top of the container.
How do we track the ROV and autonomous underwater vehicle (AUV) underwater? – Ship personnel sent us diagrams of the Lasker's centerboard – a platform that can be retracted through the ship's hull and on which sensors can be mounted. Our engineers designed and fabricated a special mounting bracket that allowed the installation of a USBL transducer that ultimately enables us track both the ROV and the AUV. We sent to bracket to the AUV Team who worked with ship personnel to do the onboard installation. This was not so easy when one considered the extremely small footprint remaining to fit this bracket and transducer to the centerboard.
How to install the ~ 4,000 meters (~2.5 miles) of fiber optic cable required for the ROV? – Spooling cable for ROV operations onto a winch is a delicate job, requiring significant equipment that is not always readily available. Lasker had an existing traction winch capable of supporting an ROV operation, but it was not set up and outfitted to support this type of work. In addition, the existing cable installed on the winch was not compatible with an ROV system, so we had to find another existing cable that would support this type of equipment. We did. It was in Mississippi... We had to find the spooling equipment and personnel to unspool the existing cable and spool on the new cable. We did. We found this at Scripps Institution of Oceanography in California... How do we transfer power and data to/from the ROV? The only way to transfer power and data to a cable mounted on a rotating winch is through a device called a slip ring. However, during a pre-cruise visit to the Lasker's sister ship, Bigelow, we realized the confined space in the winch room would not easily allow installation of a slip ring that had the necessary capability for our ROV system. That visit plus a follow-on visit to Lasker gave us the lead time to develop a plan to solve this problem. Needless to say, after some cutting, welding and machining, the winch was prepared to accept the necessary slip ring. Due to Lasker's very busy at-sea schedule, this all happened within days of mobilizing for the project.
How do we best ensure the safety of people and equipment during ROV launch and recovery? – ROV launch and recovery is the most 'dangerous' part of the operation. Imagine having hundreds - if not thousands - of pounds of equipment hanging from a cable and swinging back and forth with the rocking of the ship. Add in bad weather or personnel that are not always familiar with the launch and recovery process, and the risk of injury or equipment loss goes way up. In addition to modifying the crane we would use for launch and recovery by designing and building what is called a swing arrester, the best way to try to minimize risks is to prepare and practice. Before the ROV completed its first science dive this cruise, ROV and ship personnel diagrammed, discussed, and practiced launch and recovery procedures multiple times at the dock. So far that work has paid off. Onboard ROV personnel reported that Dive 1 included what was likely the smoothest first-time ROV deployment from a new ship. Congratulations to the expedition team!
The entire expedition team includes people that work to support ship, science, AUV, and ROV operations. As you can imagine, there is an incredible amount of communication and coordination required among all expedition team members both in advance and during an expedition to best ensure success.
If you are part of a good team, then you have a chance at dealing with the unexpected! So far so good. I think we are ready for whatever lies beneath.