April 19
It's been a busy week here aboard NOAA Ship Ron Brown! On April 14, we completed our second remotely operated vehicle (ROV) Jason dive at Richardson Hills. While there, we made collections of healthy live coral, which Alexis Weinnig will tell you more about in a future mission log, and we also successfully recovered Sandra Brooke's coral growth experiments that she placed on the seafloor last year with human occupied vehicle (HOV) Alvin.
After that dive, we worked quickly to get in a couple CTD casts and some multibeam mapping before the weather deteriorated too far—even mapping can't be accomplished well in rough seas! With 40 knot winds and waves reaching 12-15 feet high continuing through Monday night, we made the difficult decision to head in to port a night early for our mid-cruise personnel transfer that we'd planned for Tuesday morning. After a night of sleep in such rough seas on Sunday, we all appreciated the restful, calm night in port.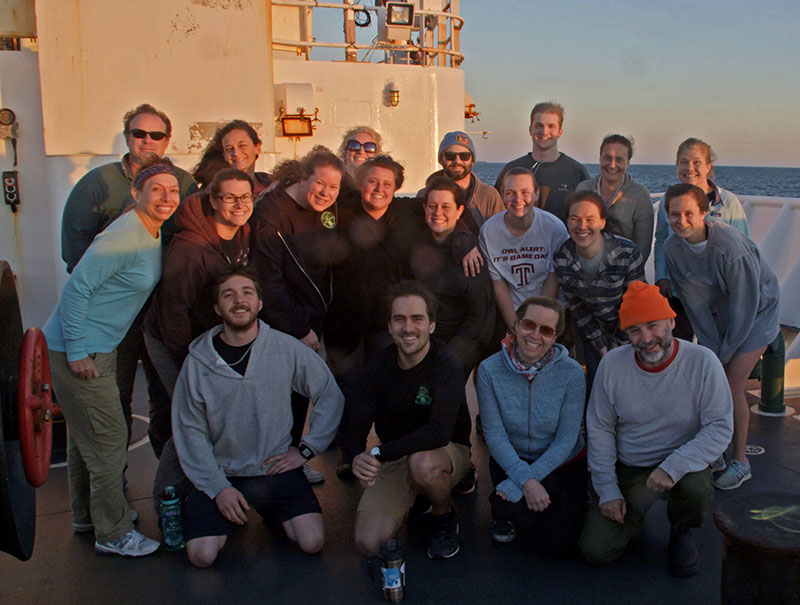 Tuesday morning saw a flurry of activity for Team DEEP SEARCH: 11 scientists got off the ship, and 11 new ones came aboard for Leg 2. Because we have so many objectives we're trying to accomplish on this expedition and only a limited number of bunks, we designed the cruise into two legs that focus on different habitat types—and thus require different scientists. Leg 1 was primarily focused on coral habitats, while Leg 2 will be focused on canyon and seep habitats. On Leg 1, we were heavily focused on live coral collections, while on Leg 2, we'll be sampling sediments, both with push cores from the ROV and with a multicore.
As is often the case with deep-sea research, Leg 1 didn't go entirely as planned: when we did the changeover on Tuesday, we'd only completed two—out of an anticipated five—ROV dives in coral habitats thanks to the weather conditions we'd battled for much of the first leg. So we made adjustments, as we're always prepared to do. We left port as quickly as we could that morning, and we headed straight for the Savannah Banks coral site, to squeeze in a bit more ROV time in coral habitats.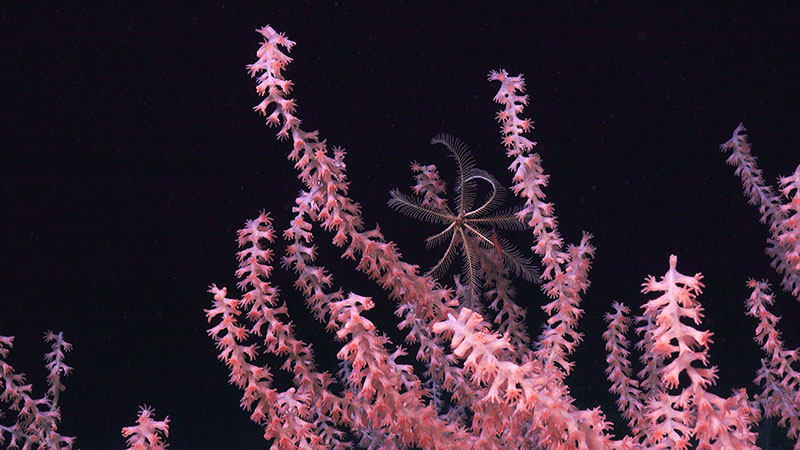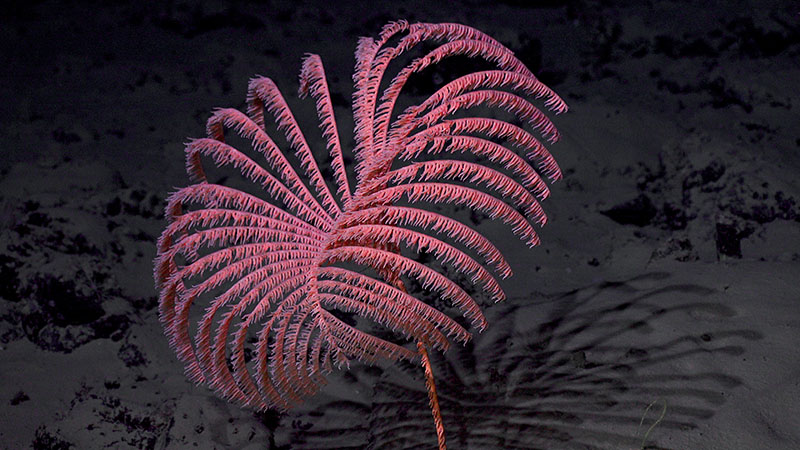 The rest of the week was a bit of a whirlwind from there! We had the ROV in the water by 9:30pm Tuesday night, and we recovered it first thing on Wednesday morning. Most of the team then spent the entire day in the lab processing the coral and sediment core samples as quickly as we could—we needed all of the sampling gear empty and cleaned for our next dive at Blake Deep, which started later that day. That dive was another overnight 12-hour dive, and we knew that we were again operating on borrowed time, as a massive storm front was headed for the U.S. East Coast on Friday. We did as much as we could during the day on Thursday before we had to head for safe harbor from the 50 knot winds and 18-20 feet seas. We're now in Morehead City, NC for the night to wait out the storm, and we'll head back to sea on Saturday morning. Check in next week for updates as we finally begin our canyon and seep dives off of the NC coast!