April 27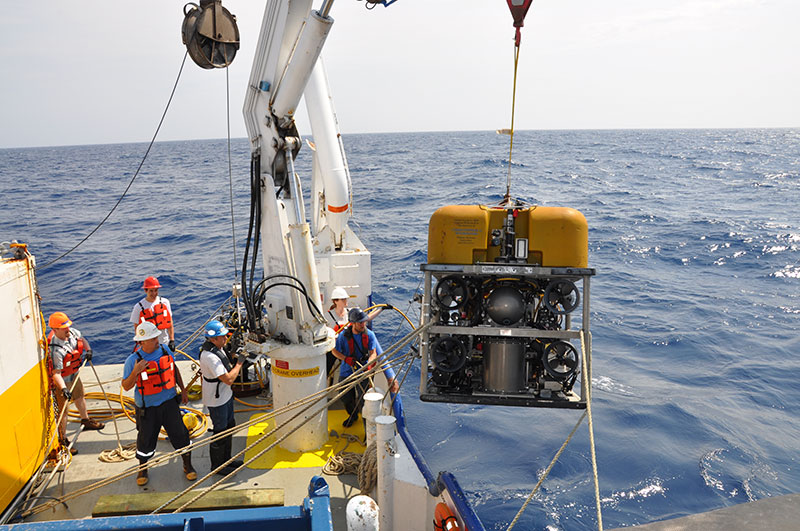 "You must be a great diver." I often receive this comment whenever meeting someone new. As a marine chemist who studies seafloor environments, I have yet to use my SCUBA skills at work. Who then, is the great diver involved? The technologies with which I work. On our cruise, we are using the remotely operated vehicle (ROV) Global Explorer (owned and operated by Oceaneering International, Inc.) to sample animals, including corals and sponges, which serve as local biodiversity hotspots and habitats for other organisms within the northwestern Gulf of Mexico.
The animals we are studying live at mesophotic depths down to 150 meters (492 feet), beyond the reach of standard SCUBA divers. The corals and sponges we seek could, in principle, be reached by highly skilled technical divers, who may be able to reach maximum depths of approximately 100 meters (328 feet), where pressures exceed 10 times that at the Earth's surface. For this cruise, we are using the ROV Global Explorer because it provides ample bottom time, which is critical for exploration of unfamiliar areas.
We are working around the clock, with a goal of completing approximately 6–8 ROV dives every 24 hours. During every dive, the ROV Global Explorer collects video of the seafloor ecosystems with an onboard 4K ultra-HDTV camera, equipped for low-light environments. In this ocean 'twilight zone,' the photo flux is 15 to 300 times less than in more familiar, shallow reef environments, so the ROV uses LED lighting to illuminate the scene.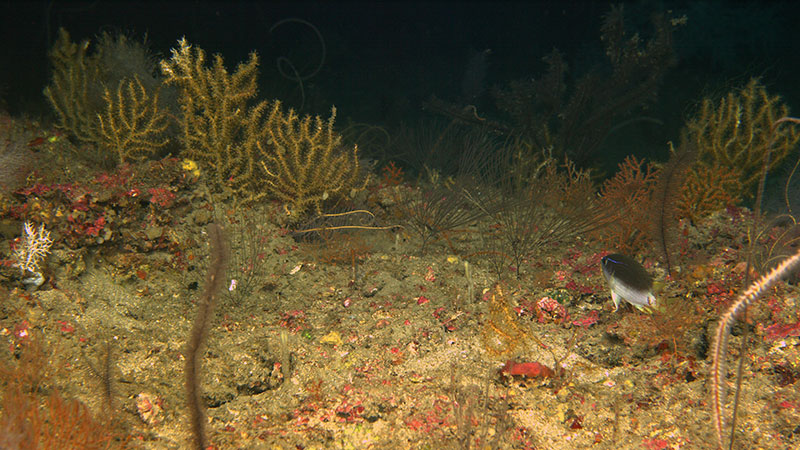 The ROV Global Explorer is armed with a variety of sensors, including multiple sonar systems to generate high-resolution maps, a sonar altimeter to sense its distance from the bottom, a gyroscope to orient the vehicle, and a multi-sensor tool to track changes in salinity, temperature, and depth during a dive. Data from these sensors are relayed in real-time back to the ROV pilot and scientists who operate the ROV from a roomful of computers and video monitors onboard the R/V Pelican.
The ROV Global Explorer's single manipulator arm is a vital tool for sample collection. The arm is both strong enough to drive a push core into the sediment and gentle enough to precisely extract the fragile tips of corals and sponges without harming the parent organism. Once a coral or sponge is in 'hand,' the pilot places it into a numbered cylindrical tube, called a quiver.
Other responsibilities during a dive include pulling on a tether to close individual flow-through water bottles to trap seafloor water samples. In select areas, we also deploy equipment, such as temperature and oxygen sensors, which we will use to monitor conditions within these environments over the span of several months before we return on a future expedition to retrieve the results.
When all quivers are filled with corals and sponges, all push cores are filled with sediments, and water bottles snapped shut, the ROV Global Explorer ascends back to the Pelican, where the ROV team will secure it on deck and the science team will preserve and analyze the samples.