Mission Plan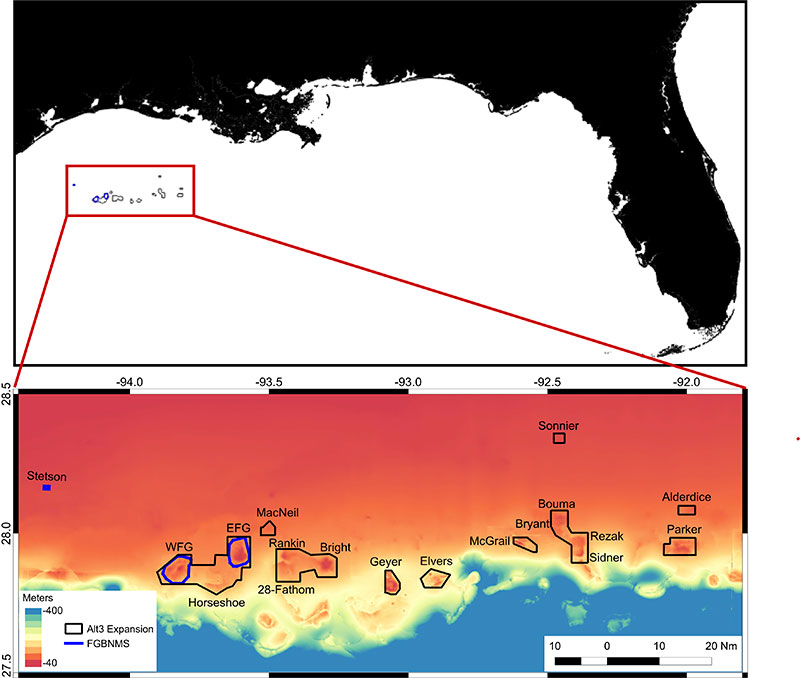 This is the first year of a five-year study to investigate connectivity of key coral, sponge, and fish species between shallow and mesophotic coral ecosystems of the Flower Garden Banks National Marine Sanctuary and its proposed expansion areas to the east (Figure 1). Our study is funded by NOAA's National Centers for Coastal Ocean Science and Office of Ocean Exploration and Research.
Mesophotic coral ecosystems are found at depths from 30–40 meters (98–131 feet) to over 100 meters (328 feet) in the Gulf of Mexico that are characterized by living in low-light conditions and are populated with organisms typically associated with shallow coral reefs (such as corals, macroalgae, sponges, and fishes), as well as species unique to mesophotic depths or deeper.
In April 2019, we will begin our first field season. We will be conducting two research cruises using two separate vessels, the R/V Pelican (owned and operated by the Louisiana Universities Marine Consortium; Figure 2) from April 26–May 11, 2019, and the R/V Southern Journey (owned and operated by NOAA's National Marine Fisheries Service) from May 17–26, 2019. A total of 14 scientists and technicians will be on the Pelican and 4 scientists and technicians will be on the Southern Journey.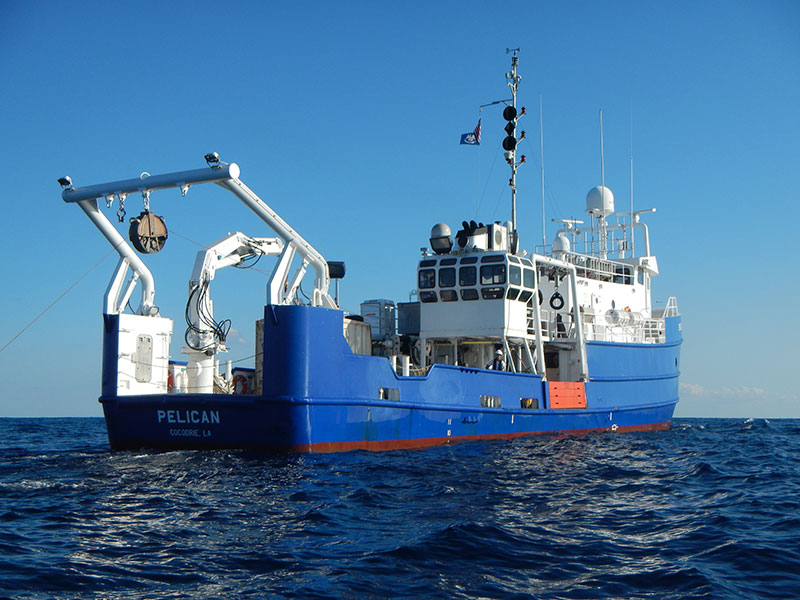 On the Pelican, the science team will focus on:
Collecting samples for genetic and chemical analyses of key sessile species. The remotely operated vehicle (ROV) Global Explorer will be used to collect small pieces (less than 10–15 centimeters (4-6 inches) for branching corals and 15–20 square centimeters (2.3-3.1 square inches) for the sponge) of two sea fans (Swiftia exserta and Hypnogorgia pendula); one black coral (Stichopathes lutkeni); and one sponge (Xestospongia muta). Collections will be made using the manipulator arm on the ROV at two depths within the mesophotic zone, the upper mesophotic (50–85 meters; 164–279 feet) and lower mesophotic (85–150 meters; 279-492 feet).
Deploying Autonomous Reef Monitoring Structures or ARMS. ARMS are artificial, three-dimensional structures that mimic the complexity of a natural reef. Organisms attract to ARMS and settle on (or attach to) them, allowing us to understand the biodiversity of the different reefs and document the existence of cryptic organisms (i.e., organisms not easily seen with an ROV or divers). We will be participating in the Smithsonian Institution's Global ARMS Program, so that the information we collect uses the same methods and is comparable to ARMS deployed in other places. We will deploy several ARMS per bank across multiple banks for a total of approximately 50 ARMS. The ARMS will be deployed at different depths for two years and be retrieved in Year 3 of the project. This will allow sufficient time for organisms to colonize them.
On the Southern Journey, the scientists and technicians will be focused on collecting our target fish species: Red Snapper Lutjanus campechanus and Tomtate Haemulon aurolineatum. We will use bandit reels, sabiki rigs, or small chevron traps to collect these fishes. We will use a minimal soak time (3–5 minutes for hooks and approximately 20 minutes for traps) to ensure that we will be able to release all non-target fish species. These fishes will be collected for genetic and chemical analyses.