The Medusa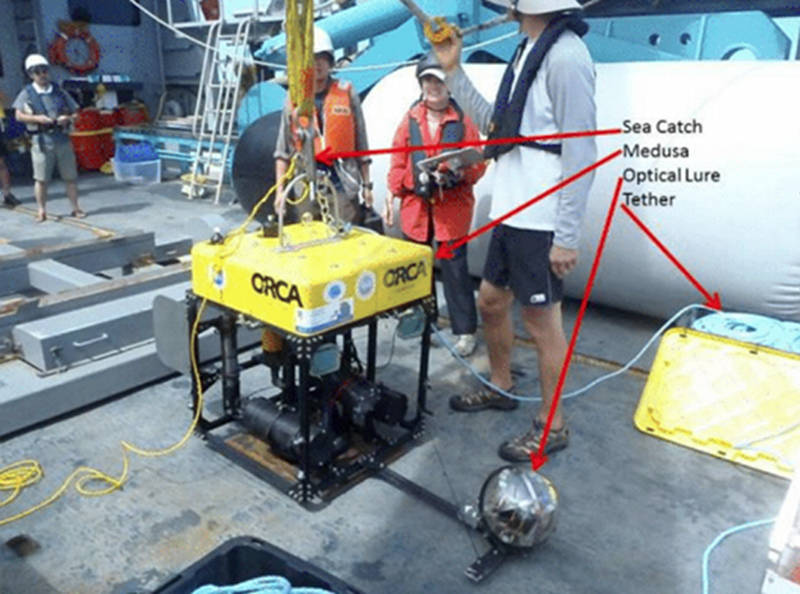 The Medusa (Figure 1) is the same stealth camera system that captured the first video of a giant squid in the deep sea. The concept behind the system is that it is unobtrusive. Submersibles and remote operated vehicles (ROVs) usually use bright white lights to penetrate the darkness and explore the depths. Since the selection pressure that has led to so many visual animals inhabiting the dark depths is based on the need to hide from predators, bright white lights are likely to scare these light-sensitive creatures away. Also, the hydraulic systems used on big, deep diving ROVs like the Global Explorer are extremely noisy and therefore likely to scare off animals that are sensitive to sound. Because the Medusa uses red lights that are invisible to most deep-sea inhabitants and has no noise-generating thrusters, it can serve as a stealthy observer of light and life below the twilight zone.

To attract animals into the field of view of its camera, the Medusa will use either bait attached to a bar mounted directly in front of the camera or an optical lure similar to that used during the giant squid expedition. The optical lure is also known as the electronic jellyfish (e-jelly) because it was designed to imitate the bioluminescent display of the common deep-sea jellyfish Atolla wyvillei (Figure 2). This display, known as a bioluminescent burglar alarm, consists of a propagated wave of light that pinwheels around the surface of the bell and is believed to function as a last ditch "scream" for help when the jelly is caught in the clutches of a predator. The display serves to attract the attention of a larger predator that may attack the jellyfish's attacker, thereby affording it an opportunity for escape. The first time this lure was used during the 2012 giant squid hunt off Japan, the camera recorded three different sightings of the giant squid during a single deployment.
In drift mode, the Medusa is attached to a float at the surface by a line of any length up to 2,000 meters (6,560 feet), which is the operational depth limit of the Medusa. A satellite-tracking beacon attached to the float is used to locate the Medusa, which is then recovered using the ship's A-frame and capstan winch.
The low-light camera system and far-red light illumination on the Medusa will allow us to both record bioluminescence and observe animal behavior unobtrusively.