September 23
In the summer of 2019, the Coast Guard and U.S. Coast Guard Cutter Bear (WMEC-901) were approached by NOAA with a daunting challenge to jointly conduct an exploratory mission in search of the wreck of the Revenue Service Cutter (RSC) Bear during the unit's 72-day District One Maritime Security Response Operations deployment.
The Coast Guard and Bear were able to seamlessly coordinate with NOAA maritime archaeologist and mission operations coordinator Joe Hoyt to design a structurally superior foundation system to accept the installation of a 4,100-pound, 440-volt hydraulic winch and cable handling system for the side scan sonar to be deployed and recovered from the fantail of the ship. Without hesitation, the Coast Guard and Bear's Command and Engineering Department graciously accepted this tremendous and daunting challenge. The endless possibilities of construction sparked collaborative ingenuity and technical comprehension efforts by the Bear's damage control and electrical divisions to not only design and construct a structurally sound system, but ensure that operations are conducted safely and effectively.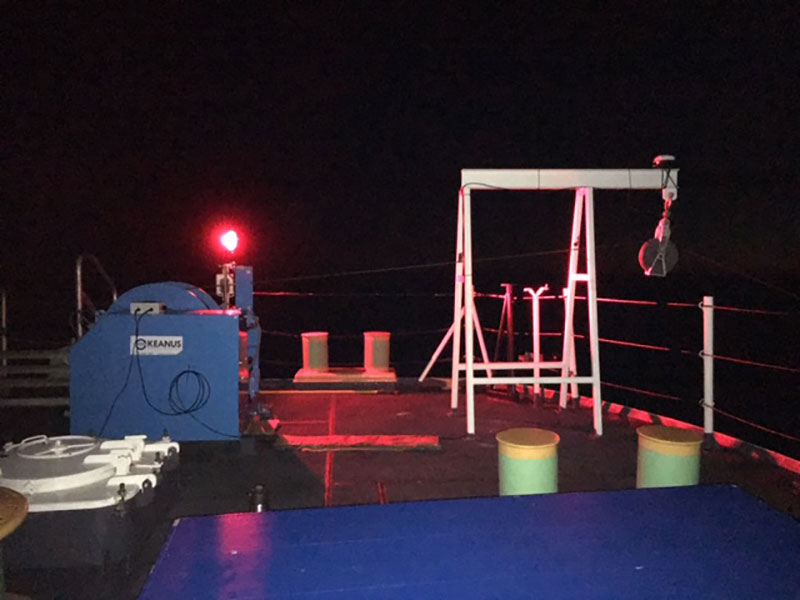 Bear's Engineering Department teamed with Surface Forces Logistics Center (SFLC) Norfolk to grant authorization of a temporary supporting system for the hydraulic-powered winch and customized A-frame assembly needed to launch and recover the side scan sonar array. SFLC empowered Bear's Engineering Department with a Time Compliance Technical Order (TCTO) which provided Bear's onboard technical experts the creative freedom and technical authorization necessary to complete the project prior to the Cutter's departure from Coast Guard Base Boston. The TCTO provided Bear with specific and detailed guidance for winch and A-frame installation and use.
The collaborative efforts by the Coast Guard and Bear's Engineering teams ultimately provided the joint mission a fully equipped and operational research vessel to hunt for the RSC Bear, a mission that is highly regarded as one of the most important underwater explorations in the Coast Guard's +200-year history.
Addendum from Brad Barr, Mission Coordinator, NOAA Office of National Marine Sanctuaries, Maritime Heritage Program: LT Ray and his team aboard the Bear have been nothing short of amazing. The winch and A-frame system have been performing exceptionally, operating efficiently and effectively in all sea states and weather we have encountered. Since we began survey operations, LT Ray and his team have come through for us again with the fabrication of a new tow-point bracket to correct an issue with connecting the side scan sonar "fish" to the winch cable. A big "bravo" from the Mission Team to LT Ray and his team for their "can-do" attitude and for enthusiastically sharing their creativity and technical skills with us as we work together to conduct this search for the Bear.