Multidisciplinary Research
The research proposed for the Kiska Expedition requires us to be part of a multidisciplinary team—and we must be one of the most diverse teams around. People are participating from several organizations: a group from University of Delaware (UD) consisting of engineers, oceanographers, and a biologist; a team from Scripps Institution of Oceanography (SIO) including archaeologists, oceanographers, engineers and a data specialist, and members of the nonprofit organization, The BentProp Project, who specialize in locating United States (US) soldiers missing in action.
Our lead archaeologist and project Co-Principle Investigator, Dr. Drew Pietruszka of SIO, determines what areas will be most likely to yield submerged cultural resources of interest. Once a site is located in the field, his expert knowledge and experience identifying physical remains is what allows us to identify the objects and wrecks discovered which he then guides the archaeological documentation of. He trained at the US Navy Dive School in Panama City and welcomes any diving challenges that may be encountered in the 40° F, kelp-laden waters of Kiska. Also, on our dive team is Mike Jilka, with years of scientific diving experience, he will be assisting with many aspects of the cruise.
The BentProp Project personnel includes Colin Colbourn, our lead historian. Combing through libraries, museum collections, and historic archives to find the best information, Colin provides the team the background information to know where to look for cultural resources such as sunken aircraft and the many Japanese ships sunk by U.S. bombers.
On the creative side, our videographer, Kyle McBurnie, helps document the expedition and provides video products for interpreting the underwater finds of the expedition (Figure 1).
The Kiska data team consists of IT specialist and programmer Brian Kim and data analyst Heidi Batchelor. We expect to collect as much as 10 TB of data per week in the field. Data storage, management, and analysis are primary components of any scientific expedition.
The engineering portion of the project is where our ability to map seafloor objects and collect data come in to play. Eric White from UD and Andy Nager from SIO have decades of experience between them working with unmanned underwater vehicles (UUVs) and will contribute by keeping our instruments operating and deployed, collecting sidescan sonar data, multibeam sonar data, and low-light images from beneath the ocean's surface (note that another common name for a UUV is autonomous underwater vehicle or AUV). Bob Hess (SIO) also contributes as a UUV expert and will be the lead remotely operated vehicle (ROV) operator for our team, collecting video of submerged areas of interest (Figure 2).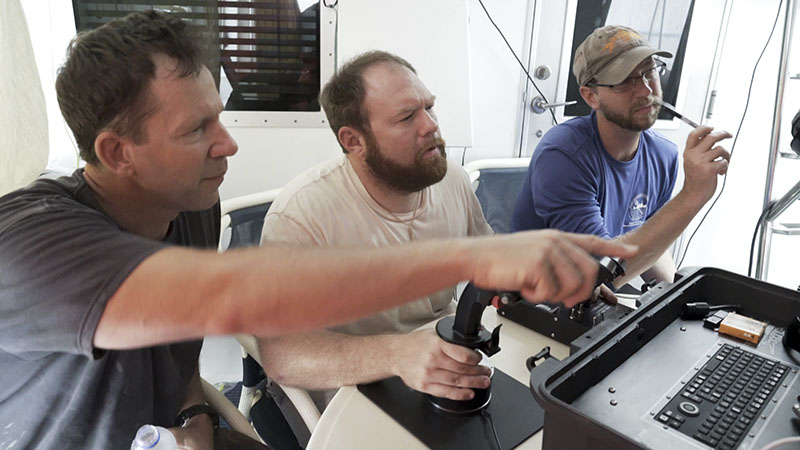 Dr. Matt Breece, a post-doctoral researcher specializing in oceanography, biology, and ecology will lead the expeditions efforts to collect baseline environmental/benthic conditions—currents, depth, bottom type, water clarity, existing ecosystems, temperature, salinity, dissolved O2, and pH—necessary for site management and preservation.
Ph.D. Student Eric Gallimore is our accomplished UUV magnetometer user, having devoted years of study to applications of magnetometers mounted on UUVs to locate submerged magnetic objects. Oceanographers and Co-Principle Investigators, Dr. Eric Terrill (SIO) and Dr. Mark Moline (UD) will contribute as subject matter experts and leaders for all aspects of the expedition. Their proven track record of underwater discoveries makes them ideal as part of the Kiska Expedition, 2018 (Figure 3).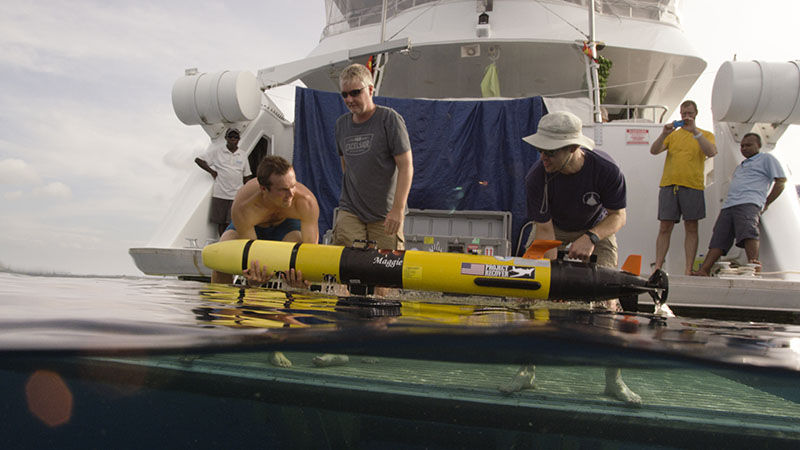 Working as part of such a diverse team is a wonderful experience—our diversity in backgrounds, skill sets, and experiences comes together to allow us to solve complex problems in a unique fashion. Having a truly interdisciplinary team can be rare in oceanography and archaeology, and should yield amazing results in the upcoming Kiska Expedition.