August 23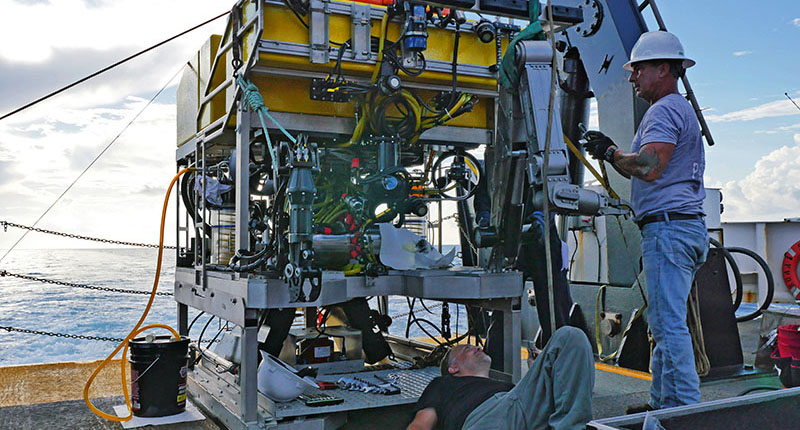 Would you be able to collect rocks on the surface of the moon or dive to the bottom of the ocean? Remotely operated vehicles, or ROVs, are the eyes and hands of scientists when they need to work in areas that are uninhabitable by humans.
Unmanned technologies like ROVs, autonomously operated vehicles (AUVs), and rovers are used by scientists in many fields to study extreme environments from the deepest parts of the ocean to outer space.  On the first leg of the Southeast Deep Coral Initiative (SEDCI) expedition, scientists used the ROV Odysseus operated by Pelagic Research Services , to survey deep-sea coral ecosystems on the West Florida slope aboard NOAA Ship Nancy Foster.
Built specifically for deep-sea research and exploration, ROV Odysseus is capable of diving to depths of 6,000 meters (over 20,000 feet), which is as deep as Mount Denali is tall! ROV Odysseus remains connected to its host ship by an umbilical that contains the ROV power conductors and fiber optic cables, which send back real-time video and other sensor data to the ship.
ROV Odysseus is fitted with a myriad of tools to help pilots navigate the vehicle, such as sonars, altimeters, and depth sensors. For this project, the vehicle was also equipped with various environmental sensors to help onboard scientists understand the physical environment that deep-sea corals inhabit. Continuous environmental data on temperature, salinity, pH, and dissolved oxygen were collected on every dive of the expedition.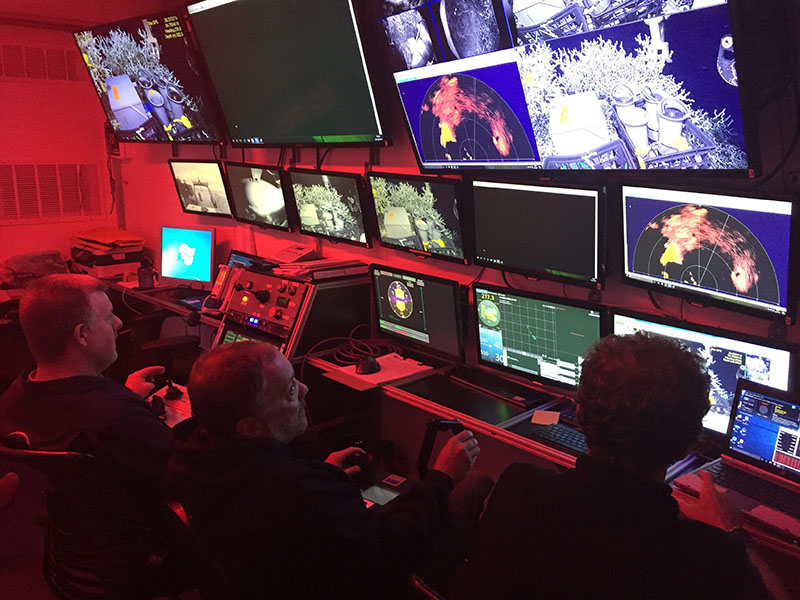 The Odysseus ROV system can also collect scientific samples such as sediment cores, coral specimens, and other samples such as sponges and rocks. To collect samples for this project, Odysseus was equipped with a seven-function manipulator arm, which acts similarly to a human hand. Operated from the control van on the ship, this manipulator arm provides incredible dexterity and strength to collect even the most delicate coral samples. 
The ROV is able to sample biological specimens and keep them alive because it has an insulated biobox that holds seawater from the depth at which the animal lives. On this expedition, 14 live specimens of the deep-sea coral Lophelia pertusa were collected, all of which are currently being maintained alive in aquaria to study their reproduction in the laboratory.
ROV Odysseus is also fitted with powerful lights (5,000 lumen) and a high-definition camera, which can take beautiful images of deep-sea corals and other marine life. High-definition video is streamed back to the ship in real time and overlaid with navigational data from both the ship and the ROV. This video is recorded, allowing scientists to revisit each dive once they are back on shore and know exactly where they spotted a particularly impressive coral or other noteworthy event.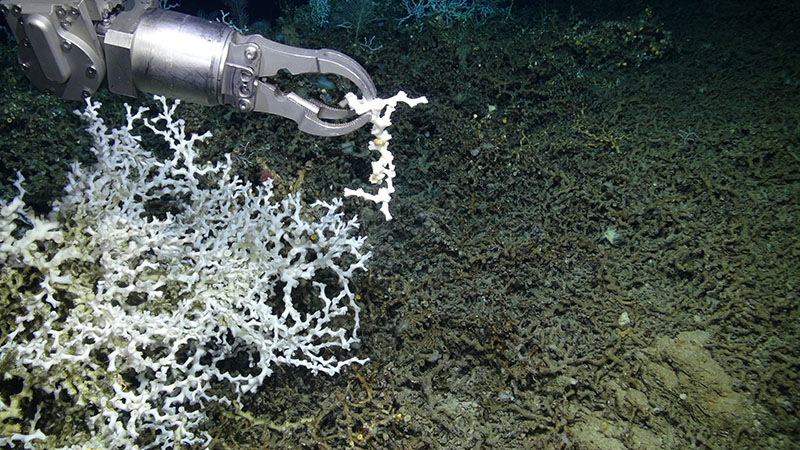 Most importantly, the ROV Odysseus is supported by a hard-working team, which includes ship personnel, who navigate the ship to desired dive locations, provide support to launch and deploy the vehicle, and provide mechanical support, as well as the ROV team, who keep the vehicle working well, pilot it on the seafloor, and aid scientists in meeting their objectives. With extensive expertise in ROV operations, electronics, and engineering, the Pelagic Research Services team helps ROV Odysseus, and the scientists who work with it, illuminate the many mysteries of the deep sea.
The expedition is supported by NOAA's Deep Sea Coral Research and Technology Program through the Southeast Deep Coral Initiative (SEDCI), a multi-disciplinary effort that will study deep-sea coral ecosystems across the Southeast United States in 2016-2019.