August 20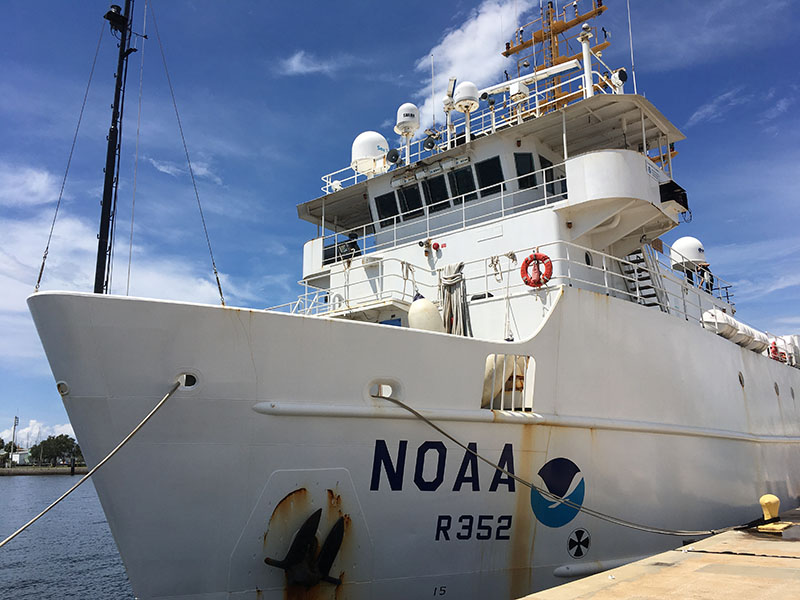 Our ship, NOAA Ship Nancy Foster, is a U.S. Public Vessel (the same as a Coast Guard or Navy ship) whose primary mission is to support scientific operations and provide a platform to collect data using many different scientific methods. The ship's company is divided into departments with different, yet equally important, functions to make the ship run as smoothly and efficiently as possible.
Bridge Team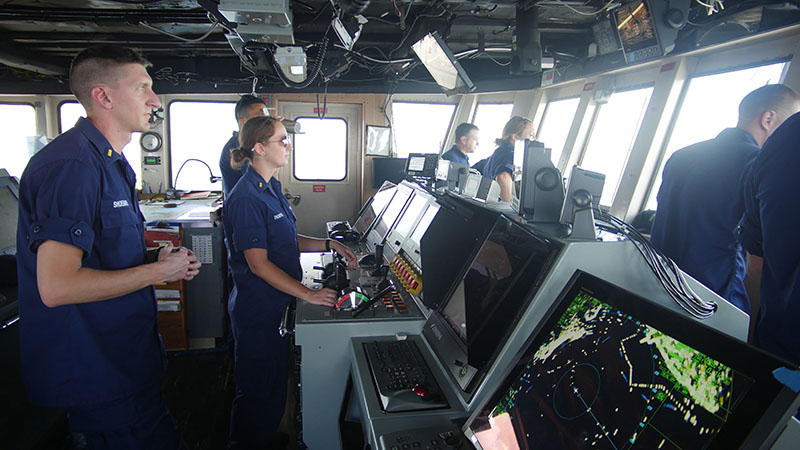 Bridge officers are responsible for safe navigation, execution of ship maneuvering for arrival and departure and maneuvering for scientific operations – which include deploying CTDs to measure salinity, temperature, and depth; various collection nets; side-scan sonar; and remotely operated vehicles (ROVs). They have an overall view of the ship's operations at any given moment.
Deck Department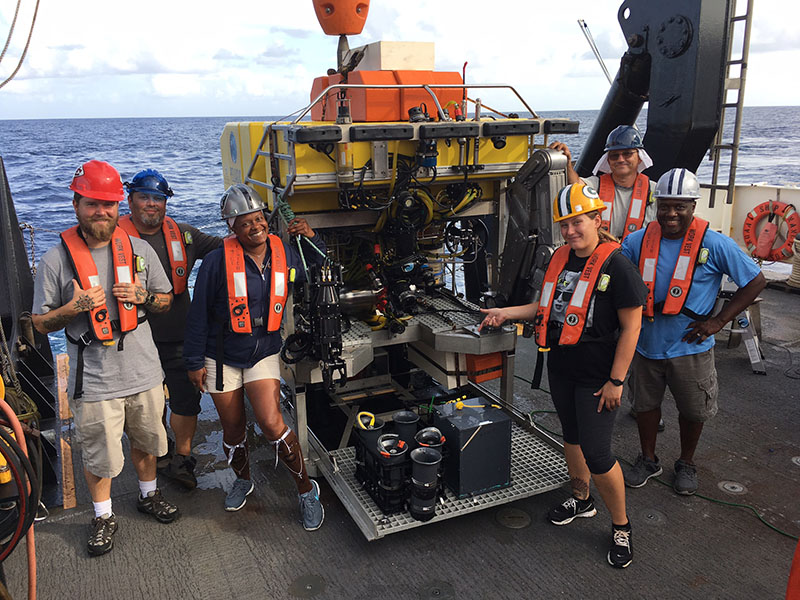 Members of the Deck Department include personnel who put their hands on the scientific equipment and run the cranes, winches, A-frame, and J-frame to support these operations. They also launch and drive small boats to support diving operations. In addition, they keep the interior and exterior of the ship neat and tidy – with a department of only six people! This group is also the focal point of staging/loading and de-staging/unloading all scientific equipment and support items for every project throughout the field season.
Engineering Department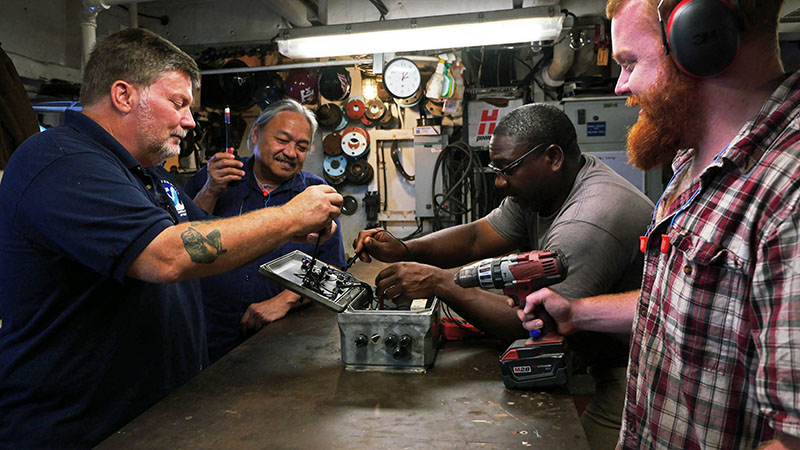 The Engineering Department includes the part of the team that keeps the ship running in tip-top shape. They do all the mechanical work for just about any piece of equipment aboard the ship, from the main engine, ship-service diesel generators (so that light bulbs stay burning and laundry stays operable), steering gear, bow thruster, dynamic-positioning system Z-drives, air compressors (yes, big air compressors – two of them, actually!), auxiliary ship's power generator, and everything in between. Other ship systems such as fresh water and sewage disposal are handled by this department. They also address any needs from the scientific party in regard to providing power, A/C, fresh water, or salt water.
Stewards Department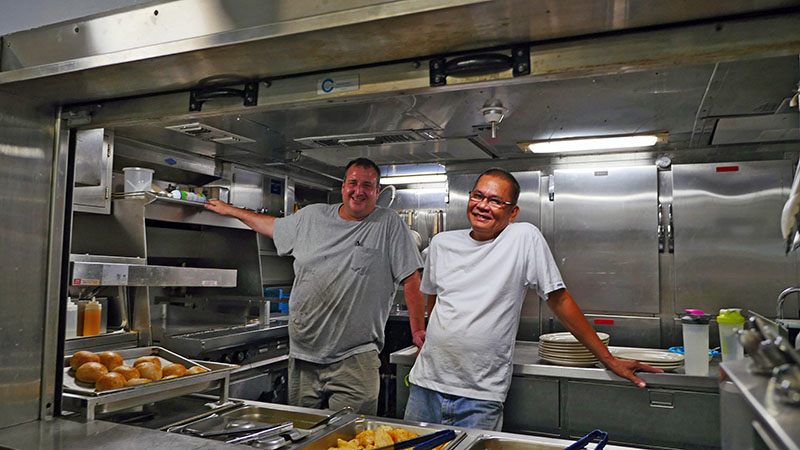 At the core of morale – these are the folks who feed the ship! Stewards are responsible for three meals per person every day that the ship is underway. To coordinate that effort with just two people is a feat unto itself! Meals aboard Nancy Foster are some of the best in the NOAA fleet. If people are not able to break free from operations during meal time, the stewards make a plate to ensure everyone is looked after and fed well.
Survey Department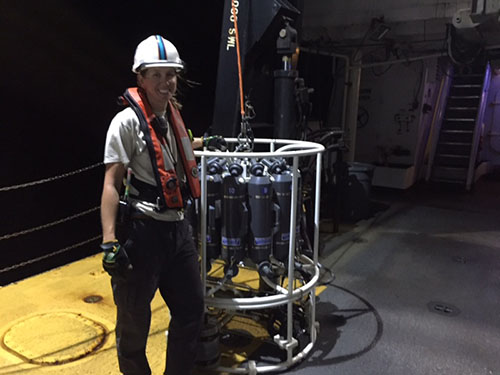 The Survey Department provides our link to the science. Nancy Foster is equipped with two different multibeam sonar systems that specialize in shallow or deep-water mapping. Our survey folks put together survey line plans that are carried out by the bridge officers. They also work out on deck to deploy and recover scientific equipment.
Electronics Department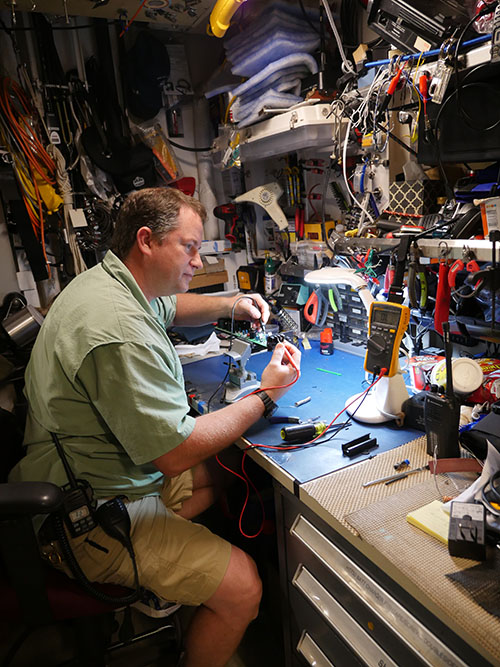 A big job for one person. Many, many electronic devices, computers, radios, communication systems, navigation systems, and radars are all looked after by the Electronics Department and Rotating Electronics Technician (ET). ETs also set up computer systems to gather scientific data and help repair faulty equipment. The rotating ET runs patches between the science lab and ship so everyone can watch ROV feeds in real time!
This ship's crew works together very well. Everyone aboard goes above and beyond their normal "jobs" and is quick to pitch in whenever and wherever needed. There are many, many more tasks addressed on a daily basis by all departments aboard Nancy Foster than I have described here. We're all here to work hand-in-hand with our scientific counterparts to ensure we are able to support NOAA's mission, the expedition objectives, and the nation in our collective scientific endeavors!
The expedition is supported by NOAA's Deep Sea Coral Research and Technology Program through the Southeast Deep Coral Initiative (SEDCI), a multi-disciplinary effort that will study deep-sea coral ecosystems across the Southeast United States in 2016-2019.