The Oculina Bank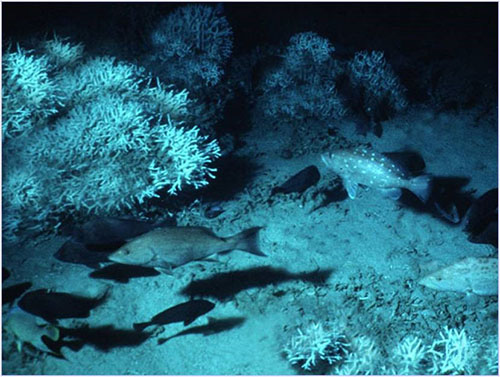 The Oculina Bank, named after the slow-growing ivory tree coral, Oculina varicosa, is a narrow strip of coral reefs located off the central east coast of Florida. Although Oculina coral can be found at a variety of depths, the species forms massive thickets at depths ranging from 75-90 meters (200-350 feet). These thickets support diverse communities of finfish and invertebrates, and consequently have been designated as essential habitat for many species of fish. Once plagued by World War II-era bombings to destroy German U-boats, fishing impacts, and episodic die-offs, the important ecosystem is now protected in federal waters of the U.S. South Atlantic Bight.
Scientists first discovered the Oculina coral reef in 1975. After discovering the reef and observing the importance of the reef habitat, scientists requested that the Oculina reefs be protected from the developing roller rig fishery (trawl), as well as fish pot and longline fisheries. As a result, the unique coral reef ecosystem was first protected in 1984 and designated as the Oculina Bank Habitat Area of Particular Concern (HAPC). The original section was 23 nautical miles long and 4 nautical miles wide (92 square nautical miles) and located about 15 miles off the Fort Pierce coast in Florida.
Upon the discovery of additional Oculina coral mounds, the area was expanded in 2000 and again in 2015. All of these efforts came about from research trips much like this very voyage.
The Oculina Bank HAPC is now over 130 nautical miles long, stretching from Fort Pierce northward to almost St. Augustine, Florida. Bottom-tending fishing gear (which includes trawling, fish traps, and dredging) and anchoring are prohibited in the area.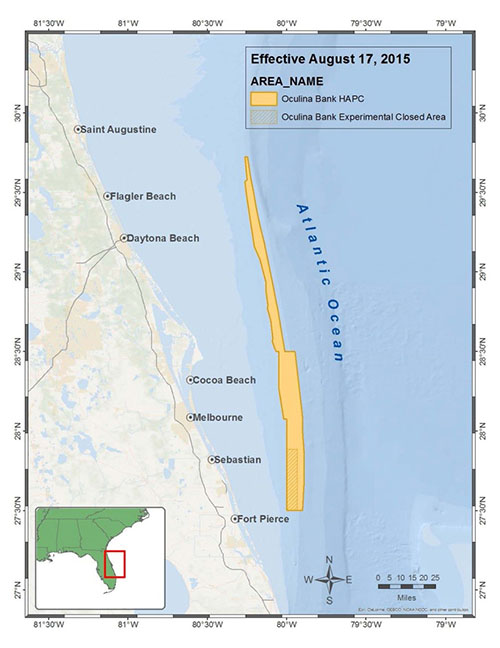 In 1994, managers established additional regulations for the original 92-square mile stretch of reef by creating the Oculina Experimental Closed Area to protect critical habitat for juvenile and spawning groupers, including snowy grouper, speckled hind, gag, and scamp. The possession and fishing for snapper grouper species is prohibited and, much like regulations set for the larger Oculina Bank HAPC, the use of bottom-tending fishing gear and anchoring are both prohibited.
The Oculina Bank HAPC and the Oculina Experimental Closed Area are rich in biological diversity and cultural history. The regulatory measures that are currently in place should aid in the protection of these important and fragile Oculina corals, as well as the myriad of species that rely on these corals for habitat. Perhaps this expedition will help us to discover even more.