Modeling Habitat Suitability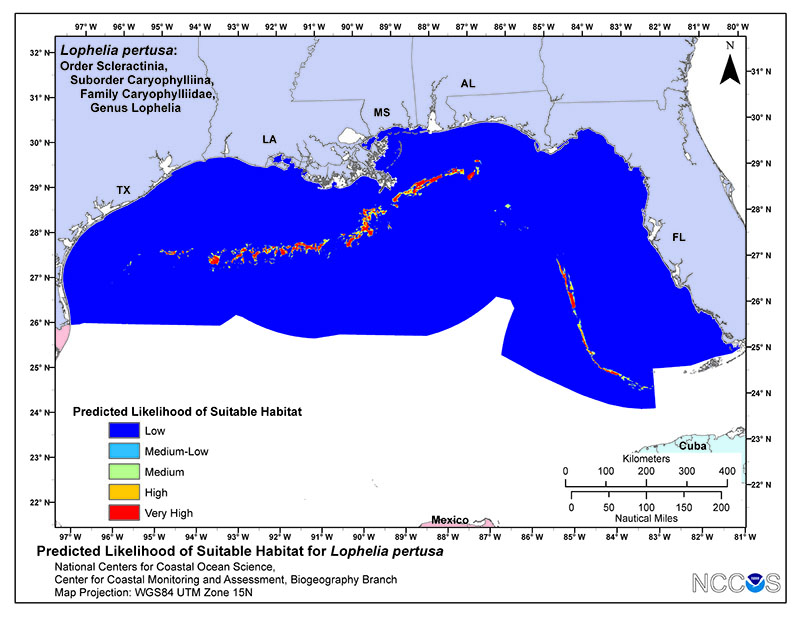 Data describing the distributions of deep-sea corals and other species that live in the deep ocean are often limited by the prohibitive costs and logistical difficulties of surveying the deep ocean. Habitat suitability modeling has become a cost-effective tool for identifying potential locations of deep-sea corals and other species, particularly for areas that have never been explored.
We have used predictions from models of habitat suitability to target areas for mapping and exploration. Outputs from the models have also been used to support conservation and management of deep-sea corals, including the development of a 38,000 square mile deep-sea coral protection area by the U.S. Mid-Atlantic Fisheries Management Council. The models can also provide insights into the environmental and oceanographic conditions driving the distributions of different kinds of deep-sea corals, which could help build our knowledge of how these unique ecosystems function.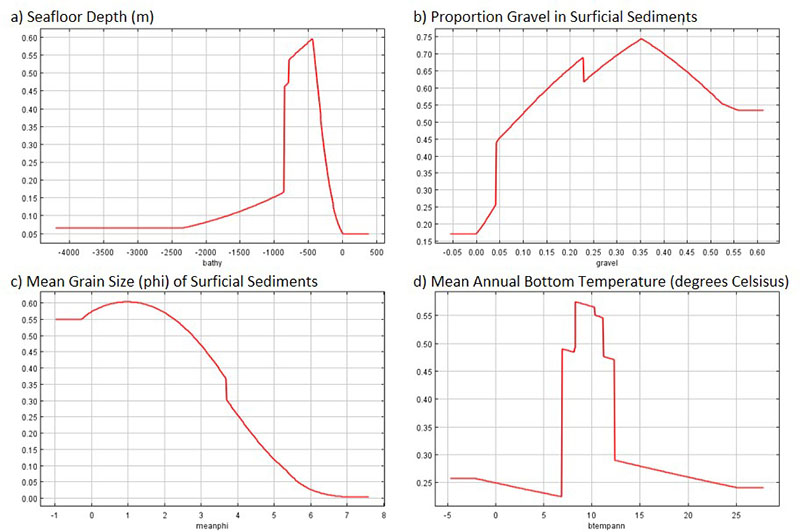 To develop models of habitat suitability for deep-sea corals, we first gather information on the locations where deep-sea corals have been observed, using databases such as the national database developed by the NOAA Deep Sea Coral Research and Technology Program. We also gather information describing environmental and oceanographic conditions that may influence the distribution of deep-sea corals, including measures of depth, steepness, and complexity of the seafloor, composition of sediments on the seafloor, and ocean productivity.
In our models, we use data describing these environmental and oceanographic conditions at locations where deep-sea corals have been observed and then examine the relationships between these conditions and the presence of deep-sea corals. Through this approach we are then able to predict and map locations on the seafloor that are more likely to be capable of supporting deep-sea corals.
We have also had considerable success using predictions from the habitat suitability models to plan surveys for deep-sea corals on expeditions in submarine canyons of the U.S. Northeast and Mid-Atlantic. However, in order to evaluate how well the habitat suitability models can predict the likelihood of suitable habitat for deep-sea corals, we need to continue to validate them by collecting additional data in locations predicted to be suitable habitat and in locations predicted to be unsuitable habitat.
Observations of deep-sea corals collected on expeditions such as the 2017 Southeast Deep Coral Initiative expedition aboard NOAA Ship Nancy Foster are critical for evaluating the performance of models developed for the Gulf of Mexico.