June 18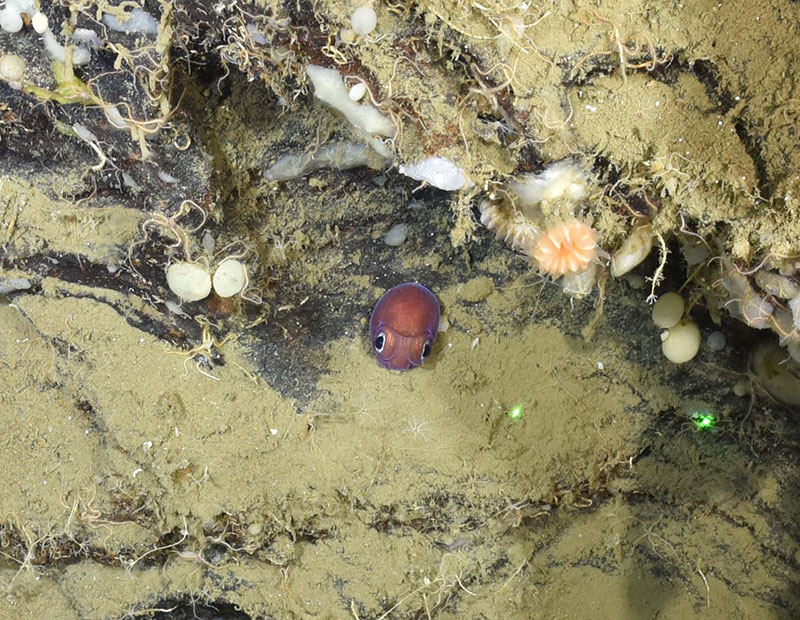 We have been seeing a lot of cephalopods on this cruise, and they never fail to elicit shouts of "squid!" from the control room as they are encountered and either jet away or pose for the camera.
We have trained our eyes to find the small but beautiful sepiolid Rossia sp., also known by the misnomer, "bobtail squid." As we move over the seafloor, this little creature blends into the background looking like a small rock. But as you approach it you notice the big, white, googly eyes sitting on top of a purple-red body. As you are watching it, you are pretty sure that it is watching you.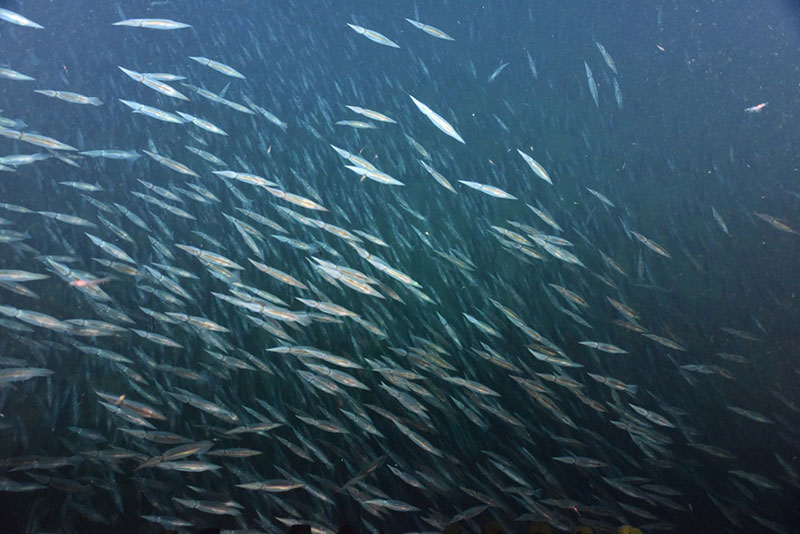 Cephalopods took center stage as we entered Canadian waters and moved into Corsair and Georges Canyons. The star of the show was a seemingly never-ending school of Illex illecebrosus, the commercially important short-finned squid. This species is the squiddy-est of the squids. The shape, size, and life cycle of Illex are often the benchmark by which all other squids are judged. This is the squid that you eat if you like calamari, or the one you dissected in 5th grade science class.
Illex illecebrosus aggregates in schools of hundreds or thousands of individuals, which is one reason it is a targeted fisheries resource. For two days, the brightly lit ROPOS remotely operated vehicle became a member of the Corsair Canyon school of Illex and as a consequence, so have all the engineers and scientists aboard. It was a spectacular, mesmerizing experience watching the squids zip around the sub in all directions, and then reassemble into a pack and race off into the distance.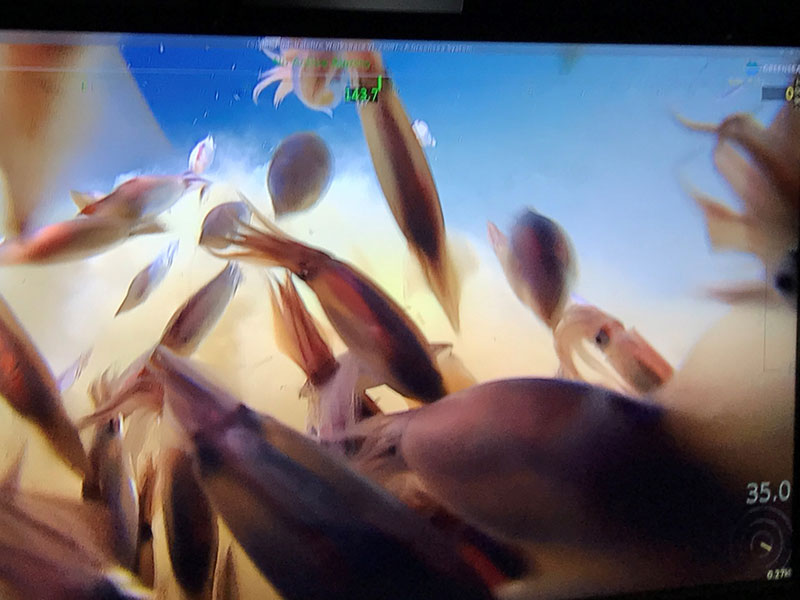 The squids are both attracted to the lights and disoriented by them, as evidenced by their bumping regularly into the ground and then jetting off in the opposite direction. Although it was hard to keep your eye on just one (the adaptive value of moving in a school), occasionally one would be in front of the camera and zap out its tentacles to grab a bite of lunch.
In the course of the day, squids jetted back and forth, in and out, and around the ROPOS cameras. Sampling a fast-moving Illex with a slurp hose is no easy task. But as luck would have it, we were able to collect one with the skilled touch of the ROPOS crew. In no time at all, the Illex was slurped up and recorded as sample number R2010-18 in our logs. Once retrieved, we checked the stomach contents and found they were full of crustaceans, some of which were preserved for genetics analysis. The specimen was fixed and will become part of the permanent collection at the museum where it will be available for further study by researchers or to connect visitors to the story of the day 17 engineers and scientists became part of a school of squids.