September 12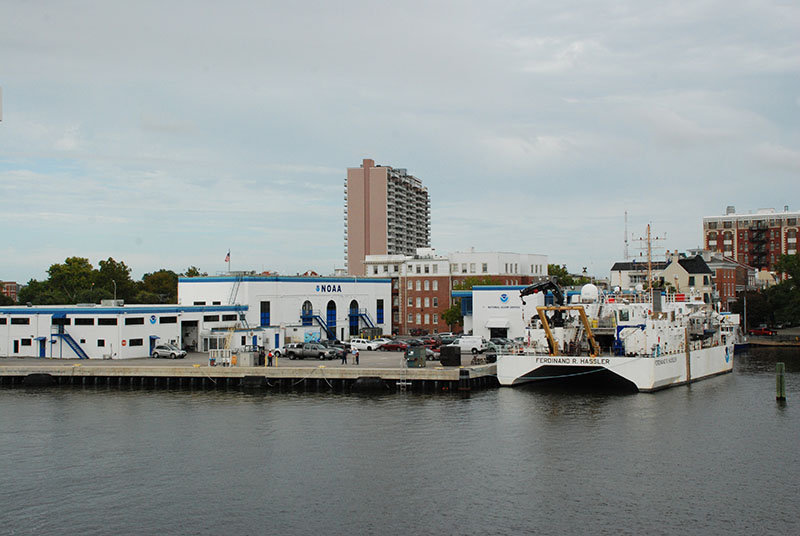 It's official: we're on the Atlantic, and the real work has begun! We left the NOAA Marine Operations Center - Atlantic dock at 1600 today and transited up the Elizabeth River and through the mouth of the Chesapeake Bay before we reached the open ocean. Overnight, NOAA Ship Pisces will steam to our first dive target, Kitty Hawk seep (site 12 on our mission plan map).
Before we left port, all were busy making final adjustments and readying the ship for departure. The tasks ranged from the large (pulling up the anchor, hauling in the ship's dock lines) to the small (making sure every last computer monitor was securely anchored in one way or another).
For those of us new to the Pisces, we met on the ship's mess deck (that's the dining area) for a Welcome Aboard meeting, where we learned the most important facts about life at sea: how to stay safe, where to throw out our trash, and when to make a new pot of coffee (any time you empty the last one, no matter the hour). Our safety training also included both a fire drill and an abandon ship drill, where we all had to don the ever-flattering immersion suits we keep at-the-ready in our state rooms.
Our transit won't be the smoothest, as the remnants of Hurricane Irma and the offshore Hurricane Jose have given us some waves between 5-9 feet high to contend with as we steam ahead. Luckily for most of the science party, we're able to sleep through this patch of rough seas and wake up rested and ready to begin the first big operation of the cruise.
Once we're on station early Wednesday morning, the autonomous underwater vehicle (AUV) Sentry team will work with the ship's crew to safely launch the Sentry over the side for its first dive. Sentry will be in the water for 24 hours collecting high-resolution mapping and imagery data, but we won't get our first look at the data until it's back on board the ship Thursday morning. Check back here on Thursday and Friday as the scientists share their first impressions of the data Sentry gathered!