September 11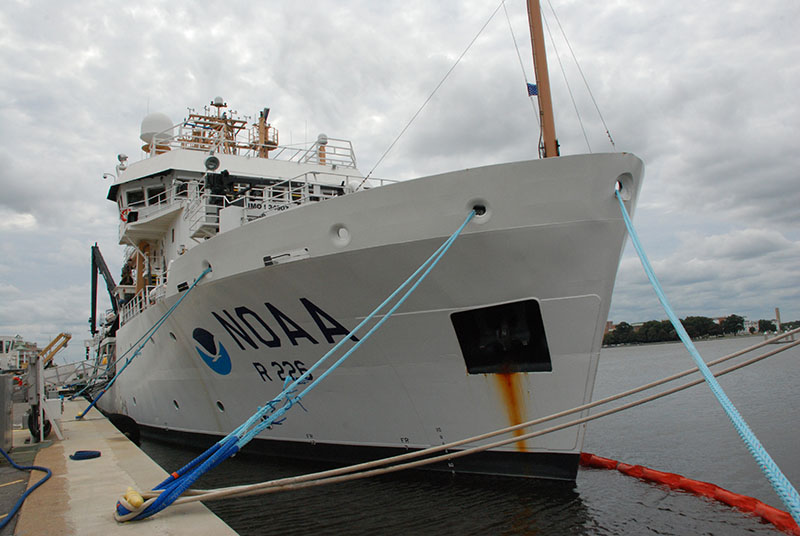 It may be September 11, our scheduled departure date, but the DEEP Sea Exploration to Advance Research on Coral/Canyon/Cold seep Habitats (DEEP SEARCH) team is still ready and waiting at the dock, delayed because of Hurricanes Irma and Jose. We're not at our originally-scheduled port, either: given the early forecasts for Irma last week, the NOAA Ship Pisces command made the decision to head farther north to Norfolk, Virginia, instead.
The port location and start date aren't the last of the changes, as many of our anticipated scientists were unable to make the trip north from their home state of Florida. Their safety is the most important consideration though, and we're happy to report that Tracey Sutton, Natalie Slayden, Nina Pruzinsky, Jennie McClain-Counts, and Sarah Cahill have all successfully weathered the storm. Joe Warren will also no longer be participating in this cruise, as he had planned to support the midwater acoustics work and would have little to do without Tracey and his students. While we won't be able to get the midwater characterization work done on this cruise, the DEEP SEARCH team will continue to look for opportunities for inclusion on future expeditions, either with this project or another well-suited mission.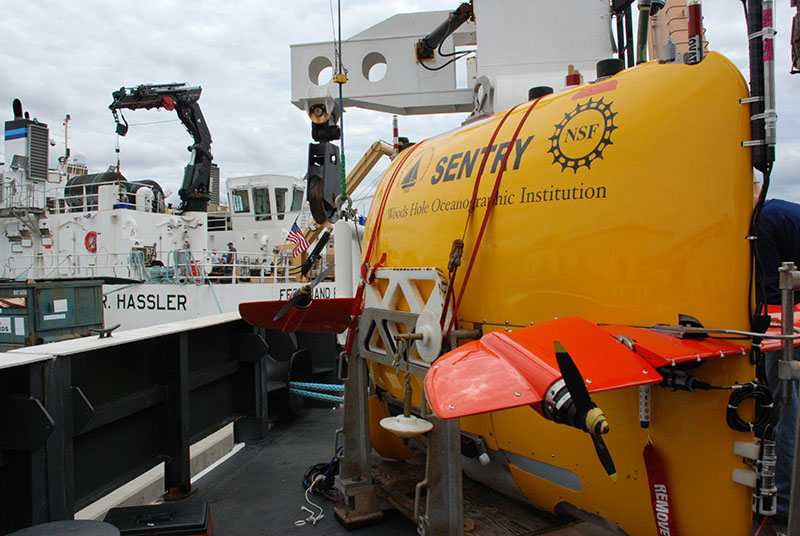 With six of our original 16 scientists absent, mobilization has been a bit quieter than usual. Autonomous underwater vehicle (AUV) Sentry was already on board from the previous cruise, the second year of the Carolina Canyons project, leaving the Sentry team with fewer tasks than they'd normally have to complete before heading to sea. Even so, since arriving at the ship early Sunday morning, they've all been busy setting up their dry lab space, running deck tests on Sentry, and making any needed repairs after the last cruise. Chief Scientist Amanda Demopoulos can also be found in the dry lab with the Sentry team—the close proximity means she can easily discuss dive planning with them and prepare for the mission ahead.
The U.S. Geological Survey seafloor geology and geomorphology team, Jason Chaytor and Brian Andrews, has quickly taken up residence in the ship's computer lab, where they'll be analyzing AUV mapping data as well as working with the Pisces survey technician to process ship multibeam mapping data. Alanna Durkin and I can be found in the ship's chemistry lab; though neither of us are chemists, there's no chemistry work happening on this cruise, and the empty lab gives us the space we need to set up our work areas. Alanna will be busy processing Sentry data to learn more about methane seep and deep-sea coral habitats, while I will continue to share logs and photos of our expedition.
Check back tomorrow, as we just received word that we are set to leave port on September 12 at 1400!