Expedition Purpose
Expedition Purpose: Why Are We Exploring Deepwater Atlantic Ocean Habitats?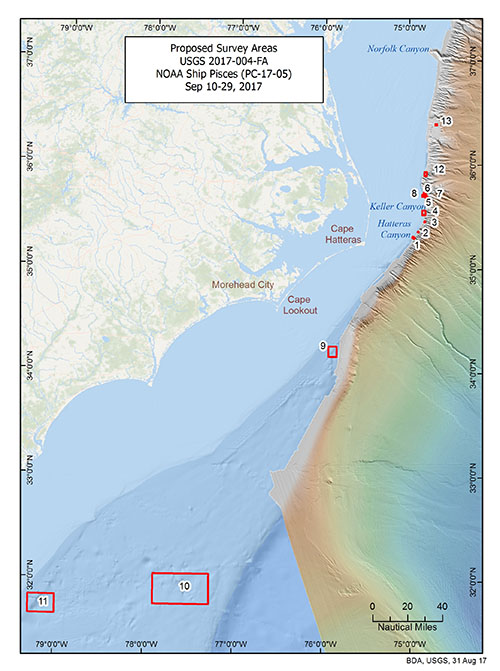 The DEEP SEARCH project is a multi-year, interagency study that will focus on the exploration and investigation of deepwater biological communities in U.S. federal waters of the northwest Atlantic Ocean.
Deep-sea habitats along the U.S. continental margin host complex, rugged seafloor features that include submarine canyons, cold seeps, and deep-sea coral forests. These ecosystems support biologically diverse communities that are poorly understood.
Maintenance of biodiversity is critical to the function and sustainability of these deepwater areas that provide numerous ecosystem services (fundamental life-support processes upon which all organisms depend). Loss of deep-sea biodiversity could have long-term, damaging effects to large expanses of the deep seafloor, the overlying water column, and to human health. For this reason, DEEP SEARCH partner scientists are working to:
better characterize faunal and habitat distributions;
determine the processes that shape patterns in population and community structure; and
determine the linkages between physical, chemical, and biological processes to better understand ecosystem function.
These efforts to better understand the functional role of submarine canyons, hydrocarbon seeps, and coral habitats will advance scientific knowledge and inform future management decisions in the region.
The goal of the first expedition aboard NOAA Ship Pisces is to groundtruth several seep targets (Figure 1) and to image and map seeps, canyons, and hard bottom features located between Virginia and Georgia. Specific expedition objectives include:
Survey canyon, seep, and hard bottom features using the autonomous underwater vehicle (AUV) Sentry and a variety of sensors to characterize the seafloor in and around these benthic habitats
Conduct Conductivity, Temperature, and Depth (CTD) profiler casts to collect water samples to depths of 2,000 meters
Use multibeam sonar to create high-resolution maps of the seafloor
Trawl the mid-water using a Tucker trawl (read more about a Tucker Trawl from this Teacher at Sea blog )
Create a georeferenced database that incorporates all of the above data with locations of benthic communities, including seep organisms and deep-sea corals and sponges